News > Obituaries
Obituary: Van Tine, Neil B.
Age 89
Tue., Oct. 28, 2014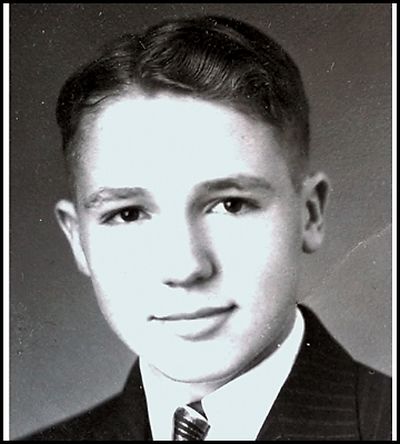 VAN TINE, Neil B.
(Age 89) Passed away Thursday, October 23, 2014 at Whitman Hospital in Colfax.
Graveside Services will be Friday, October 31 at 10:00 AM in the Colfax Cemetery followed by a Funeral Service at 11:00 AM at the Colfax United Methodist Church.
Neil was born November 24, 1924 at Colfax to Allen and Maude (Baker) VanTine.
His great-grandfather came by wagon train to this area from Missouri in 1889 and settled on a farm near Elberton.
It is on this farm that Neil spent his entire life.
He played the trombone in the high school band and graduated from Colfax High in 1942.
Neil attended WSU for a little over a year before returning to the family farm.
He was active in all facets of the farm as a young man.
Neil met Phyllis Palmer, of Bird Island, Minnesota, while she was attending a family reunion in this area.
He eventually coaxed her into moving this direction and taking a nursing job at Sacred Heart in Spokane.
They dated for a while and were married at her home of Bird Island, Minnesota, October 21, 1950.
They farmed together and raised their family of three on the VanTine ranch.
Phyllis kept busy as a wife and mother in addition to working as a nurse in Colfax.
Neil was passionate about the farm and had few other hobbies.
He did, however, find plenty of time to serve his community through various boards and committees.
He was Master of the North-South Palouse Grange for several years and helped sponsor 4-H and other community projects through the grange.
He was a member of the Colfax School Board and served two terms.
Neil served on the Ag Advisory Committee for the Colfax High School and also served on several church and grange committees.
Neil was an active member of the Colfax Methodist Church and was a member of the Oddfellows Lodge.
He helped organize the Fire District 11 Rural Fire District and served as fire commissioner for 25 years.
Neil was presented the "outstanding young farmer of the year" award in 1957 by the Colfax Jay-Cee's and was a Palouse Conservation District board member for many years and won the conservation farmer of the year award in 1969 for both crop and livestock.
Neil was one of the first in the area to build a modern confinement building for raising hogs and he gradually expanded the operation with more buildings as they were needed.
His son Donald joined the operation in 1974 and they continued in partnership throughout the years.
Neil would often reminisce about life on the farm and remarked to his family that he was one of the first to have a wheel tractor, an early leader in the idea of strip cropping, and one of the first to use a self-propelled combine.
The biggest change he could think of regarding his farm was when they got electricity to the place.
His wife, Phyllis, passed away in 2006 and Neil stayed at the farm until moving into the Courtyard in 2007.
He could often be seen making his daily walks up and down Main Street in town.
He is survived by his three children; Donald & Donna VanTine of Garfield; Deborah J. Duncan of Spokane; and Craig H. VanTine also of Garfield; nine grandchildren; eight great-grandchildren and by his sister, Mildred Sarver of the Spokane Valley.
The family suggests memorial gifts be made to the Colfax United Methodist Church or to the Whitman Hospital Foundation.
On-line guest book is at www.bruningfuneralhome.com BRUNING FUNERAL HOME of Colfax is caring for the family.
Local journalism is essential.
Give directly to The Spokesman-Review's Northwest Passages community forums series -- which helps to offset the costs of several reporter and editor positions at the newspaper -- by using the easy options below. Gifts processed in this system are not tax deductible, but are predominately used to help meet the local financial requirements needed to receive national matching-grant funds.
Subscribe to the Coronavirus newsletter
Get the day's latest Coronavirus news delivered to your inbox by subscribing to our newsletter.
---