Sports
Spokane native Kailer Yamamoto, a rookie forward with Chiefs, added to U.S. roster
Tue., Oct. 28, 2014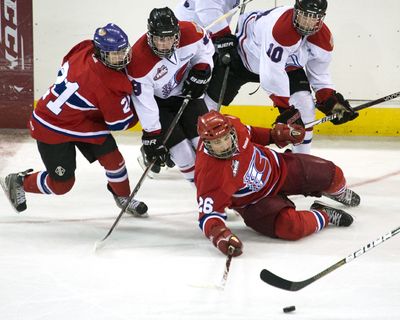 Kailer Yamamoto's breakout week was followed by a significant honor. The Spokane Chiefs announced Tuesday that the 16-year-old rookie forward and Spokane native has been added to the roster of the United States team that will play at the World Under-17 Hockey Challenge in Sarnia, Ontario, from Sunday through Nov. 8. "Representing your country at an international tournament is always a special honor for a player and Kailer has earned this opportunity," Chiefs general manager Tim Speltz said. Yamamoto scored the first two goals of his Western Hockey League career last week and added four assists in three games. Team USA will begin play at the eight-team tournament Sunday against Sweden. Canada Red and Slovakia are also in the U.S. team's pool Yamamoto will miss four Chiefs games while away at the tournament, including tonight's home game against the defending Memorial Cup champion Edmonton Oil Kings.
Highlight of the trip
Markus Eisenschmid thrilled his two biggest fans by scoring twice Saturday to lead the Medicine Hat Tigers to a 7-5 win over the visiting Calgary Hitmen. Eisenschmid's parents, Brigitte and Horst, flew from Germany that morning and arrived at The Arena just in time to see their son's first goal, which came at 4 minutes. "I had the third one on my stick where I hit the crossbar there, but I'm happy with the two goals," Eisenschmid told Ryan McCracken of the Medicine Hats News. The Eisenschmids also attended a game last season, when Markus' best shot at scoring hit the post. "My dad said to me after the game, 'I wish that would have gone in because we wanted to see a goal,' and today I got two of them, so it was pretty exciting," the 19-year-old German prospect said.
Better with age
Prince George Cougars rookie goaltender Tavin Grant made his first career start on Sept. 27 and allowed five first-period goals to Kelowna. Grant's second start came Sunday afternoon and the results were much more favorable. The 16-year-old had 26 saves during a 3-2 win at Calgary. "I always forget about that (first) one," Grant told Scott Fisher of the Calgary Sun. … "I just felt really prepared (Sunday), so I didn't really feel nervous at all."
Around the league
Red Deer Rebels captain Conner Bleackley was named WHL Player of the Week after recording one goal and five assists in two victories, giving him 12 points in 11 games. The 18-year-old was Red Deer's first-round pick in the 2011 bantam draft and the Colorado Avalanche's first-round pick in this year's NHL Draft. Kelowna's Jackson Whistle was tabbed WHL Goaltender of the Week after allowing just one goal on 54 shots during two victories. Whistle had 31 saves on Saturday as the Canadian Hockey League's top-ranked Rockets (12-1-0-0) posted a 6-1 home win over sixth-ranked Brandon (10-3-1-0). … Moose Jaw lost its 11th consecutive regular-season game at Medicine Hat last Friday, a 3-1 decision in which the Warriors were blanked for the first 52-plus minutes. Moose Jaw hasn't won a regular-season game at the Tigers' arena since January 2008. … Everett Silvertips winger Dawson Leedahl, a second-round pick in the 2011 bantam draft, is expected to miss 4-6 months after requiring surgery to repair damage to the medial collateral ligament in his right knee.

Local journalism is essential.

Give directly to The Spokesman-Review's Northwest Passages community forums series -- which helps to offset the costs of several reporter and editor positions at the newspaper -- by using the easy options below. Gifts processed in this system are not tax deductible, but are predominately used to help meet the local financial requirements needed to receive national matching-grant funds.
Subscribe to the sports newsletter
Get the day's top sports headlines and breaking news delivered to your inbox by subscribing here.
---