News > Obituaries
Obituary: Arp, Carmella Alene
Age 82
Wed., Oct. 29, 2014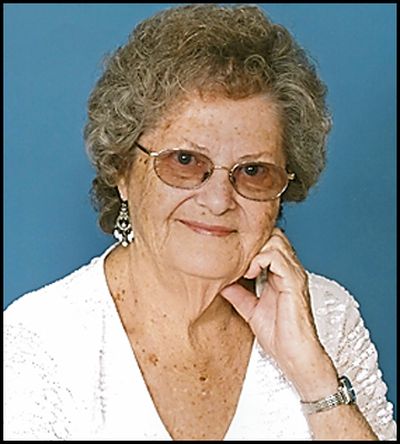 ARP, Carmella Alene Carmella Alene Arp was born January 27, 1932 in Rosalia, WA, to Alma and Lila Fuhriman.
She passed away on October 24, 2014.
Born and raised in Rosalia, WA, Carmella graduated from Rosalia High School in 1950; and was an active majorette during her high school years.
After graduation she married Harold Arp, and while living in Rosalia they welcomed two daughters.
After moving to the Spokane area, they had a son and another daughter.
Harold and Carmella were married for 51 years until his passing in 2002.
Known to many as Carmi, she worked as a bookkeeper in the Spokane area and also worked for her last employer, Costco, until her retirement.
Her many hobbies and interests through the years were bowling, golfing, recreating with friends, snowmobiling, camping or RVing.
For many years Harold and Carmella hosted dominos/poker parties and traveled to Arizona in their RV for the winter months.
Throughout her years, Carmi was an active member in the Eagles Lodge and was an avid volunteer with the organization.
She loved to attend the Eagles to play Sticks or Bingo, with many good friends.
After Harold's passing, it was a lonely time for Carmella, until she met a longtime friend and widower, Ike Eickstadt.
A love, best friend and companionship blossomed.
They took care of each other, entertained friends together, played Mr. and Mrs. Claus for events, and traveled together.
They enjoyed many years together until her passing.
Carmella is survived by daughters, Glennda Hansen (Bob), Kelli Johnson, Gayle Allgood (friend Terry); and son Keith Arp (RayAnn).
Sisters, Bev Harthill (Bill) and Rita Loncon.
She has ten grandchildren; 24 great-grandchildren; and numerous nieces, nephews and extended family.
She also leaves behind a very special friend and partner, Ike Eickstadt.
She was preceeded in death by Harold Arp and sister Leila Marple.
In lieu of flowers, donations may be made to Heartandstroke.com A Memorial Service will be held at Heritage on Saturday, November 1, 2014 at 2:00PM.
Local journalism is essential.
Give directly to The Spokesman-Review's Northwest Passages community forums series -- which helps to offset the costs of several reporter and editor positions at the newspaper -- by using the easy options below. Gifts processed in this system are not tax deductible, but are predominately used to help meet the local financial requirements needed to receive national matching-grant funds.
Subscribe to the Coronavirus newsletter
Get the day's latest Coronavirus news delivered to your inbox by subscribing to our newsletter.
---