News > Obituaries
Obituary: Harger, Virginia F.
Age 102
Wed., Oct. 29, 2014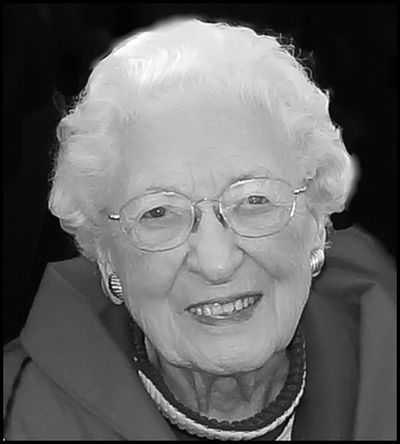 HARGER, Virginia F. (Age 102) Virginia Frances Harger, a friend and inspiration to many, died October 15, 2014, at Rockwood Manor in Spokane.
Virginia was born August 5, 1912, to Leon Harger and Lota Smith Harger.
Her sister, Helen, was born nine years later.
Her parents began taking her to First Presbyterian Church when she was a baby and she maintained her membership there throughout her life.
She attended Irving Grade School, Lewis and Clark High School, and spent 11 summers at Camp Sweyolakan Camp Fire Camp on Lake Coeur d 'Alene.
At Washington State College (now University), Virginia earned a B.S.
degree in Dietetics and Food Service Management and pledged Pi Beta Phi.
She then earned her master's degree at Kansas State University and began her teaching career at Ohio University and then Stanford University.
During World War II, Virginia joined the army and worked as a hospital dietitian.
From 1948 to 1967, Virginia taught at Ohio State University.
In 1967, she became Head of the Department of Foodservice Systems Management at Oregon State University in Corvallis.
She retired in 1978.
During her career, Virginia was co-author of the college textbook Introduction to Foodservice Management.
She was an elected officer and member of the the Board of Directors in the American Dietetic Association.
She spent summers with family and friends at the Harger cabin in Tesemini Club on Spirit Lake, ID, and travelled extensively.
Postcards from Virginia talked of things like walking on China's Great Wall, seeing a bull fight in Spain, and marveling at the Sistine Chapel in Italy.
In 2000, she moved to Spokane to be near family.
Never one to be sidelined by minor inconveniences like aging, she attended her grandnephews' football and soccer games, wrote her life story and took computer lessons.
She was active in P.E.O, chapter CH, Pi Beta Phi alums, and Camp Sweyolakan fund raising.
She often entertained in her Rockwood home and took pride in living independently.
Virginia's parents, sister and brother-in-law James L. Matthews preceded her in death.
Survivors include, nephews James Matthews Jr. (Karen), Westchester, IL, and Richard Matthews (Susan), Spokane; niece Barbara Haerer (Walt), Richland, WA; grandniece Sara Matthews and grandnephews Ian, Christopher and Tyler Matthews.
A Memorial Service for Virginia will be held Saturday, November 1st, 11 a.m. at First Presbyterian Church, 318 Cedar St., Spokane, WA, 99201.
The family requests that memorial contributions be made to: Virginia F. Harger Scholarship Fund, The Academy of Nutrition and Dietetics, 120 S. Riverside Plaza, Suite 2000, Chicago, IL 60606-9431; First Presbyterian Church Music Endowment Fund, 318 S. Cedar St., Spokane, WA 99201; or Rockwood Residents Foundation, c/o Rockwood South Hill, 2903 E. 25th Ave., Spokane, WA 99223.
Local journalism is essential.
Give directly to The Spokesman-Review's Northwest Passages community forums series -- which helps to offset the costs of several reporter and editor positions at the newspaper -- by using the easy options below. Gifts processed in this system are not tax deductible, but are predominately used to help meet the local financial requirements needed to receive national matching-grant funds.
Subscribe to the Coronavirus newsletter
Get the day's latest Coronavirus news delivered to your inbox by subscribing to our newsletter.
---