News > Obituaries
Obituary: Nelson, Alma "Rusty"
Age 83
Wed., Oct. 29, 2014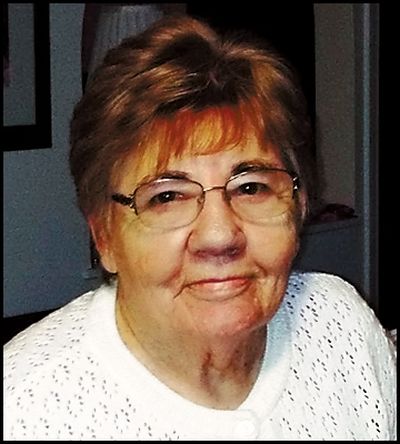 NELSON, Alma "Rusty" On October 4th our Mother, Alma "Rusty" Nelson passed away due to complications from her battle with cancer, at her home in Vancouver, Washington.
Rusty was born in Lind, WA in September of 1931 to her parents Henry and Catherine.
Rusty had three brothers, Emil, Floyd, Eugene.
The family moved to Spokane, WA in 1947.
Rusty then joined the Army in 1950, earning the rank of E4 in the Medical Corps.
During this time, she also met and married her beloved husband of 63 years, Rolland Nelson.
In later life, she worked for Good Samaritan Society, and Wesley Community Elder care facilities from 1971 to 1991 when she retired.
Her retirement time was split between Arizona and Washington.
Rusty is survived by Rolland Nelson, husband.
She has a son, Randall Nelson and his wife Sherry, of Boise, Idaho and a daughter Teri Nelson of Vancouver, WA.
Rusty has two grandchildren, Shane Nelson with his life partner Rikki Finck of Vancouver, WA.
Rusty also has a granddaughter, Mikayla Tice also of Vancouver, WA.
Rusty is survived by two great-grandchildren, London Finck whom she considered her great-grandchild, and Zane Nelson, born four days before her passing, ironically on the same day Rusty's Mother was born.
The family of Rusty wishes to publicly thank Virginia Allen, De Passer and Shelby Glenn for all of their help and support.
Also thanks to Vancouver Community Care and Hospice and to all the special people that have cared for Rusty.
In lieu of flowers please consider donating to Vancouver Community Care and Hospice in Rusty's name.
Local journalism is essential.
Give directly to The Spokesman-Review's Northwest Passages community forums series -- which helps to offset the costs of several reporter and editor positions at the newspaper -- by using the easy options below. Gifts processed in this system are not tax deductible, but are predominately used to help meet the local financial requirements needed to receive national matching-grant funds.
Subscribe to the Coronavirus newsletter
Get the day's latest Coronavirus news delivered to your inbox by subscribing to our newsletter.
---