News > Obituaries
Obituary: Parker, Jessie Mary
Age 96
Wed., Oct. 29, 2014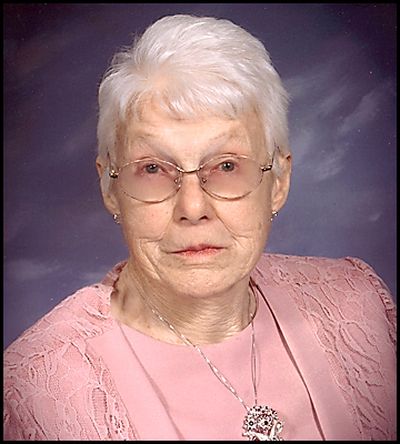 PARKER, Jessie Mary (Age 96) Jessie Parker passed away peacefully in her sleep at home on October 23, 2014.
She was born April 11, 1918 in Coeur d'Alene, Idaho to Joseph and Ethel Speeshly.
She met the love of her life, Bill Parker and they were married for 58 years.
They had three children: Jeanie (Gene) Kuder of Rio Rica, Arizona, Larry (Nancy) Parker of Lakeside, California, and Dave Parker of Marysville, Washington.
She had three grandchildren: Robert Kuder, Carol (Charlie) Deal and Norma Franks; and three great-grandchildren: Natasha Franks, Jeremiah Franks, and Mathew Deal.
Jessie was a Blue Bird, Campfire, and Job's Daughter leader.
She assisted her husband with Boy Scouts and was a volunteer at the Valley Hospital until the age of 90.
Funeral Services will be held Sat., November 1, 2014 at 2:00pm at Hazen & Jaeger Valley Funeral Home, 1306 N. Pines, Spokane Valley, WA.
Reception following immediately at The Church of the Resurrection, 15319 E. 8th Ave, Spokane Valley, WA.
Local journalism is essential.
Give directly to The Spokesman-Review's Northwest Passages community forums series -- which helps to offset the costs of several reporter and editor positions at the newspaper -- by using the easy options below. Gifts processed in this system are not tax deductible, but are predominately used to help meet the local financial requirements needed to receive national matching-grant funds.
Subscribe to the Coronavirus newsletter
Get the day's latest Coronavirus news delivered to your inbox by subscribing to our newsletter.
---