News > Obituaries
Obituary: Smith, Jerron Dale
Age 48
Wed., Oct. 29, 2014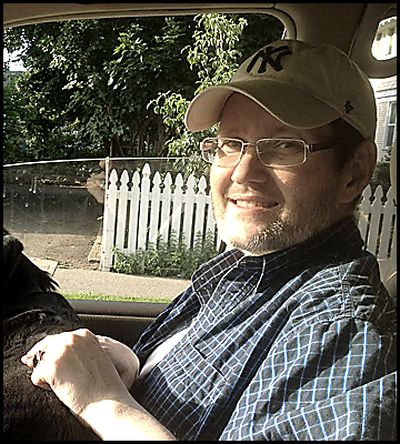 SMITH, Jerron Dale On Wednesday, October 1, 2014, our beloved brother ended his journey here on earth when he joined family that had gone before him.
Jerron was born on November 27, 1965 in Coeur d'Alene, Idaho.
He was number three of four children of Howard and Glee Smith, and was the last of their three adopted children.
He grew up in the Pasadena Park area of Spokane and attended West Valley High School.
Jerron had amazing artistic talent and was truly gifted at whatever artistic endeavor he attempted.
Whether pencil, chalk, pen and ink, water color, or oil, his creations were truly amazing.
(Most of his art was created before he turned 18, and many examples can be viewed at his memorial service.)
He was, both, quick-witted and extremely sharp intellectually.
His comedic timing left many side aches in his wake from the laughter his wit generated, no matter who his audience might have been.
He held many different jobs throughout his life.
For most of his jobs he held positions in which he served others, including the elderly.
People gravitated to his personality, and he had a profoundly positive impact on many, many people over the years.
Family "get togethers" will never be the same without Jerron's lively conversation, deeply thoughtful conjectures, and side splitting sense of humor.
He will be missed tremendously.
He is survived by three siblings and their spouses: Jeff (Esther), Jodi (Kevin), and Jay (Kim), his nieces and nephews: Bethany, Zach, Josh, Emma, Alli, and Luke, as well as some very special and close friends.
A Memorial Service will take place at 2:00pm on Saturday, November 1, 2014 at Pasadena Park Church of the Nazarene, 8822 E. Upriver Drive, Spokane Valley.
Local journalism is essential.
Give directly to The Spokesman-Review's Northwest Passages community forums series -- which helps to offset the costs of several reporter and editor positions at the newspaper -- by using the easy options below. Gifts processed in this system are not tax deductible, but are predominately used to help meet the local financial requirements needed to receive national matching-grant funds.
Subscribe to the Coronavirus newsletter
Get the day's latest Coronavirus news delivered to your inbox by subscribing to our newsletter.
---