Sports
In brief: Pau Gasol, Bulls blow out Knicks to open season
Thu., Oct. 30, 2014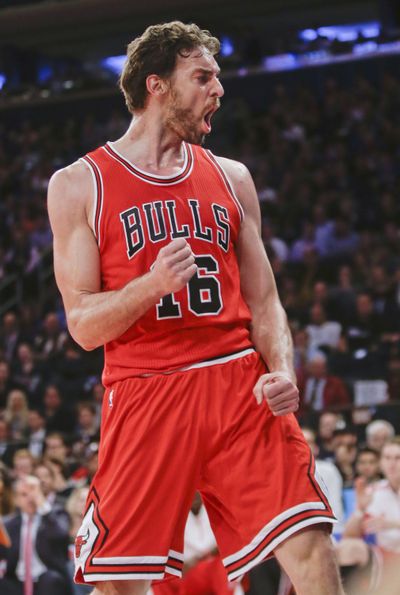 NBA: Pau Gasol had 21 points and 11 rebounds in his Chicago debut, Derrick Rose scored 13 points after missing most of the last two seasons, and the visiting Bulls spoiled Derek Fisher's first game as an NBA coach by beating the Knicks 104-80.
Taj Gibson had 22 points to lead Chicago. Rose, the former MVP, took only seven shots and had five assists in 21 minutes.
Carmelo Anthony had 14 points for the Knicks.
• Heat top Wizards: Chris Bosh had 26 points and 15 rebounds, Norris Cole scored a career-high 23 points, and Miami opened the post-LeBron James era with a 107-95 win over visiting Washington.
Dwyane Wade added 21 points for Miami. Luol Deng scored 12.
Marcin Gortat and Drew Gooden led the Wizards with 18 points apiece.
• Celtics beat Nets: Rajon Rondo returned from a broken hand and had 13 points, 12 assists and seven rebounds to help Boston beat visiting Brooklyn 121-105.
Kelly Olynyk had 19 points and Jeff Green added 17 for Boston.
• Raptors heat Hawks: DeMar DeRozan had 15 points and a career-high 11 rebounds, Kyle Lowry added 11 points and 10 assists, and Toronto opened with an 109-102 victory over visiting Atlanta.
Kyle Korver, Jeff Teague and Mike Scott each scored 20 points for the Hawks.
• Pacers pull away from 76ers: Roy Hibbert had 22 points, eight rebounds and seven blocks, leading Indiana to a 103-91 victory over visiting Philadelphia. Indiana won its season opener for the fourth consecutive year.
Tony Wroten led the 76ers with 22 points. Nerlens Noel had six points and 10 rebounds in his NBA debut.
• Hornets over Bucks in OT: Kemba Walker made a 21-footer with five seconds left in overtime to lift Charlotte over visiting Milwaukee 108-106.
Walker finished with 26 points, including a tying 3-pointer with 1.6 seconds left in regulation.
The Bucks were led by Brandon Knight with 22 points and 13 assists.
• Memphis overpowers Minnesota: Marc Gasol had a career-high 32 points with nine rebounds, and Memphis beat visiting Minnesota 105-101 for the franchise's first victory in a season opener since 2000.
Zach Randolph added 25 points and 13 rebounds for Memphis. Thaddeus Young had 26 points for Minnesota.
• Rockets spoil Jazz home opener : Dwight Howard had 22 points and 10 rebounds and visiting Houston beat Utah 104-93 to spoil Quin Snyder's NBA coaching debut.
Trevor Ariza added 20 points for the Rockets.
Alec Burks led Utah with 18 points.
• Nuggets outlast Pistons: Kenneth Faried scored 22 points and had 17 rebounds and Denver opened with an 89-79 win over visiting Detroit, spoiling the debut of Pistons coach Stan Van Gundy. Josh Smith had 25 points to lead the Pistons.
• Warriors whip Kings: Stephen Curry had 24 points and 10 rebounds, Klay Thompson scored 19 points and Golden State made Steve Kerr a winner in his coaching debut, rolling past Sacramento 95-77. DeMarcus Cousins had 20 points and 11 rebounds and Rudy Gay scored 14 points for the Kings.
• Blazers top undermanned Thunder: LaMarcus Aldridge had 27 points and Portland rallied in the fourth quarter at home to beat injury-depleted Oklahoma City 106-89.
The Thunder only suited up nine players, most notably missing reigning NBA MVP Kevin Durant, who had surgery on his right foot and will likely be out until December. Russell Westbrook had 38 points for the Thunder.
• Suns rout Lakers: Isaiah Thomas scored 23 points in his Phoenix debut and the Sun dominated the Lakers 119-99 despite Kobe Bryant's 31 points. Goran Dragic scored 12 of his 18 points in the third quarter, when the Suns outscored the Lakers 39-24.
• Randle has surgery: Lakers rookie forward Julius Randle is expected to miss the season after undergoing surgery on his broken right leg. The seventh overall pick out of Kentucky broke his leg in his NBA debut in Los Angeles' season-opening loss to Houston.
• Sacramento breaks ground on arena: Sacramento Mayor Kevin Johnson, Kings owner Vivek Ranadive and others gathered for a ceremonial groundbreaking at Downtown Plaza, though work started months ago. The $477 million arena is expected to open for the 2016-17 season.
Red Wings rally to beat Capitals
NHL: Justin Abdelkader scored twice in the third period to help visiting Detroit rally for a 4-2 victory over Washington. Abdelkader broke a 2-2 tie midway through the third. The winger tied the game earlier in the period.
Troy Brouwer and Evgeny Kuznetsov scored for the Caps.
• Predators handle Oilers: Craig Smith scored twice and Nashville enjoyed a 4-1 road victory over Edmonton. Taylor Hall scored for the Oilers. Edmonton had won four straight after opening 0-4-1.
• Rangers' Moore suspended for head hit: The NHL suspended New York defenseman John Moore for five games for an illegal hit to the head of Minnesota forward Erik Haula. Moore will lose $51,859.75 in salary.
Hawaii fires coach
COLLEGE BASKETBALL: Hawaii fired head coach Gib Arnold and assistant Brandyn Akana just two weeks before its first game.
Arnold compiled a record of 72-55 over four years.
Hawaii earlier self-reported a Jan. 9 incident in which "a men's basketball coach submitted an altered document that was essential for admissions purposes."
Associate head coach Benjy Taylor was named interim head coach.
• Monson, Long Beach State agree to extension: Long Beach State coach Dan Monson agreed to a five-year extension, through 2018-19. Monson is 119-108 in seven seasons with the 49ers, leaving him four victories short of Jerry Tarkanian's school record. Monson has a career record of 289-231 in 17 seasons at Gonzaga, Minnesota and Long Beach State.
Federer advances at Paris Masters
TENNIS: Roger Federer completed a 7-6 (5), 6-7 (5), 6-4 victory over Jeremy Chardy to reach the third round of the Paris Masters, keeping his challenge for the year-end No. 1 ranking on track. The 33-year-old Federer is undefeated in his past 12 matches and trails top-ranked Novak Djokovic by 490 points.
• Muguruza beats Makarova at Tournament of Champions: Garbine Muguruza's pulled a surprise 6-2, 6-1 victory over top-seeded Ekaterina Makarova of Russia at the season-ending WTA Tournament of Champions in Sofia, Bulgaria. The WTA's rising star from Spain needed just 69 minutes to cruise past the Russian favorite.
Local journalism is essential.
Give directly to The Spokesman-Review's Northwest Passages community forums series -- which helps to offset the costs of several reporter and editor positions at the newspaper -- by using the easy options below. Gifts processed in this system are not tax deductible, but are predominately used to help meet the local financial requirements needed to receive national matching-grant funds.
Subscribe to the sports newsletter
Get the day's top sports headlines and breaking news delivered to your inbox by subscribing here.
---