News > Nation/World
Pulitzer Prize-winning poet Galway Kinnell dies at 87
Thu., Oct. 30, 2014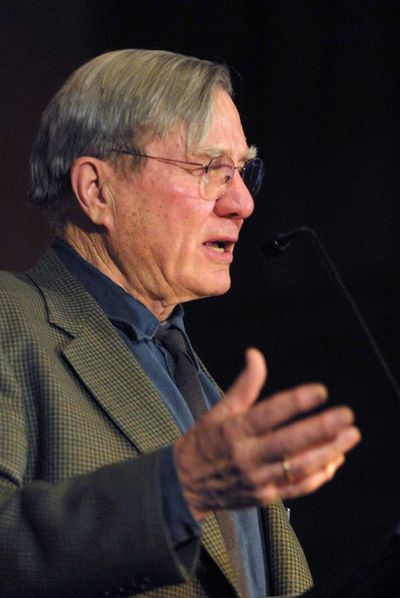 MONTPELIER, Vt. – Galway Kinnell, the Pulitzer Prize-winning poet who opened up American verse in the 1960s and beyond through his forceful, spiritual takes on the outsiders and underside of contemporary life, has died at age 87.
Kinnell's wife, Bobbie Bristol, said he died Tuesday afternoon at their home in Sheffield, Vermont. He had leukemia.
Among the most celebrated poets of his time, he won the Pulitzer and the National Book Award for the 1982 release "Selected Poems" and later received a MacArthur Genius Fellowship. In 1989, he was named Vermont's poet laureate, and the Academy of American Poets gave him the 2010 Wallace Stevens Award for lifetime achievement. His other books included "Body Rags," "Mortal Acts, Mortal Words," "The Past" and his final book of poetry, "Strong Is Your Hold," released in 2006.
Kinnell's style blended the physical and the philosophical, not shying from the most tactile and jarring details of humans and nature exploring their greater dimensions. He once told the Los Angeles Times that his intention was to "dwell on the ugly as fully, as far, and as long" as he "could stomach it." In one of his most famous poems, "The Bear," he imagines a hunter who consumes animal blood and excrement and comes to identify with his prey, wondering "what, anyway, was that sticky infusion, that rank flavor of blood, that poetry, by which I lived?"
A native of Providence, Rhode Island, and graduate of Princeton University, Kinnell was influenced in childhood by Emily Dickinson and Edgar Allen Poe among others but was also shaped by his experiences as an adult. He served in the U.S. Navy in World War II, traveled everywhere from Paris to Iran, opposed the Vietnam War and served as a field worker for the civil rights organization CORE (Congress of Racial Equality). Like his friend and contemporary W.S. Merwin, he began weaving the events of the time into his poetry.
In "Vapor Trail Reflected in the Frog Pond," from the 1968 collection "Body Rags," he invokes the chanting style of Walt Whitman to condemn American violence:
And I hear,
coming over the hills, America singing,
her varied carols I hear:
crack of deputies' rifles practicing their aim on stray dogs at night,
sput of cattleprod,
TV going on about the smells of the human body,
curses of the soldier as he poisons, burns, grinds, and stabs
the rice of the world,
with open mouth, crying strong, hysterical curses.
Kinnell taught at numerous schools, including Reed College and New York University, and for several years was a visiting poet at Sarah Lawrence College. From 2001-2007, he served as chancellor of the poets academy.
Local journalism is essential.
Give directly to The Spokesman-Review's Northwest Passages community forums series -- which helps to offset the costs of several reporter and editor positions at the newspaper -- by using the easy options below. Gifts processed in this system are not tax deductible, but are predominately used to help meet the local financial requirements needed to receive national matching-grant funds.
Subscribe to the Coronavirus newsletter
Get the day's latest Coronavirus news delivered to your inbox by subscribing to our newsletter.
---