Sports
Royals' dream season falls short in World Series
Thu., Oct. 30, 2014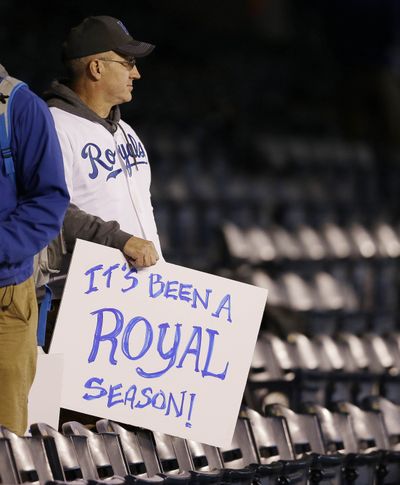 KANSAS CITY, Mo. – Alex Gordon saw the ball skipping past Giants outfielder Gregor Blanco and all the way to the wall, and the Royals' homegrown star put his head down and churned toward third base.
For just a moment, thousands of fans thought he might try to score – one last dash for home, and a tying run for the ages in the bottom of the ninth inning in Game 7 of the World Series.
"I was doing whatever I could to score," Gordon said later, standing in front of his locker. "It's hard to see when you hit a ball like that with the scoreboard in the fence."
Forced to rely on his coaches to judge whether he could score, Gordon saw third-base coach Mike Jirschele flash him the signal to stop. Gordon pulled up and stood on third base, leaving San Francisco with a 3-2 lead with two outs Wednesday night.
Salvador Perez stepped to the plate against Giants ace Madison Bumgarner. With the crowd at a roar once more, the big catcher popped out to third base for the final out.
"We had a chance," said the Royals' Billy Butler. "We had a chance at the end there with Sal, it just didn't work out. Jirsch is a tremendous third-base coach. He said he shouldn't go, he shouldn't have gone. We just fell short. It hurts. It's only one run."
Gordon also said it was the right decision to hold him. The relay throw had arrived in plenty of time, and any decent throw to the plate would have beaten Gordon by several feet.
"It was a good hold," Gordon said. "Close, but just short."
Still, the season will be remembered for much more than how close the Royals came to forcing extra innings one more time. It will be remembered for their 12-inning wild-card win over Oakland, and sweeps of the Angels and Orioles in their first playoff appearance since 1985.
It will be remembered for Yordano Ventura's inspired pitching performance in Game 6. And the gutsy performances by the Royals' brilliant bullpen. It will be remembered for James Shields and Wade Davis, and the way they taught a losing clubhouse how to win.
It will be remembered for waking a baseball-starved city from its slumber.
"The character we had in this clubhouse is what I'll remember the most," said Shields, who now becomes a free agent and will likely pitch elsewhere for next season.
"We battled," first baseman Eric Hosmer said. "I think you saw how much heart we have."
It was on display one last time in the World Series.
After splitting the first two games at home, Kansas City lost two of three in San Francisco, returning to Kauffman Stadium needing a victory just to force a deciding Game 7.
They got it in a 10-0 rout behind Ventura, who dedicated the victory to the late Cardinals outfielder Oscar Taveras, his good friend who died in a car crash over the weekend.
Kansas City rallied once more in the finale, falling behind 2-0 in the second inning before tying the game in the bottom half of the inning. But that would be the Royals' last hurrah.
Local journalism is essential.
Give directly to The Spokesman-Review's Northwest Passages community forums series -- which helps to offset the costs of several reporter and editor positions at the newspaper -- by using the easy options below. Gifts processed in this system are not tax deductible, but are predominately used to help meet the local financial requirements needed to receive national matching-grant funds.
Subscribe to the sports newsletter
Get the day's top sports headlines and breaking news delivered to your inbox by subscribing here.
---