News > Spokane
Woman arrested in Browne's Addition stabbing death
Thu., Oct. 30, 2014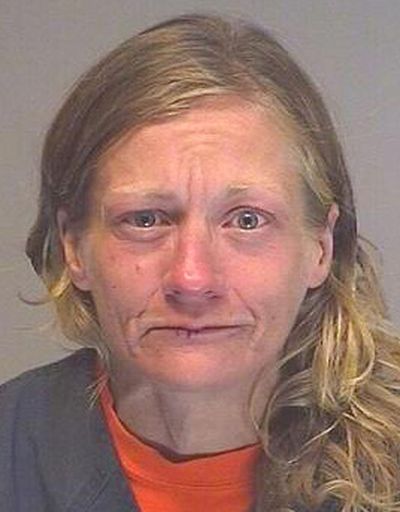 Police arrested Chrystal L. Huff in her boyfriend's apartment early Wednesday morning after authorities said she skipped an interview about her alleged role in a grisly Browne's Addition killing.
Police identified her Tuesday as a suspect in the September death of Richard W. Whipple and asked the public's help to find her.
Whipple was found stabbed to death in his apartment at 1600 W. Pacific Ave. after neighbors reported a bad smell. The building manager, Mike Chandler, hired janitors to remove several bags of garbage from the apartment. They only discovered Whipple's body on a subsequent visit to the apartment as the smell persisted.
According to court documents, a witness in the building said she last saw Whipple around Sept. 25 and also saw Huff enter Whipple's apartment with him around that date.
Detectives also spoke with Huff's boyfriend, Michael Winn, who said Huff told him she had stabbed Whipple after waking up with him on top of her trying to sexually assault her, court documents say. Winn said Huff told him she used a wire cord to try to strangle Whipple and stabbed him with a pair of scissors; she then poured soap down his throat because he was still breathing.
Huff had been in jail for 2 1/2 weeks in October on an unrelated case. While detectives suspected her in Whipple's death, they didn't have enough evidence to hold her, police spokeswoman Monique Cotton said.
Prior to her release Oct. 23, detectives asked Huff if she would like to make a taped statement, which may have strengthened the case against her.
According to court documents, Huff told detectives she could not live with what had happened and had to "make it right with God." She also said she wanted to see her family first and scheduled an appointment for Oct. 24 to make a statement. She failed to show up.
Around 1:45 a.m. Wednesday, police received a tip that Huff was at an apartment in the Bel Franklin building at 225 N. Division St.
Police officers heard people inside the apartment, but no one answered knocks on the door.
Police obtained a warrant and entered the apartment with a key furnished by the manager.
They found Lawrence S. Barile, who lives in the apartment, lying on a bed with Huff and arrested him on suspicion of rendering criminal assistance. According to court documents, Barile at first said he didn't hear police knocking but later said he didn't answer the door because he was "busy."
Local journalism is essential.
Give directly to The Spokesman-Review's Northwest Passages community forums series -- which helps to offset the costs of several reporter and editor positions at the newspaper -- by using the easy options below. Gifts processed in this system are not tax deductible, but are predominately used to help meet the local financial requirements needed to receive national matching-grant funds.
Subscribe to the Coronavirus newsletter
Get the day's latest Coronavirus news delivered to your inbox by subscribing to our newsletter.
---