Sports
EWU receiver Cory Mitchell back on field and with his family
Fri., Oct. 31, 2014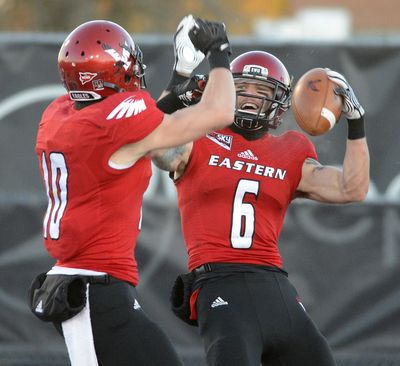 Separation is a good thing for most wide receivers. Not Cory Mitchell.
The Eastern Washington senior has been running comeback routes his entire life, 26 years defined by family and football.
In that order.
On a typical Sunday morning, his 3-year-old son Jhett is running around the Mitchell home, football in hand, imitating the NFL players on TV. Younger brother Dash "hasn't picked up the football thing yet, but give him time," said Cory.
It was a telling comment; as it turned out, a little extra time was all Cory needed to find himself, on and off the field.
The second-oldest of four brothers growing up near Houston, Mitchell marveled at Texans' passion for football.
"It's a religion, and that's no joke," Mitchell said.
But his father, Mitch, was unconverted. Baseball was the sport of choice – until Cory chose football in junior high.
"I had to beg Dad to let me play, and he finally caved in – as long it didn't interfere with baseball," Mitchell said.
A change of direction
At Katy High School, near Houston, he caught passes from future NFL player Andy Dalton. Younger brother Bo Levi became the starter when Dalton graduated, setting up a dream season – brother throwing to brother – under the Friday night lights.
But it never happened. Breaking team rules, Cory went to a party and was dismissed before the season began. His father sent him to live with relatives in Colorado – and to play football, but that lasted only three games, all losses. Preferring to finish high school with his friends, he returned to Katy.
"I thought I'd never play another football game," said Mitchell, who found something more important on graduation day in 2006 – love. Attending a festival with friends, he met Atosha Granger, who had graduated from Katy the year before.
"I knew she was the one," said Mitchell. They both worked, she as a dental technician and he as a cellphone salesman at AT&T. He played semipro football in the Houston area while Bo Levi played at Southern Methodist in Dallas.
In the summer of 2010, fate intervened. After losing his starting spot at SMU, Bo Levi looked for a new opportunity; Cory wanted an education, and the chance to play college ball.
They found all of that in far-off Cheney, where Cory redshirted in 2010 while Bo Levi quarterbacked the Eagles to the national title. "It was awesome to watch," Cory said.
New routes to success
The brothers were reunited on the field in 2011. Cory's first touchdown catch as an Eagle came against Northern Arizona, when he leaped high for a ball intended for teammate Greg Herd.
"I didn't find that out until after the game," Mitchell laughed.
That year, Mitchell caught 19 balls for 310 yards and two touchdowns, but he struggled to find playing time the following year and had just four receptions for 23 yards.
By that time, Bo Levi was off to the Canadian Football League. "We still talk and text all the time" said Cory, who at the time was struggling in a long-distance relationship with Atosha and their two sons.
"I missed them so much," he said.
Finally in the fall of 2013, they were reunited in Cheney, as Atosha found a job in Spokane while Cory worked on his degree in interdisciplinary studies.
On the field, the 6-foot-2, 195-pound Mitchell had his best season yet – 47 catches for 699 yards, third-most on a team that repeated as Big Sky champions. "He's been a big part of this receiving corps for several years," coach Beau Baldwin said.
His senior year has been a season of highs and lows. He was voted a team captain – "that says a lot about how far he's come," Baldwin said – but suffered a broken collarbone in the third game of the season, at Washington, after catching two touchdown passes.
"It was extremely frustrating, and at first I wondered if my season was over," Mitchell said. "Or if I would be the same player."
Back on the field last week at NAU, he caught one pass for 6 yards, but that was beside the point. "It made me realize how much I missed the guys," he said.
In the same breath, he talks about the mixed blessing of his injury, the chance to spend more time at home.
After the season is over, Mitchell still hopes for a future in football. If that doesn't work out, he'll pursue a career in communications or health science, probably back in Texas.
Conference
Overall
W
L
W
L
Montana St.
4
0
6
2
E. Washington
4
1
7
2
Cal Poly
4
1
5
3
Idaho St.
3
1
5
3
Montana
3
1
5
3
N. Arizona
3
1
5
3
Portland St.
2
2
3
5
S. Utah
2
3
2
7
Sacramento St.
1
3
4
4
North Dakota
1
3
3
5
N. Colorado
1
4
2
6
UC Davis
0
4
1
6
Weber St.
0
4
0
8
Local journalism is essential.
Give directly to The Spokesman-Review's Northwest Passages community forums series -- which helps to offset the costs of several reporter and editor positions at the newspaper -- by using the easy options below. Gifts processed in this system are not tax deductible, but are predominately used to help meet the local financial requirements needed to receive national matching-grant funds.
Subscribe to the sports newsletter
Get the day's top sports headlines and breaking news delivered to your inbox by subscribing here.
---