News > Spokane
Favorite haunts: Are figures from Spokane's past making their unearthly presence known?
Fri., Oct. 31, 2014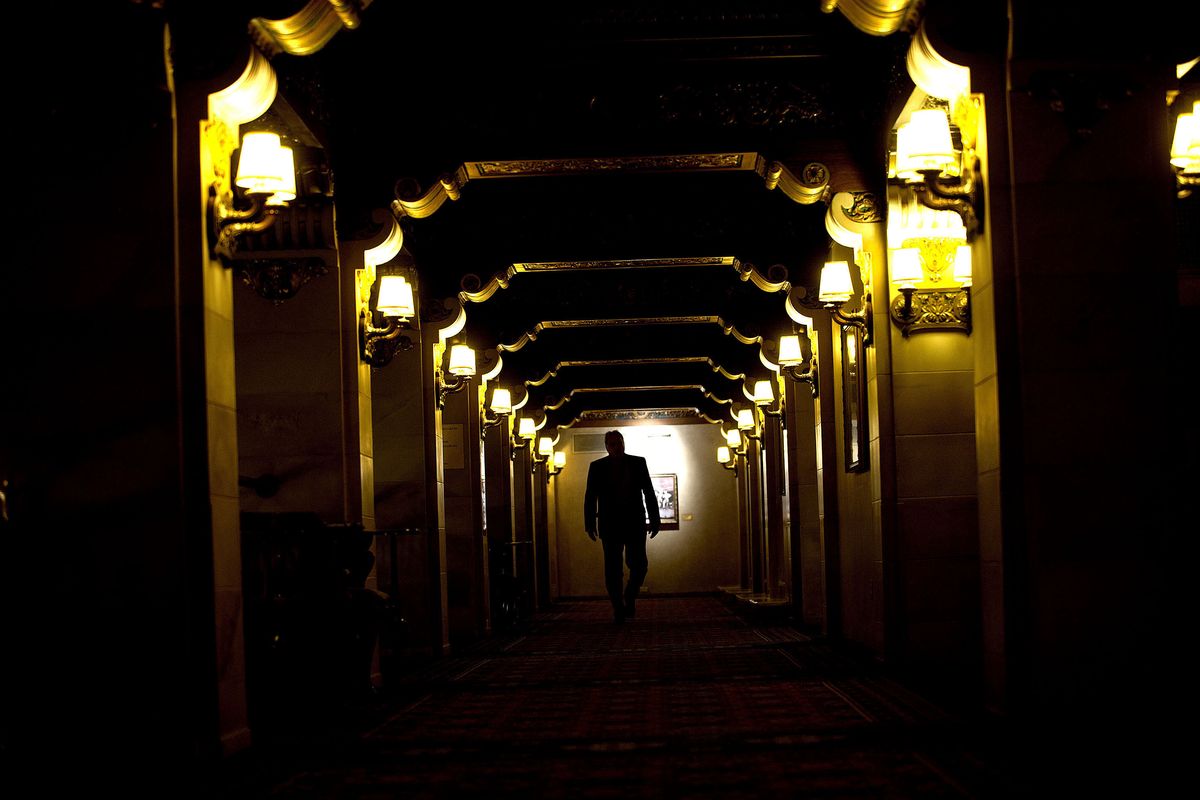 The Davenport Hotel A visitor walks through the halls of Spokane's landmark hotel on Oct. 17. The 405-room structure opened in 1914 and has been visited by many dignitaries and celebrities, including Bob Hope, Clark Gable, Charles Lindbergh and Bing Crosby. Legend has it that ghosts can be seen wandering the halls. (Kathy Plonka)
Does the man once hailed as the "father of Spokane" haunt the cemetery he designed?
In honor of the day, let's suspend our disbelief and acknowledge that Anthony McCue Cannon, the first banker and second mayor of Spokane, is believed by those who believe in this sort of thing to be among the unsettled spirits haunting the Greenwood Cemetery and its notorious "1,000 steps."
Cannon is by no means the only figure of historical significance whose spirit lingers in the "haunted history" of Spokane. The shade of Louis Davenport has reportedly been spotted in the hotel that bears his name, in bathrobe and slippers. The ghost of Mary Clark – wife of Patsy – is believed to haunt the mansion along with other spirits.
But Cannon might be Spokane's most prominent ghost, at least based on his role in the formation of the city. And if Cannon's ghost hangs around, literally or figuratively, perhaps it's because by the time he died, he had suffered so many of the earthly horrors that might leave an unsettled echo.
Financial ruin. Untimely death. Public shame.
Cannon was entombed at the park-like cemetery he owned and designed – Greenwood. Among his failed business ventures had been a doomed effort to start a railroad. After his death, the Northern Pacific built a rail tunnel underneath the cemetery, and trains regularly passed – and blew their whistles – under Cannon's final resting place, until the tunnel was closed in the 1970s.
"Were these taunts sufficient to disquiet the dead?," asked author Chet Caskey in his book, "Haunted Spokane." "In short, 'yes, they were,' and even after the tracks were removed and the tunnel sealed … the occasional metaphysically ignorant Greenwood Cemetery visitor at night reported seeing a heavily bearded ghost appear as if emerging from the rock encasing the sealed tunnel to the west of Cannon's grave and monument."
Caskey stops short of positively asserting that the bearded figure is Cannon, but wrote, "if poor Anthony Cannon has a ghost it undoubtedly wanders restlessly near the sealed tunnel."
So there's that.
Long before Anthony Cannon was a poor pariah, he was rich and powerful. Various histories tell of his arrival at Spokane Falls on horseback in 1878 and buying up land all around it. He started a bank, and did booming business in real estate. He served on the first City Council, and was elected mayor. He moved in circles with the other rich and powerful men whose names, like Cannon's, now adorn streets and parks throughout the city: John Browne, James Glover, Daniel Chase Corbin.
Having divorced his first wife and left her in Portland, Cannon wed a young widow with five children, Jennie Pease. She became a popular and well-known figure in town, both as a socialite and as a figure of mercy. The Cannons threw lavish parties that were covered gushingly in the newspapers. Jennie worked with charities throughout the city, and reportedly had a standing offer of $1,000 to any woman who wanted to leave a life of prostitution.
A.M. Cannon, meanwhile, seemed to have a financial hand in virtually every enterprise in Spokane. A streetcar line. The Chronicle newspaper. A cracker company. A sawmill.
"Indeed, it seemed as if there was nothing Cannon could not do or try to do," wrote Barbara Cochran in "Seven Frontier Women and The Founding of Spokane Falls."
But Cannon's fortunes turned. A decade after he rode in on his horse, Cannon's mansion was burglarized and Jennie lost many of the jewels he was known for lavishing on her. A year later, in 1889, the Great Fire destroyed his bank, the Bank of Spokane Falls. Cannon mortgaged everything to try and get back on his feet – plans that were ruined by the financial panic of 1893. He eventually lost it all.
Among his dreams during this time was a desire to become a railroad magnate. He had purchased the land where the Greenwood Cemetery now sits in the hopes of starting a railroad to compete with the Northern Pacific. He began building a depot before the railroad went under in 1889 – the same year as the fire. Cannon's backup plan was the development of the large cemetery, including a tomb for him and his wife.
Jennie went there first, dying after a long illness in 1892. Cannon remarried in very short order – within weeks of the funeral – and Spokane was outraged by this offense against the well-loved and respected Jennie. Cannon traveled to South America in an unsuccessful effort to resurrect his business ventures; in 1895 he was found dead at age 57 in a New York City hotel room.
His body was sent home to Spokane by train, and buried at Greenwood.
Today, the steps leading up to the second terrace at Greenwood, where the Cannons and other prominent early Spokane figures are buried, are often at the top of the list of places that are supposedly haunted in the area.
(Cutline: The sun filters through the trees near this set of concrete steps at Greenwood Cemetery in Spokane on Thursday, October 21, 2014. Nicknamed 1000 Steps, the structure leading to the cemetery was built over a century ago. Urban legend has it ghosts have been said to scare away anyone who tries to scale the steps. SR Photo: Kathy Plonka)
Here is how the website Spokane Historical, an Eastern Washington University public history project, describes it:
"Many people believe ghosts and spirits guard the staircase, preventing people from reaching the top. Several folks even claim to have seen and/or felt these ethereal entities while traipsing through the cemetery at night, challenging the keepers of the thousand steps. Oh, and the number of actual steps? … 60-something."
Caskey calls the steps the "acknowledged place as the most intense paranormal activity in both the State of Washington and Northern Idaho."
Clearly, stories of the ghosts of Greenwood are not dying off. If anything, they're finding new life online. The "Haunted 1,000 Steps" has a Facebook page. As of Thursday, it had accumulated 650 likes.
Shawn Vestal can be reached at (509) 459-5431 or
shawnv@spokesman.com
. Follow him on Twitter at @vestal13.
Local journalism is essential.
Give directly to The Spokesman-Review's Northwest Passages community forums series -- which helps to offset the costs of several reporter and editor positions at the newspaper -- by using the easy options below. Gifts processed in this system are not tax deductible, but are predominately used to help meet the local financial requirements needed to receive national matching-grant funds.
Subscribe now to get breaking news alerts in your email inbox
Get breaking news delivered to your inbox as it happens.
---