Sports
New coach Wayne Tinkle has tough task at OSU
Fri., Oct. 31, 2014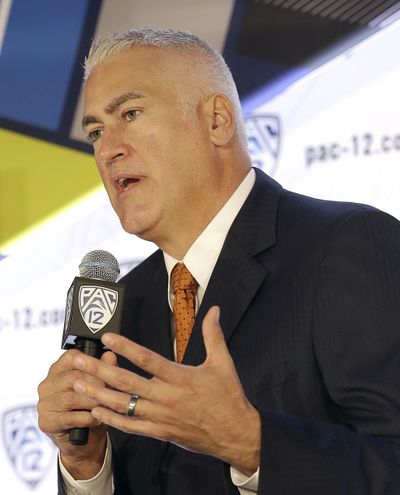 Oregon State has seven walk-on players on its men's basketball roster, which pretty much sums up the challenge that new coach Wayne Tinkle has before him.
Tinkle, a Ferris High School graduate, takes over an Oregon State team so depleted he had to hold open tryouts. Some of those guys are going to have to help the Beavers as Tinkle takes the first steps toward rebuilding the team.
"We've never had seven to eight like we do this year," Tinkle said at Pac-12 media day. "That's OK. We're proud of the guys that came out, are sticking to it. We know they're going to contribute quite a bit. Quite frankly there are going to be several of them that have to compete and play for us night in and night out."
Tinkle was hired by the Beavers in May after eight seasons at Montana, where he took the Grizzlies to the NCAA tournament three times and finished below .500 only once.
He replaces Craig Robinson, brother-in-law of President Barack Obama, who was let go after six seasons during which the Beavers failed to make the NCAA tournament. The once-proud Beavers have not been to the NCAAs since 1990.
Oregon State finished 16-15 this past season and was bounced in the first round of the CBI by Radford. The Beavers finished ninth in Pac-12 play at 8-10.
Given the program's upheaval, the Beavers were picked to finish last in the conference's preseason media poll.
"You know, I'm speaking on behalf of my team, that's just motivation," said guard Langston Morris-Walker. "We have our own set of goals. We just want to win the small battles every day and keep working hard every day. I think that's what we're going to do."
Morris-Walker averaged 4.1 points in 18 minutes per game last season and is the top-scoring returning player for the Beavers. Also returning is junior forward Daniel Gomis, sophomore guard Malcolm Duvivier, and 6-foot-10 forward Olaf Schaftenaar.
The Beavers' key losses include Roberto Nelson, Angus Brandt, Devon Collier and Eric Moreland.
Local journalism is essential.
Give directly to The Spokesman-Review's Northwest Passages community forums series -- which helps to offset the costs of several reporter and editor positions at the newspaper -- by using the easy options below. Gifts processed in this system are not tax deductible, but are predominately used to help meet the local financial requirements needed to receive national matching-grant funds.
Subscribe to the sports newsletter
Get the day's top sports headlines and breaking news delivered to your inbox by subscribing here.
---