News > Obituaries
Obituary: Krous, Elizabeth A. "Betty"
Age 101
Fri., Oct. 31, 2014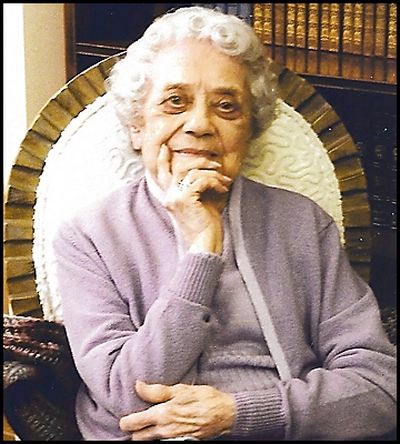 KROUS, Elizabeth A.
"Betty" Elizabeth A.
"Betty" Krous was born on March 21, 1913 in Potlatch, ID and passed away October 27, 2014.
Betty was the oldest of nine children born to George and Victoria Gambetti.
She has lived in Potlatch or Spokane her entire life.
Betty met her husband, Virgil, while they were students at Potlatch High School where they both graduated.
They were married in 1935 and had 64 wonderful years together.
After they came to Spokane they owned a restaurant until Virgil went to barber school and Betty was employed in the retail clothing stores which included The Crescent, The Bon Marche, Emery's and Ward's.
Her passions were at home, baking and especially her flower gardens.
She was very creative in her embroidery, crocheting and quilting, She is survived by her youngest sister, Linda Gambetti; and her two children: Brandi and Allen.
Her surviving nieces include: Lyne Taggart, Cindy Ostendorf, Vicki Chandler, Renee Amsbary, Helen Perin; and many nieces and nephews that live outside the area.
She has numerous grand and great-grandnieces and nephews.
She was preceded in death by her husband Virgil; her parents and eight siblings.
Betty was a life member of VFW, American Legion and D.A.V.
Visitation will be held at Heritage on Friday, October 31, 2014 from 10:00AM to 5:00PM.
A Funeral Service will be held on Saturday, November 1, 2014 at 1:00PM at the Fairmount Memorial Park Sunset Chapel, 5200 W. Wellesley.
Local journalism is essential.
Give directly to The Spokesman-Review's Northwest Passages community forums series -- which helps to offset the costs of several reporter and editor positions at the newspaper -- by using the easy options below. Gifts processed in this system are not tax deductible, but are predominately used to help meet the local financial requirements needed to receive national matching-grant funds.
Subscribe now to get breaking news alerts in your email inbox
Get breaking news delivered to your inbox as it happens.
---