News > Nation/World
People: Apple CEO Cook comes out as gay
Fri., Oct. 31, 2014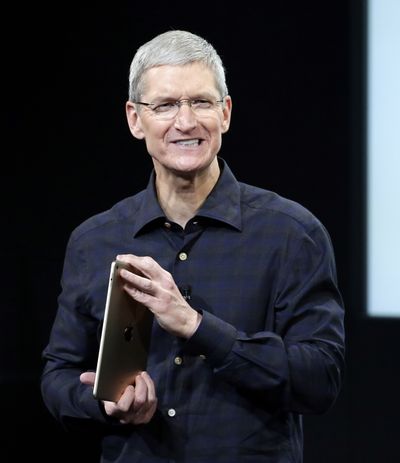 Apple CEO Tim Cook's declaration that he's "proud to be gay" wasn't exactly news in Silicon Valley, where his sexual orientation was no secret. But advocates say that given Apple's immense reach and visibility, his coming-out could help change attitudes in workplaces across America.
The 53-year-old successor to Steve Jobs made the announcement in an essay published Thursday by Bloomberg Businessweek. He is the highest-profile U.S. business executive to publicly acknowledge that he's gay.
In a country where more major-league athletes have come out than top CEOs, business leaders said Cook's disclosure was an important step toward easing anti-gay stigma, particularly for employees in the many states where people can still be fired for their sexual orientation.
Cook, who led Out magazine's top 50 most powerful people for three years, said in the essay that while he never denied his sexuality, he never openly acknowledged it, either. He said he acted now in the hopes that his words could make a difference to others.
"I've come to realize that my desire for personal privacy has been holding me back from doing something more important," he wrote.
Cook said he considers being gay "among the greatest gifts God has given me" because it has given him both a better understanding of what it means to be in the minority and "the skin of a rhinoceros, which comes in handy when you're the CEO of Apple."
Besides Cook, there are no other openly gay CEOs in the Fortune 1,000, even though statistically, 3.4 percent of Americans identify as something other than straight, according to data from the Centers for Disease Control.
'Blurred Lines' claim going to trial
Robin Thicke and Pharrell Williams have lost the first round in their battle with Marvin Gaye's family in an ongoing debate over whether their 2013 megahit "Blurred Lines" infringed on Gaye's 1977 song "Got to Give It up."
U.S. District Court Judge John Kronstadt denied Thicke and William's motion for a court ruling stating that "Blurred Lines" had not borrowed substantially from Gaye's song, instead writing that Gaye's family members "have made a sufficient showing that elements of 'Blurred Lines' may be substantially similar to protected, original elements of 'Got to Give It Up.' "
That means the Gaye family's lawsuit can proceed. A trial has been set for Feb. 10.
The birthday bunch
Actress Lee Grant is 89. Former CBS anchorman Dan Rather is 83. Folk singer Tom Paxton is 77. Actor David Ogden Stiers is 72. Actor Brian Doyle-Murray is 69. Actor Stephen Rea is 68. Actress Deidre Hall is 66. Talk show host Jane Pauley is 64. Rock musician Larry Mullen is 53. Actor Dermot Mulroney is 51. Actor Rob Schneider is 50. Rap performer Vanilla Ice (aka Rob Van Winkle) is 46. Folk-rock musician Tay Strathairn (Dawes) is 34.
Local journalism is essential.
Give directly to The Spokesman-Review's Northwest Passages community forums series -- which helps to offset the costs of several reporter and editor positions at the newspaper -- by using the easy options below. Gifts processed in this system are not tax deductible, but are predominately used to help meet the local financial requirements needed to receive national matching-grant funds.
Subscribe now to get breaking news alerts in your email inbox
Get breaking news delivered to your inbox as it happens.
---