News > Spokane
Police must now leave cameras on
Citizens can no longer request they stop recording
Fri., Oct. 31, 2014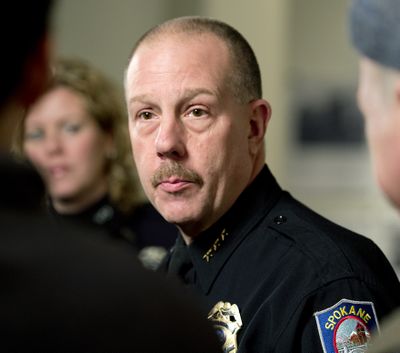 In response to public feedback, Spokane police officers outfitted with body cameras will record every incident they respond to for the next month of the department's pilot program.
Spokane police Chief Frank Straub announced the change, which will become effective Saturday, at a community forum at Gonzaga University's Cataldo Hall Thursday night. He said the shift is in line with other police departments and the desires of Spokane residents.
"What we have heard over and over is that we don't want officer interactions left to discretion," he said, referring to comments from community outreach meetings the department has conducted since the pilot program began in September.
Since Sept. 13, department policy has required the 17 officers outfitted with body cameras to turn those cameras off in a private residence if the occupants request it. But Straub said that policy leaves a gray area if occupants in the home disagree if an interaction should be recorded.
"If I just got done beating my child, I may not want you to record the welts on that child," he said.
Officers will begin interactions by notifying people that they are being audio- and video-recorded, and will continue recording inside a residence even if an occupant asks them to stop.
For the first two months of the pilot program, department policy also allowed officers to turn cameras off in "sensitive situations," such as a death notification. Now, Straub said, officers only will be able to turn off cameras in "extenuating circumstances," like a mental health crisis that's severely exacerbated by an officer recording, or a situation where a victim or witness refuses to make a statement unless the camera is turned off.
An officer who fails to turn on the camera or turns it off mid-interaction also will have to make a report explaining why, Straub said.
Several forum attendees expressed concerns that the policy shift will chill casual interactions on the street between police and neighborhood residents, making community-based policing more difficult. But Straub said casual conversation with officers to ask for directions or chat about the weather won't be recorded, unless the interaction became hostile.
The change poses privacy questions because body camera recordings are a public record. Theoretically, Straub said, a neighbor who doesn't like you could call police to your home, make a request for the video and put it on YouTube.
Tim Connor, former communications director of the Center for Justice, said at the forum he was "horrified" by the thought of someone maliciously requesting video footage to make someone else look bad. Straub agreed, but said there's no perfect balance between transparency in police interactions and privacy for citizens.
"It's a tricky area, and one of those where you can be damned if you do, damned if you don't," he said.
All video recorded during the pilot program, which ends Dec. 31, will be retained for the duration of the program. Officials say all patrol officers will begin wearing cameras next year.
The department hasn't yet drafted a policy for how long footage will be retained once body cameras are in use by all officers. Any footage that's evidence for a case or internal investigation will be retained until that matter is closed, and lengths between seven and 30 days have been discussed for non-evidentiary footage.
Straub said he felt seven days would probably be long enough to allow anyone who might want to file a complaint to come forward.
"If you have a negative interaction with the police, you know," he said.
The policy on officer recordings likely will change again before the pilot program is over, and Straub said he will continue to consult legal experts and community members.
"I've been very clear since the beginning of this project that this is an evolutionary process. We're going to try things and see what works and what doesn't work," he said
Local journalism is essential.
Give directly to The Spokesman-Review's Northwest Passages community forums series -- which helps to offset the costs of several reporter and editor positions at the newspaper -- by using the easy options below. Gifts processed in this system are not tax deductible, but are predominately used to help meet the local financial requirements needed to receive national matching-grant funds.
Subscribe now to get breaking news alerts in your email inbox
Get breaking news delivered to your inbox as it happens.
---