News > Idaho
Sparks fly at Idaho gubernatorial debate
Otter takes criticism from both challengers
Fri., Oct. 31, 2014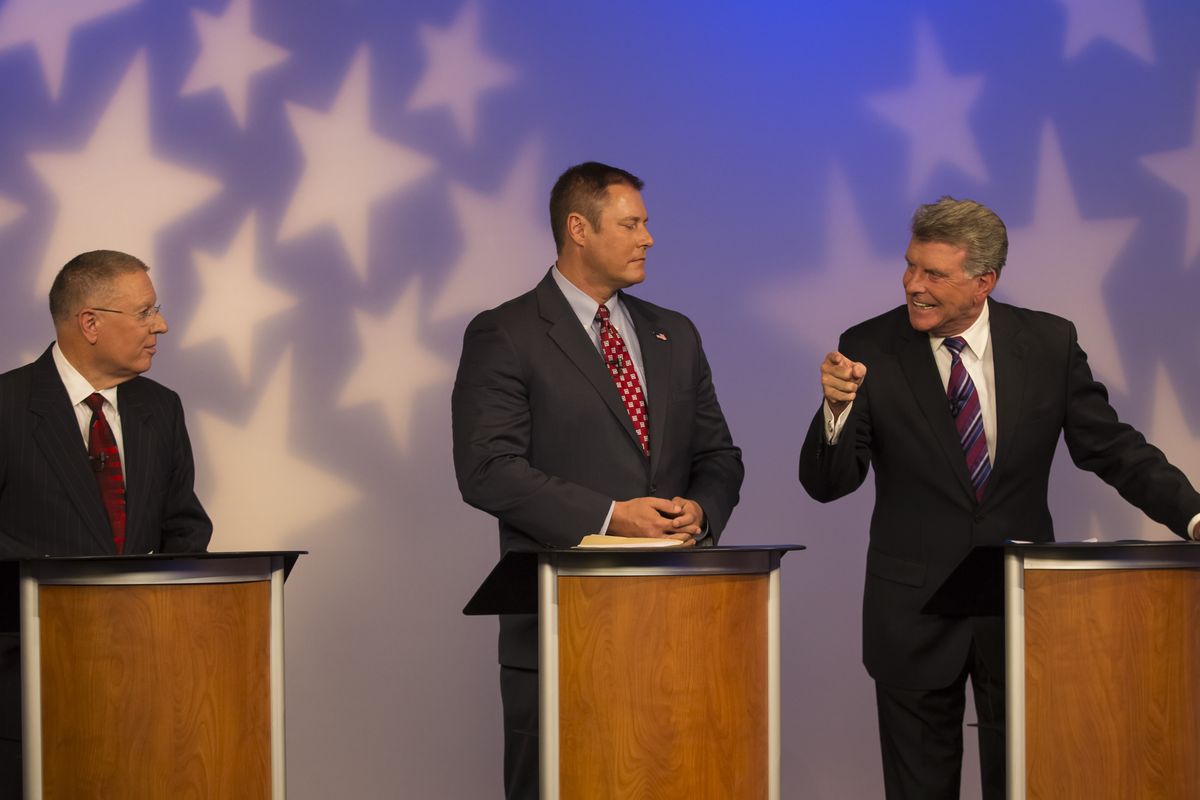 Idaho Gov. Butch Otter, right, responds past Libertarian candidate John Bujak, center, to a comment by Democratic candidate A.J. Balukoff during a debate in Boise on Thursday. (Associated Press)
BOISE – Idaho's final gubernatorial debate showcased the most heated exchanges yet in the race for the state's top office.
Republican Gov. Butch Otter, Democratic candidate A.J. Balukoff and Libertarian candidate John Bujak agreed on little, and often interrupted the moderator and debate panel to respond to zingers thrown out by their opponents, while discussing education, the economy and same-sex marriage.
Balukoff started Thursday's debate with criticism of Otter's handling of a 2013 private-prison scandal involving Corrections Corporation of America wrongly telling the state that guards were working shifts that were actually left vacant. The company later announced it would pull out of Idaho, and Otter's top staff became involved in finishing a $1 million settlement with it.
Balukoff argued that Otter was too removed from the settlement process. He also criticized Otter's staff for agreeing on a settlement with CCA before the completion of a federal investigation.
"He was absent," Balukoff said. "Even if your friends are cheating the state, you're still the governor."
Otter responded that he removed himself from the negotiations because CCA donated to his campaign. He argued that the settlement would be up for renegotiation depending on the Federal Bureau of Investigation's review.
"Shame on you A.J., you know better, if the FBI finds something then all bets are off," Otter said.
However, in February, the Associated Press reported that the settlement released CCA from all civil liability connected to the understaffing, as well as any liability stemming from undiscovered staffing issues.
Otter is running for a third term, a rare feat for an Idaho governor. Opponent Balukoff – a Boise businessman and board president of the second largest school district in Idaho – has remained a competitive candidate. He has spent millions of dollars on campaign advertisements focusing on what he says is Otter's lack of accomplishments during his eight-year tenure.
Balukoff's main campaign focus has been on improving Idaho's public schools, saying that Otter has failed to provide enough funding and support to properly prepare students for the workforce and to retain good teachers.
Bujak has labeled himself as the state's only conservative candidate but he struggled to raise enough money and generate name recognition running as a third party candidate.
Like Balukoff, Bujak spent most of his time criticizing Otter's two terms.
He called the CCA settlement premature and Otter's promise to keep fighting the legalization of same-sex marriage "a losing battle."
"That ship has sailed, you might as well be arguing about interracial marriage at this point," Bujak said.
Otter defended his record by emphasizing that under his leadership Idaho's unemployment rate and economy have remained strong even coming out of the Great Recession.
He pointed to a business lured to the state by a new tax incentive, a move just announced Wednesday.
"Amy's Kitchen is going to build a facility and bring potentially a thousand jobs in Pocatello," Otter said. "All of those are pretty good paying jobs. When businesses recognize this is a good, safe place to put capital in, more will want to come to Idaho with more high paying jobs."
Otter said he would sign legislation that would add the words "sexual orientation" and "gender identity" to the Idaho Human Rights Act to ban discrimination on those bases, if state lawmakers pass the bill and send it to his desk. Currently, same-sex couples can marry in Idaho but there is no legal protection if they are fired or kicked out of their homes.
Local journalism is essential.
Give directly to The Spokesman-Review's Northwest Passages community forums series -- which helps to offset the costs of several reporter and editor positions at the newspaper -- by using the easy options below. Gifts processed in this system are not tax deductible, but are predominately used to help meet the local financial requirements needed to receive national matching-grant funds.
Subscribe now to get breaking news alerts in your email inbox
Get breaking news delivered to your inbox as it happens.
---