Sports
Stewart likes Harvick's chances
Fri., Oct. 31, 2014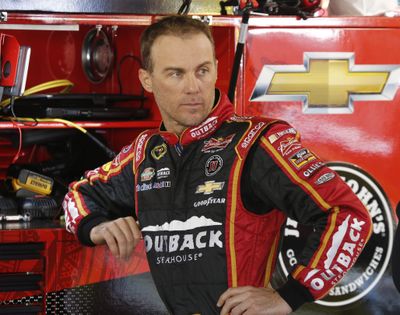 Tony Stewart has never been fond of predictions and when asked, he almost always gives the same response: "If I knew the answer to that, I'd probably be a bookie in Las Vegas."
Yet when it comes to teammate Kevin Harvick's chances of advancing out of the next round of NASCAR's playoffs, the co-owner of Stewart-Haas Racing sounded like an oddsmaker.
"There's nobody I'd put money on in a two-race deal more than him," Stewart said of Harvick.
Harvick, who has consistently had one of the fastest cars all season, has been backed into a corner in the third round of the Chase for the Sprint Cup championship. Matt Kenseth spun him on a restart Sunday at Martinsville Speedway, where Harvick finished 33rd. It dropped him to last in the eight-driver Chase field, with two races to either climb to fourth in the standings or to earn the automatic berth that comes with a victory.
Only four drivers will race for the championship in the Nov. 16 finale at Homestead, where Harvick spent Tuesday and Wednesday testing with SHR.
There was palpable disappointment throughout the SHR organization at Martinsville, where Harvick had climbed from 33rd to inside the top 10 before Kenseth spun him, but no one was ready to count him out.
Although he's never won a Cup race at Texas, site of Sunday's event, he has been strong on 1.5-milers this year and won at Charlotte earlier this month. The Texas race will mark Harvick's 500th career start.
Bianchi still critical
The family of injured Formula One driver Jules Bianchi said he is still in critical condition but stable one month after his crash at the Japanese Grand Prix.
The French driver sustained a severe head injury when his car hit a mobile crane that was inside the trackside barriers to collect another car. He remains in a hospital in Japan.
Bianchi's family said he "does continue to fight" and wanted to thank his fans for their support.
Hamilton charging
When Formula One was last in the United States, Sebastian Vettel had already earned his fourth consecutive world championship in a season of domination not seen since Michael Schumacher's days at Ferrari.
Then came the engine change, from the screeching V8s to the sublime hybrid turbo V6.
The effect was a demolition of an F1 dynasty built by Vettel's Red Bull team in a move that most thought would produce a wide-open title chase in 2014.
Instead, F1 simply exchanged one dominant team for another. Mercedes has crushed the competition with teammates Lewis Hamilton and Nico Rosberg just 17 points apart in the title chase heading into this week's U.S. Grand Prix in Austin, Texas.
Local journalism is essential.
Give directly to The Spokesman-Review's Northwest Passages community forums series -- which helps to offset the costs of several reporter and editor positions at the newspaper -- by using the easy options below. Gifts processed in this system are not tax deductible, but are predominately used to help meet the local financial requirements needed to receive national matching-grant funds.
Subscribe to the sports newsletter
Get the day's top sports headlines and breaking news delivered to your inbox by subscribing here.
---