News > Nation/World
Suspect in police ambush slaying caught
Officials say they'll seek death penalty
Fri., Oct. 31, 2014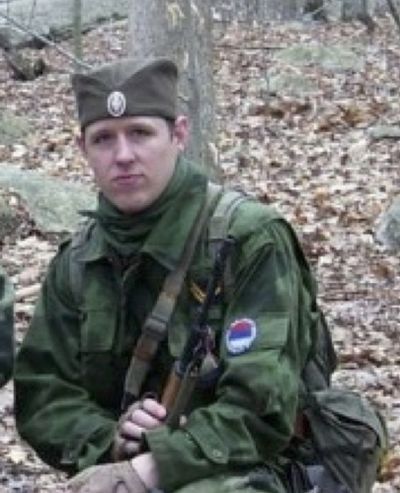 LORDS VALLEY, Pa. – A survivalist accused of ambushing two state troopers, killing one and seriously wounding the other, was captured on Thursday by U.S. marshals near an abandoned airplane hangar, ending a seven-week manhunt that had rattled the nerves of area residents.
Prosecutors will seek the death penalty for Eric Frein, who meekly gave himself up when surrounded, authorities said.
"He did not just give up because he was tired," state police Commissioner Frank Noonan said. "He gave up because he was caught."
Frein was held in the handcuffs of the trooper he's accused of killing, Gov. Tom Corbett said Thursday at a nighttime news conference.
The quiet takedown of Frein, who kneeled and put his hands up when marshals approached him, ended weeks of tension and turmoil in the area, as authorities at times closed schools, canceled outdoor events and blockaded roads to pursue him. Residents grew weary of hearing helicopters overhead, while small businesses suffered mounting losses and town supervisors canceled a popular Halloween parade.
Frein, 31, is charged with opening fire outside the Blooming Grove barracks on Sept. 12, killing Cpl. Bryon Dickson and seriously wounding Trooper Alex Douglass. After his arrest Thursday, he was placed in Dickson's car for the ride to the state police barracks.
Douglass and his family and Dickson's family expressed "relief and gratitude" over Frein's arrest, Noonan said.
Police said they linked Frein to the ambush after a man walking his dog discovered his partly submerged SUV three days later in a swamp a few miles from the shooting scene. Inside, investigators found shell casings matching those found at the barracks as well as Frein's driver's license, camouflage face paint, two empty rifle cases and military gear.
Local journalism is essential.
Give directly to The Spokesman-Review's Northwest Passages community forums series -- which helps to offset the costs of several reporter and editor positions at the newspaper -- by using the easy options below. Gifts processed in this system are not tax deductible, but are predominately used to help meet the local financial requirements needed to receive national matching-grant funds.
Subscribe now to get breaking news alerts in your email inbox
Get breaking news delivered to your inbox as it happens.
---