News > Spokane
Car impounded after hit-and-run kills bicyclist in Spokane Valley
Wed., Sept. 3, 2014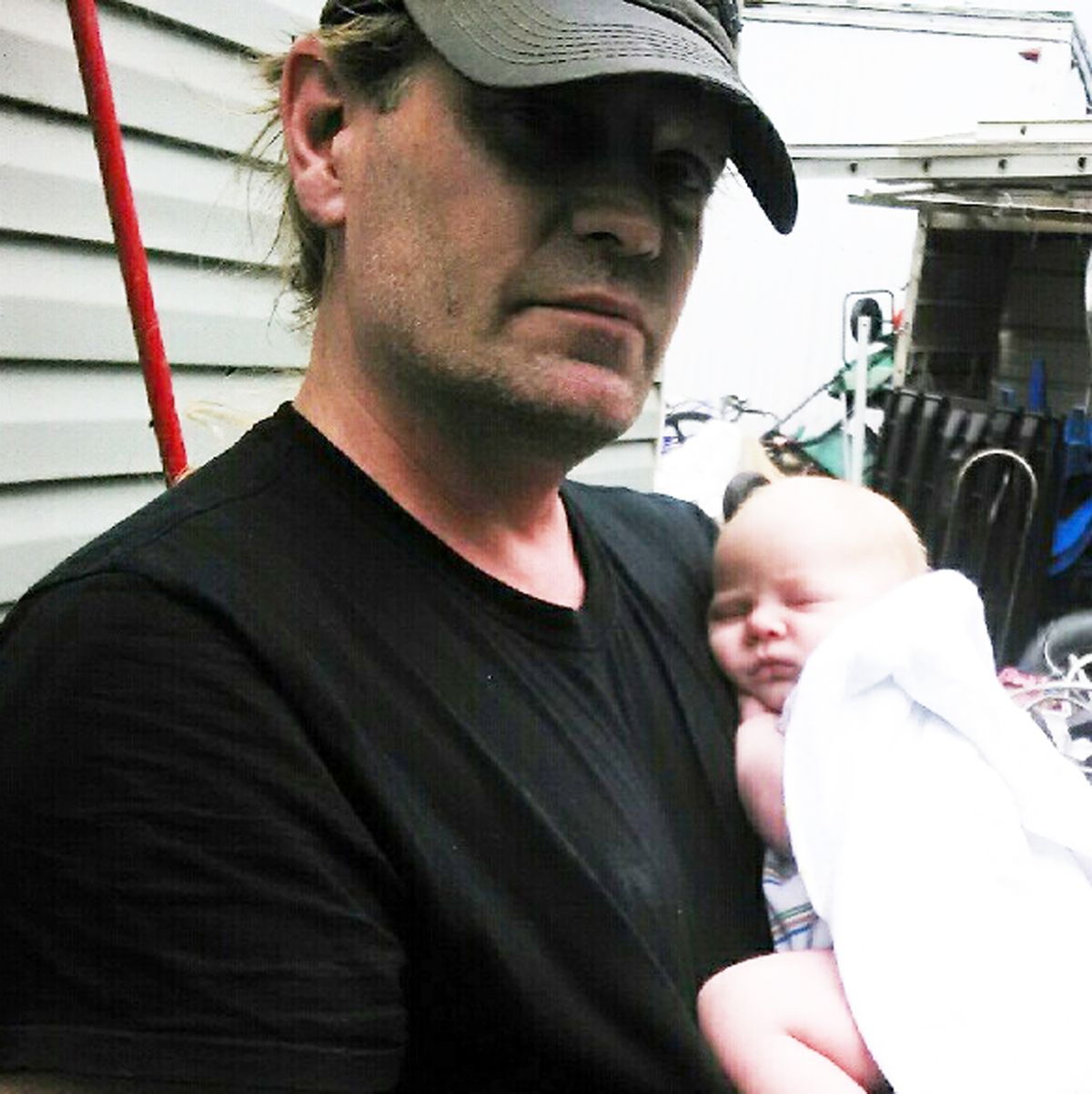 Robert Royer and his new baby are seen in this family photo. Royer was killed by a car Tuesday while biking in Spokane Valley. (Family)
A bicyclist killed in a hit-and-run crash early Tuesday morning was the father of a baby less than a month old.
Robert R. Royer, 47, was hit by a car on the Interstate 90 overpass at Park Road around 1:30 a.m. on Tuesday morning, Spokane County Sheriff Cpl. Brett Hubbell said. Royer's home was blocks away.
Late Tuesday, Spokane County sheriff's officials announced they impounded a sedan that they believe struck Royer. They also have been in contact with a person they believe may have been driving the car. That person has not been arrested.
Lt. Steve Barbieri said the Sheriff's Office is waiting for a warrant to search the car and gather more evidence before naming the person or making an arrest.
He said the Sheriff's Office also has in its possession footage from a home security system that may show the collision or the collision's aftermath.
"It's always scary when you get what we call a 'who done-it,' " Barbieri said. "Anytime we can get a break, it's great for the family."
Tina Murray, who identifies herself as Royer's wife although they were not legally married, had a baby on Aug. 8 named Ronald Royer. The baby was named after Royer's father, who died just days before the baby was born. The day before he was killed, Royer posted on Facebook about his "perfect baby."
Murray said Royer enjoyed fixing things and worked as a handyman.
Royer worked late Monday and was going fishing afterward at the Spokane River in hopes of catching a fish for his 6-year-old daughter, Royann, Murray said. He planned to keep the fish on the line and pretend Royann had caught it herself the next day.
"He was so excited about that," Murray said. "He was a great father."
Crystal Lind, a former neighbor and close friend of the family, said Robert's best friend was with Robert when he was hit.
The friend who saw the incident did not wish to speak to the media, but Lind said he told family members that the car was speeding and hit Robert from behind without stopping.
Lind described Robert as "one of the kindest people I've known."
Both Murray and Lind said a lot of people depended on him.
"He's loved by everyone; I haven't met a person that didn't love him," Lind said. "Hopefully, they find the person who hit him."
Reporters Kip Hill and Jonathan Brunt contributed to this report.
Local journalism is essential.
Give directly to The Spokesman-Review's Northwest Passages community forums series -- which helps to offset the costs of several reporter and editor positions at the newspaper -- by using the easy options below. Gifts processed in this system are not tax deductible, but are predominately used to help meet the local financial requirements needed to receive national matching-grant funds.
Subscribe now to get breaking news alerts in your email inbox
Get breaking news delivered to your inbox as it happens.
---