North Central's Institute of Science and Technology opens with fanfare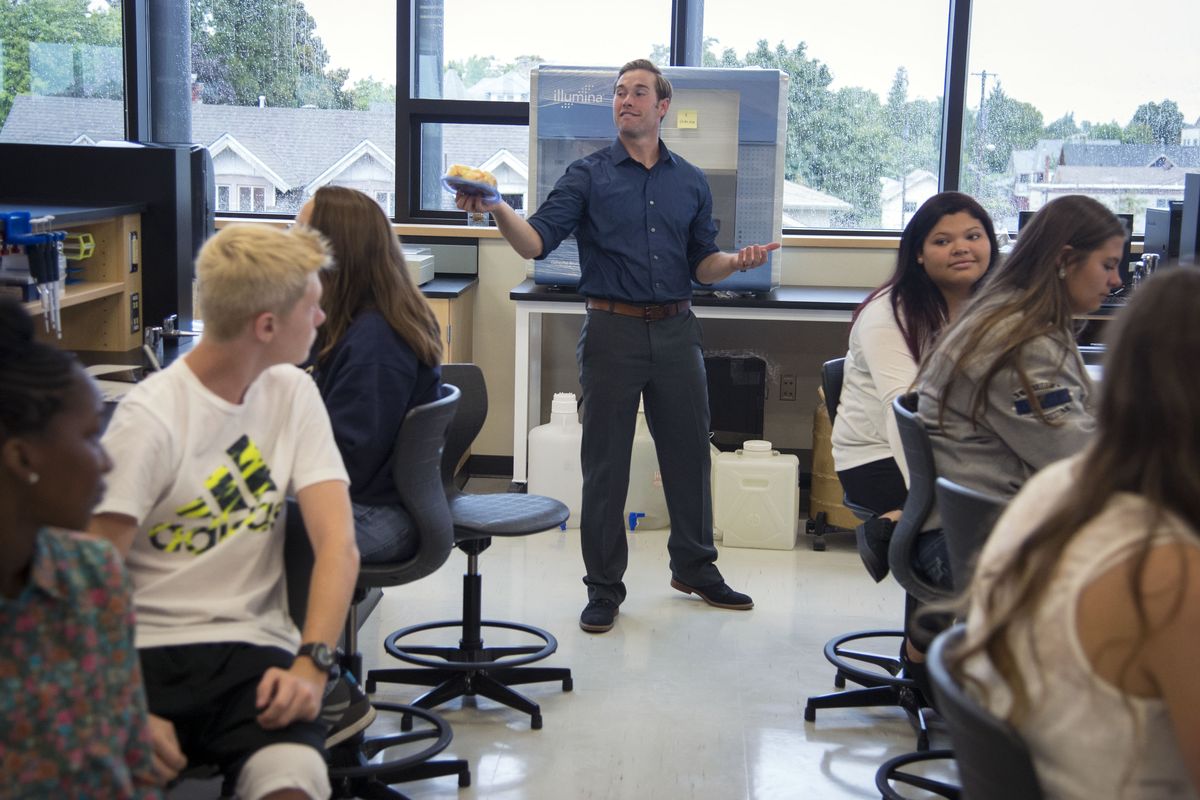 Students at North Central High School received a special welcome on their first day of school.
Elected officials and school administrators joined students before classes Wednesday to unveil a three-story science building designed for the school's Institute of Science and Technology. It contains six biology labs in addition to a third-floor lab for the institute.
The Institute of Science and Technology offers high school students advanced courses in biomedical technology, biological solutions and genomic research. Its new lab is unlike any other high school facility in the city and rivals some college labs.
"Spokane should be amazingly proud of this facility," said North Central Principal Steve Fisk, who with longtime science teacher Randy James spearheaded the institute.
Spokane Public Schools' board voted unanimously to approve the $16 million project two years ago. Workers began construction a year ago and still were finishing up as late as Tuesday, said NAC Architecture project manager Randy Wilson.
The lab includes a second-generation DNA sequencer, a machine that will evaluate millions of pieces of DNA at a time instead of just several hundred or several thousand. The lab also has machines that will tell a researcher whether there is viable DNA in a sample before going into sequencing.
James, who has taught at the school for 30 years, is the brains behind the third-floor lab. He called the realization of the facility a "dream come true" and said it gives students access to some of the best equipment.
The IST lab is actually two labs separated by glass windows and a "transitional space" that connects them.
One project that seemed to generate interest for students was a study four years ago that identified ancient bison DNA from bone fragments. It was the tipping point for growth in the program, James said.
For that reason, Fisk didn't use typical giant scissors in the ceremonial ribbon-cutting; he used a smaller pair that were used to snip bison samples.
James will use the lab to teach molecular biology. He said the space will allow students to be more efficient and more precise with their research.
"I don't know of anything like this around," James said.
Fisk said the chance to work in a facility like this "creates a special energy" for teachers.
One of James' students, 17-year-old Lucas Arnold, said it's unique to be able to work as a high school senior in a lab that might be better than ones he'll use in college.
Fisk said they were going for a university feel when designing the new facility.
"The more kids can visualize themselves in those roles, the more they will step towards those roles in the future," he said.
Shelly Redinger, superintendent of Spokane Public Schools, said the district paid for the lab with money saved from a 2009 bond. She said it's important that schools have the space they need to focus on studies in science, technology, engineering and math.
Spokane City Councilman Mike Fagan, who attended the ribbon-cutting ceremony, is a North Central alumnus from the class of 1978. He said science and math fields are more important than ever in today's economy.
"The city's got to continue to move forward or it dies," Fagan said.
---