News > Spokane
Hotels go head-to-head in Spokane Housekeeping Olympics
Wed., Sept. 17, 2014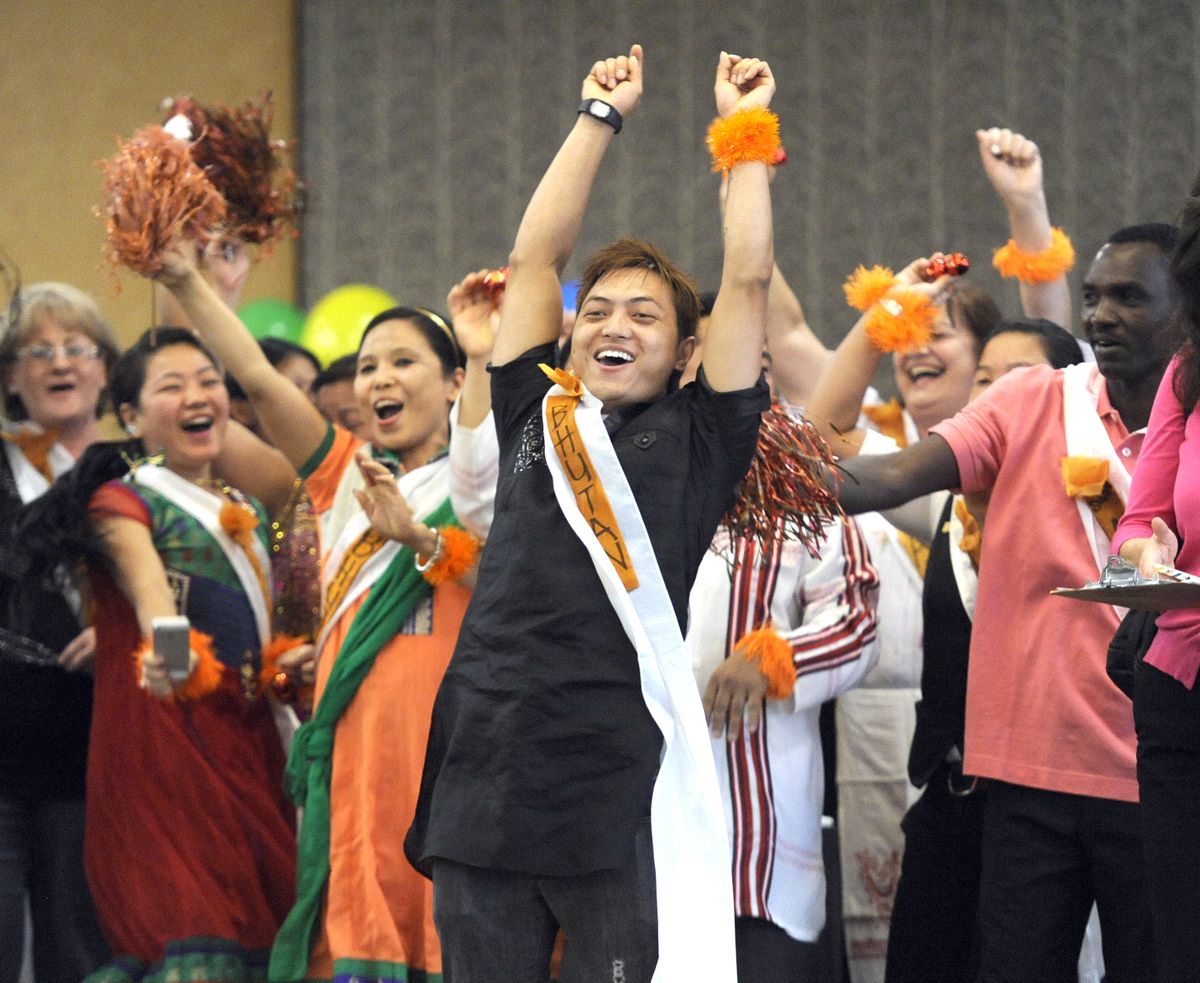 Gurung Roshan, of the Davenport Hotel, celebrates the completion of the mop relay race Tuesday in the ballroom at the Red Lion Hotel at the Park. Housekeepers from the Davenport and Hotel Lusso wore sashes with their home countries on them. (Jesse Tinsley)
Housekeepers from nine local hotels gathered to show off their prowess with mops and vacuums Tuesday during the second annual Spokane Housekeeping Olympics.
Red Lion Hotels corporate director of rooms operations Dominic Longo started the event last year to mark International Housekeeping Week. This year's event was held in the Red Lion Hotel at the Park.
"We just wanted to show appreciation," Longo said. "It's a lot of fun. They love it."
The timed events included running a mop through a slalom course of yellow "wet floor" signs, vacuuming confetti dumped on the carpet and making a bed. In the floor buffer pad toss, one blindfolded teammate would toss the round red buffer pad to a partner who would attempt to catch the pad on the handle of a toilet bowl plunger.
Kelli McGibbon, assistant director of housekeeping at the Doubletree Hotel Spokane City Center, was just there to cheer on her employees.
"I probably can't make a bed like I used to," she said.
The team from Comfort Inn Spokane Valley was wearing bright pink from head to toe, including their feather boas and tutus. Housekeeper Amber Shutters participated in the vacuuming and bed-making portions of the competition. She said she was a bit confused by the bed-making requirements, which included a complicated alternating layer of sheets and blankets.
"I've never done one of those before," she said. "Usually I make a killer bed."
Other participating hotels included Red Lion Hotel at the Park, Red Lion River Inn, the Davenport Hotel, Courtyard by Marriott, Holiday Inn Express Spokane Downtown, Hotel Lusso and Oxford Suites Spokane Downtown.
A steady stream of prizes was handed out to participants during the competition, including hotel stays, dining credits, comforters and gift baskets.
During the two-minute spirit competition, the ballroom echoed with a cacophony of shouting, whistles and ringing cowbells while some team members danced or delivered high kicks. Judges named the Hotel Lusso team the winner of the Spirit Award.
Points were awarded in each event, and in the end first place went to the team from Doubletree Hotel Spokane City Center. Hotel Lusso took second and the Davenport Hotel came in third. The general managers of each hotel also took part, competing to see who could stack the most small bars of soap in one minute. The Davenport Hotel general manager won with a stack 20 inches high.
Local journalism is essential.
Give directly to The Spokesman-Review's Northwest Passages community forums series -- which helps to offset the costs of several reporter and editor positions at the newspaper -- by using the easy options below. Gifts processed in this system are not tax deductible, but are predominately used to help meet the local financial requirements needed to receive national matching-grant funds.
Subscribe now to get breaking news alerts in your email inbox
Get breaking news delivered to your inbox as it happens.
---