Sports
For now, Gonzaga's Nunez listed as senior
Zags working on appeal to NCAA
Wed., Sept. 17, 2014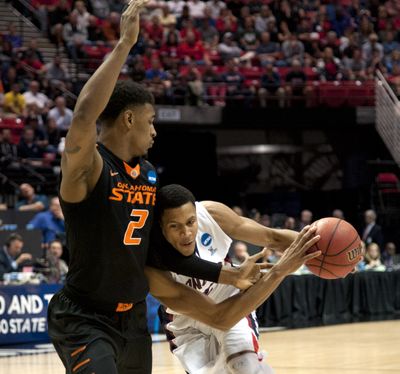 Gonzaga recently updated the men's basketball roster on its Website and Angel Nunez went from being listed as a redshirt sophomore last year to a senior this season. Nunez transferred mid-season from Louisville to Gonzaga in Jan. 2013. The Bulldogs knew all along they would have to apply for a hardship waiver regarding Nunez's sophomore season at Louisville. He participated in a few exhibition games before suffering a concussion in November that the school's trainer called the worst he'd ever seen. Shortly thereafter, Nunez transferred to GU. Under NCAA transfer rules, he was required to sit out until becoming eligible in Dec. 2013. The Bulldogs' waiver appeal was denied by the WCC months ago, said Shannon Strahl, Gonzaga associate athletic director and compliance coordinator. Strahl said HIPPA laws prevent her from commenting on why Nunez's appeal was denied. Strahl said Nunez shouldn't have been listed as a redshirt sophomore last season because he competed in the year in which he transferred. Gonzaga is in the process of "gathering information for an NCAA appeal," Strahl said, "but we don't have any precedent to put his case forward. So we're being very methodical with it and seeing what kind of case we can put forward." The 6-foot-8, 205-pound Nunez appeared in 23 games last season, averaging 7.2 minutes, 3.6 points and 2.1 rebounds. He reached his season high of 13 points in victories over Saint Mary's and Portland. Gonzaga had hoped Nunez would have 2½ seasons of eligibility. Unless the NCAA rules otherwise, Nunez will be a Zag for 1½ seasons and go through Senior Night ceremonies in late February. Nunez waited an extended period of time to practice after joining Gonzaga's program in Jan. 2013 because of lingering effects from the concussion. One likely point of contention with Nunez's waiver centered on his concussion, subsequent transfer and whether he would have been healthy enough to play later in the 2012-13 season. Attempts to reach the WCC office were unsuccessful. Nunez's role this season is expected to be similar to last year, coming off the bench at the '4', or power forward position.
Santangelo on the dial
Former Gonzaga great Matt Santangelo is returning to his analyst role on Bulldogs radio broadcasts on flagship station KGA (AM-1510). Santangelo joined play-by-play announcer Tom Hudson for the 2011-13 seasons before stepping away last year. Santangelo replaces ex-Zag Cory Violette. Santangelo averaged 14 points and 5.3 assists in three seasons with the Bulldogs. He was the second-leading scorer (12.7 ppg) on GU's Elite Eight team in 1999. He played professionally until 2006. Santangelo was named executive director of Hoopfest in April.
Hart returns
Former Zag forward Mike Hart is back with the program as the new video coordinator. Hart made the team in walk-on tryouts and eventually became a part-time starter and key contributor on Gonzaga's 2012 and 2013 teams. Hart was named the 2013 WCC defensive player of the year. The Portland native's non-stop hustle helped him carve out playing time and become a fan favorite. He drew a standing ovation at the McCarthey Athletic Center after chasing down two consecutive offensive rebounds against Santa Clara late in his senior season. Hart had a brief stint with a professional team in Germany after graduating from Gonzaga.
Jakus hired
John Jakus has been hired as director of basketball operations. Jakus was previously a graduate assistant at Baylor and he has experience with Athletes in Action tours. Jakus will work closely with Jerry Krause, who is stepping down as director of basketball operations following the 2014-15 season. Krause has been director of operations since 2001.

Local journalism is essential.

Give directly to The Spokesman-Review's Northwest Passages community forums series -- which helps to offset the costs of several reporter and editor positions at the newspaper -- by using the easy options below. Gifts processed in this system are not tax deductible, but are predominately used to help meet the local financial requirements needed to receive national matching-grant funds.
Subscribe to the sports newsletter
Get the day's top sports headlines and breaking news delivered to your inbox by subscribing here.
---