News > Spokane
1930s, '40s Idaho a click away
Yale website holds photos from FDR public relations effort
Sat., Sept. 20, 2014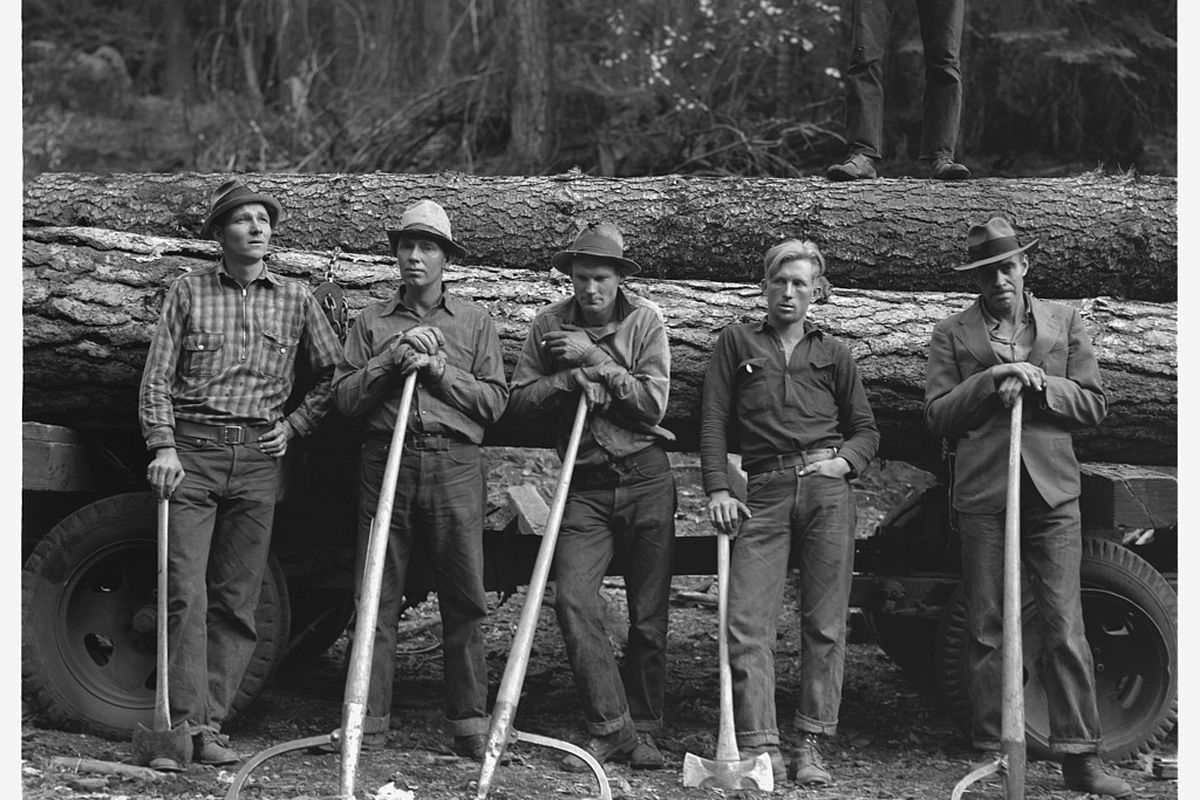 In this October 1939 photo from the Farm Security Administration, five members of the Ola Self-Help Sawmill, from left, Leonard Carlock, Don Holford, Roy Carlock, Richard Michaels and an unidentified man, stand in front of a loaded log truck in northern Gem County, Idaho. Photographer Dorothea Lange was sent to the small community to document the 36-member cooperative that established the mill four years earlier. (Associated Press)
BOISE – When Dorothea Lange drove through Emmett on her way to Ola in northern Gem County one day in October 1939, the San Francisco woman was arguably the most famous photographer in the nation.
Three years earlier, Lange had shot a series of photographs of Florence Owens Thompson and her children that became known as the "Migrant Mother" series. One of the photos shows Thompson with a baby in her arm, two other children beside her facing away from the camera, and their mother looking into the distance without hope.
That photograph was printed in newspapers across the country and became the iconic photo of the Great Depression.
In 1939, Lange was sent by the federal Farm Security Administration to document the Ola Self-Help Sawmill, a cooperative established by Ola residents. The mill was seeded with a $1,500 loan from the FSA.
Lange shot 58 photos during her time in Ola. (I doubt my mom, Io Blessinger Sowell, ever realized who the photographer was who took a photo of her and her classmates in front of the Ola school.)
Those photos are among 170,000 now available for viewing via an online map created by Yale University. The photographs, taken between 1935 and 1944, can be accessed by clicking on a particular county or by searching under Lange or 131 other photographers who fanned out across the country to document government relief programs.
All but six Idaho counties – Bear Lake, Benewah, Caribou, Elmore, Kootenai and Owyhee – are represented.
Malheur County, just across the state line in Oregon, has nearly 800 photos, more than any Idaho county. Lange went there after she left Ola.
The photo project was part of a massive propaganda effort meant to build support for President Franklin D. Roosevelt's New Deal programs. It came after courts had dealt the president a massive blow by repealing many of his early programs designed to lift the country out of the Depression.
While in Ola, Lange wrote that the owners of the Ola lumber mill needed a way to sustain themselves after several years of severe conditions that caused a deterioration of farming and grazing.
"The nearest supply of lumber available is at Emmett, which makes its cost, delivered to the farmer, prohibitive," Lange wrote. "Their own valley is bordered on the east by a forest that could develop an unlimited supply of yellow pine and Douglas fir."
Lange's photos showed members of the cooperative sawing logs, and posing individually and in groups. There are also photos of the kids outside the school, co-op members farming and some home scenes.
"It's amazing," longtime Ola resident and music teacher Gloria Sutton said. "It's just interesting to see those photos."
Three other heavyweight photographers – Russell Lee, Arthur Rothstein and John Vachon – also took pictures in Idaho.
Lee became famous for his color shots of people in Pie Hole, New Mexico, in 1940. It turned out he also shot 942 of the 1,215 Depression-era photos taken in Idaho, including one of a car coming down what's known today as Old Freezeout Hill south of Emmett.
Rothstein shot 37 photos in Oneida County in southeastern Idaho in 1936, when he was 21. He documented farm families whose land was too poor to support them.
Earlier that year, he shot his most famous photograph in Cimarron County, Oklahoma. It showed farmer Art Coble and his two sons struggling to walk in front of their house during a dust storm.
Vachon started work maintaining the FSA's photo collection. He later became a photographer himself and shot nine photos in Idaho Falls in April 1942. Eventually, he worked as a staff photographer for Life and Look magazines.
When Roosevelt signed an executive order Feb. 19, 1942, more than 120,000 people of Japanese heritage – two-thirds of them U.S. citizens – were uprooted from their homes in Washington, Oregon and California and sent to internment camps in several states.
Single men were recruited before they left the horse barns that served as a temporary holding center in Portland to work the sugar beet crop in Nyssa, Oregon.
"They were so hard up for help over here and the reason they were hard up for help, everybody was in the Army," said Yasu Teramura, in an interview with the organizers of a photo exhibit that debuts Friday at the Four Rivers Cultural Center in Ontario, Oregon. "The sugar company got an OK that we could come over here … but we had to be under strict restrictions that you could only stay up (until) 8 o'clock at night, and you know you couldn't roam around all over unless you went with some guard … to go to the show and stuff."
The laborers were allowed to live without the barbed-wire fences that kept inmates inside the World War II internment camps where many of their friends and relatives were sent in Hunt, north of Twin Falls, and in other states. Yet they were forced to live in tents that provided little shelter and, later, in meager barracks.
"This was still internment," said Matthew Stringer, executive director of the Four Rivers center. "They had a curfew and they could only go into town twice a week (never on Saturday) and under constant supervision."
The photo exhibit, "Uprooted: Japanese American Farm Labor Camps During World War II," features a series of photographs taken by Farm Security Administration photographer Russell Lee in Nyssa and at later farm camps that opened in Idaho in Rupert, Shelley and Twin Falls.
Many of the photos, available for viewing online from Yale University's Photogrammar site, have never been part of a public exhibit.
Local journalism is essential.
Give directly to The Spokesman-Review's Northwest Passages community forums series -- which helps to offset the costs of several reporter and editor positions at the newspaper -- by using the easy options below. Gifts processed in this system are not tax deductible, but are predominately used to help meet the local financial requirements needed to receive national matching-grant funds.
Subscribe now to get breaking news alerts in your email inbox
Get breaking news delivered to your inbox as it happens.
---