Sports > Outdoors
Fire, 'stories' helped injured climber trapped overnight by boulder, partner says
Wed., Sept. 24, 2014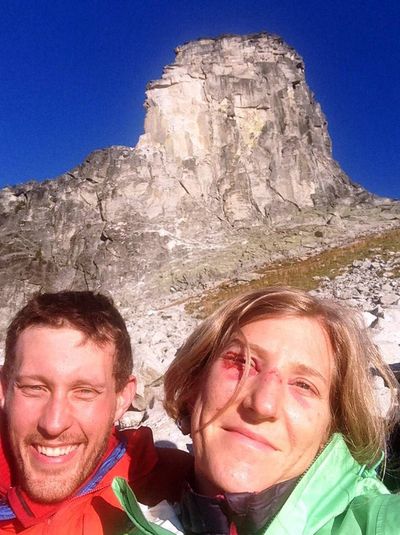 Other than Hercules, Ammi Midstokke couldn't have picked a better companion Friday to join her on a rock climb that went awry when a 1.5-ton boulder shifted, crushed her foot and trapped her on the talus slope below Chimney Rock.
"I couldn't move the rock," said Jason Luthy, a backcountry medicine instructor.
Even after rigging up a pulley system using their climbing equipment, he couldn't budge the boulder.
He called 911 with his cellphone to request a rescue knowing Midstokke was in for an overnight ordeal.
Luthy, 31, knows the drill, having taught backcountry medical techniques for six years through his company, Longleaf Wilderness Medicine based in Sandpoint.
He said he treated wounds on her face and the exposed portion of her foot, wrapped her in a good-quality emergency blanket – "not the cheap foil things" – and gathered firewood from the ridge above.
"I tried to make her comfortable," he said, noting that they used their packs as a mattress for insulation and a platform over the jagged rocks.
"She didn't have a lot of blood loss," he said. "Hypothermia was the main concern. It was getting cold as the sun went down."
He said he provided food, water and warmth, but those were just the basics.
"One of the most important things we discuss in our wilderness courses is how to care for one's emotions and provide tender, loving care," said Luthy, who's also a member of the Priest Lake Search and Rescue team that was summoned to Chimney Rock by the sheriff's dispatcher.
"There was definitely a possibility she could lose her foot," he said. "But I focused on assuring her we were going to do our best for her.
"I built a fire to warm her body. A fire also provides psychological warmth."
Then he settled in for the tough part: staying up all night after a long, hard day, perched on cold, hard granite with no sleeping bag.
"We told a lot of good stories to keep spirits up; we worked through it," he said.
"It's important to keep calm and your head focused when you know the rescuers won't be there for eight and a half hours."
Local journalism is essential.
Give directly to The Spokesman-Review's Northwest Passages community forums series -- which helps to offset the costs of several reporter and editor positions at the newspaper -- by using the easy options below. Gifts processed in this system are not tax deductible, but are predominately used to help meet the local financial requirements needed to receive national matching-grant funds.
Subscribe to the sports newsletter
Get the day's top sports headlines and breaking news delivered to your inbox by subscribing here.
---
Subscribe and log in to the Spokesman-Review to read and comment on this story