News > Spokane
Then and Now: Inland Empire Highway
Mon., Sept. 29, 2014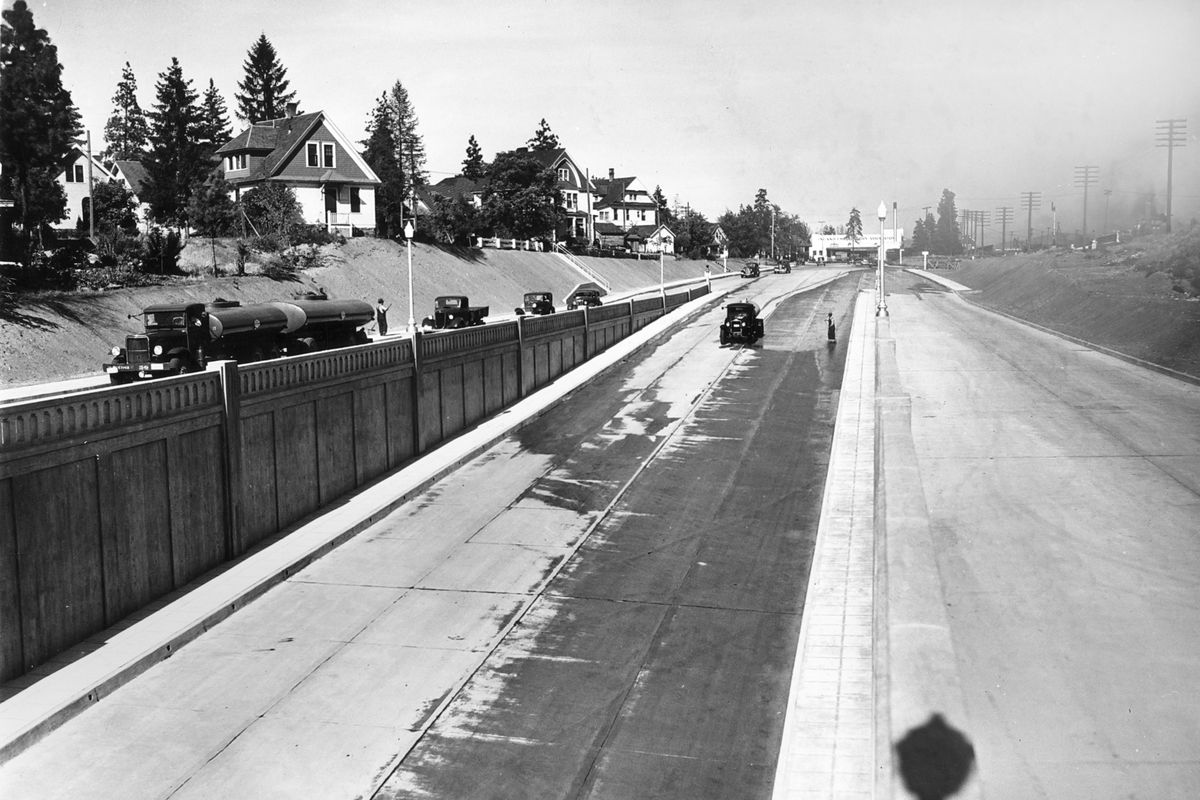 Sept. 18, 1936: Looking east, showing the interchange of the Inland Empire Highway and the Sunset Highway on the west side of Spokane.
Before 1910, automobiles were rare but adventurous drivers already were looking for ways to cross Washington state. Except for train travel, heading east from Seattle was a perilous journey.
Even with a passable road, there were few gas stations and frequent flat tires. Adventurers had to survive in the wild if their Model T broke down. Most rural roads had been built by farmers and were just a cleared path, graded by dragging a log.
The newly formed Washington Good Roads Association urged the state to finance the roads that would connect population centers. Inland Empire Highway was one of the first state roads. South Inland Empire Way, which curves south from Sunset Boulevard in southwest Spokane, is a remnant of that early route.
The Legislature created a fund for road construction in 1913 and designated the Inland Empire Highway as one of several Primary Roads. Others included the Westside's Pacific Highway and the northern Seattle-Spokane route, the Sunset Highway.
Hundreds of workers began spreading gravel on the Inland Empire Highway that started near Cle Elum and wound through Yakima, Walla Walla, Colfax, Spokane and Colville. Hard surface paving was completed from Spokane to Colfax in 1931, and 4,000 people celebrated in the streets of Colfax, signifying the importance of transportation for agriculture in the region.
In the 1920s, the federal government introduced road numbering, and the highway's name was lost among several numerical designations. The Inland Empire Highway disappeared from most maps by the mid-1930s, though many local residents used the moniker for decades after the Spokane-Colfax section was renamed Highway 195.
Historian Jim Kershner wrote at www.historylink.org, "The auto-driving pioneers who braved the Inland Empire Highway's gravel back in 1915 would be astonished at exactly how fast a driver can now penetrate directly into the heart of this interior 'empire.' "
– Jesse Tinsley
Local journalism is essential.
Give directly to The Spokesman-Review's Northwest Passages community forums series -- which helps to offset the costs of several reporter and editor positions at the newspaper -- by using the easy options below. Gifts processed in this system are not tax deductible, but are predominately used to help meet the local financial requirements needed to receive national matching-grant funds.
Subscribe now to get breaking news alerts in your email inbox
Get breaking news delivered to your inbox as it happens.
---