Sports
Blanchette: Tyler Harvey did his part for Eastern
Thu., April 2, 2015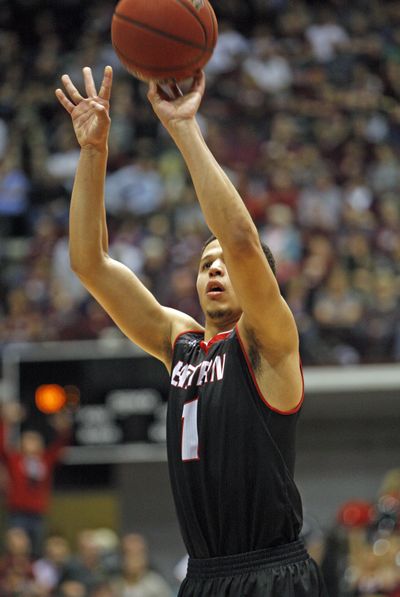 The walk-off home run Wednesday at Tyler Harvey's warm off-to-bigger-things adieu came courtesy of Eastern Washington coach Jim Hayford, who jokingly called it the "first annual."
Annual?
Seven weeks ago the Eagles' quarterback was bolting to play his senior year at Oregon. Now the NCAA scoring leader is passing on an MBA for the NBA, forgoing his last year of eligibility.
If Eastern's cross country champ announces after the Big Sky Conference track meet in May that she's running away to join the pro road racing circuit, the school might want to check its hole card.
But if Hayford has a guy every March good enough to flirt with early entry to the NBA, he'll leap at the chance.
"Not only has he made our program better in what he's already done," Hayford said of Harvey, "he's going to make our program only better in the future."
Meaning recruits like it when the school romancing them has a history of sending players on to the league. Rodney Stuckey being a top-15 draft pick as an early departure eight years ago and Harvey taking a reasonable stab now does not make EWU the next Kentucky, of course, and it's a stretch to think their names will get Hayford in the living room of a McDonald's All-American.
But that's the funny thing: Harvey was anything but that, and look at him now.
A kid who didn't even have a single scholarship offer and walked on at Eastern. Who, after a redshirt year, languished on the bench – playing 62 minutes in 23 games – until being thrown into what looked like a lost-cause road game and carrying the Eagles to victory.
Who had 27 points in Eastern's recent NCAA tournament loss to Georgetown – and had people consider it an off night.
"My time here," Harvey said Wednesday, "has been nothing short of unbelievable."
And it will not be unbelievable if he carves out a niche in the NBA sooner or later, even if the current draft spitballing has him anywhere from a mid-second rounder to oblivion – and even if his strength, his defense, his handle all need an upgrade for the next level.
"Tyler is going to have to develop some tough skin," Hayford said, "because he's going to hear for the next two weeks – two months – everything that's wrong with him, not everything that's right with him.
"But you look around and there's tons of really athletic, strong guys who aren't being considered for the draft. The reason people are talking about Tyler is that he's an elite shooter."
Lots of NBA careers are built on one great skill. Harvey's skill happens to be the one most prized.
It's a sin those student-first stewards of the NCAA give early entry aspirants all of two weeks to weigh the prudence of their declarations, subverting a proper vetting by both the players and pros. After long insisting they needed an early deadline to deal with roster churn, college coaches now look to be giving a little, and a proposal has been floated to push back the drop date five weeks – but not until next year, at the earliest.
So Harvey has until just April 12 to act on any second thoughts. But he insisted he was "all in" anyway, with no intention of looking back. Nor will Eastern, where athletic director Bill Chaves called it "an exciting day."
It was impossible not to be struck by the extremes in tone between the Harvey bon voyage and the hand-wringing back in February when former EWU quarterback Vernon Adams leveraged the NCAA's graduate transfer rule to vamoose to Oregon.
"Two different situations," Chaves insisted.
For the school, sure. Harvey's decision can be a selling point; Adams' move implied he couldn't get there from here.
But for the two principals, it's very much the same thing: a call on what's best for their futures.
It's no surprise colleges have had decades now to work out a reasonable compromise with the NBA on early entry timing that's in the best interest of their athletes and are only now finding one. Also no surprise that a surge in graduate transfers in just a few years has the educrats wanting to tweak the rule to restrain movement.
Perhaps someday these two athletes – who are at least in the argument about the best in Eastern history – will be regarded with the same appreciation, regardless of their exit strategies.
"Comparisons in life are probably not a good thing, because they leave a winner and a loser," Hayford said. "But having gone through this with my player, I can tell you he did everything the right way. And that's why it's easy to do nothing but celebrate him."
Especially if it gets Eastern another Tyler Harvey some day.
Local journalism is essential.
Give directly to The Spokesman-Review's Northwest Passages community forums series -- which helps to offset the costs of several reporter and editor positions at the newspaper -- by using the easy options below. Gifts processed in this system are not tax deductible, but are predominately used to help meet the local financial requirements needed to receive national matching-grant funds.
Subscribe to the sports newsletter
Get the day's top sports headlines and breaking news delivered to your inbox by subscribing here.
---
Subscribe and log in to the Spokesman-Review to read and comment on this story