News > Spokane
Inslee signs bill allowing WSU med school; funding still in flux
Thu., April 2, 2015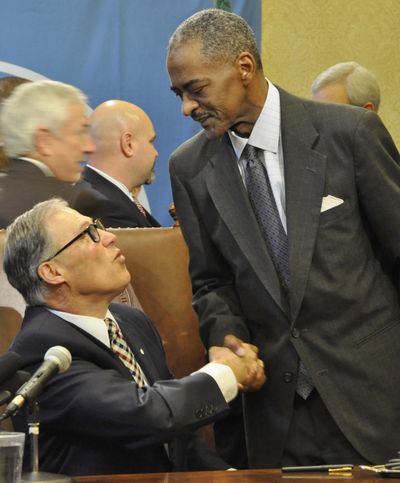 OLYMPIA – Gov. Jay Inslee signed a bill Wednesday that allows Washington State University to launch a new medical school in Spokane.
But after he was surrounded by supportive legislators and university leaders for the signing ceremony, Inslee hedged when asked at a news conference how much money the state should spend training doctors during the next two years.
Such funding for two state-sponsored medical schools will have to be negotiated between two very different plans in competing House and Senate budget proposals.
With about 300,000 more people covered by health insurance under the Affordable Care Act and a growing population, the state needs more doctors and other medical professionals, Inslee said. Supporters applauded as he signed the bill, and at one point broke into a few lines of the WSU fight song.
WSU President Elson Floyd and top administrators from the WSU-Spokane campus joined a large contingent of legislators as Inslee signed a bill that he described as "ending prohibition" on a second medical school. In 1917, as part of an effort to stop an expensive turf war between the presidents of the University of Washington and what was then Washington State College, the Legislature divided up many areas of study and said only UW could operate a medical school.  
The bill passed overwhelmingly in both houses, but it has no money attached to it.
Inslee had no money for a new medical school in his budget proposal released late last year. A state operating budget released by Senate Republicans Tuesday would give WSU $2.5 million to seek accreditation and $2.5 million to UW for a branch of its multistate training program known as WWAMI located in Spokane. That amount wouldn't cover the current plans for 40 students per year in that program, UW officials have said.
House Democrats' latest budget, amended Tuesday night in the Appropriations Committee, would give WSU $2.5 million for accreditation and another $4.25 million "to provide medical education for students located in Spokane." UW would get $9.4 million to increase the number of WWAMI students in Spokane from 40 a year to 60 a year.
"The correct amount will be the amount we get in the final budget," Inslee said to a question about which budget alternative he preferred. "I am relatively confident we will reach a consensus."
Local journalism is essential.
Give directly to The Spokesman-Review's Northwest Passages community forums series -- which helps to offset the costs of several reporter and editor positions at the newspaper -- by using the easy options below. Gifts processed in this system are not tax deductible, but are predominately used to help meet the local financial requirements needed to receive national matching-grant funds.
Subscribe now to get breaking news alerts in your email inbox
Get breaking news delivered to your inbox as it happens.
---