72-year-old hiker Dawes Eddy bags Grand Canyon goal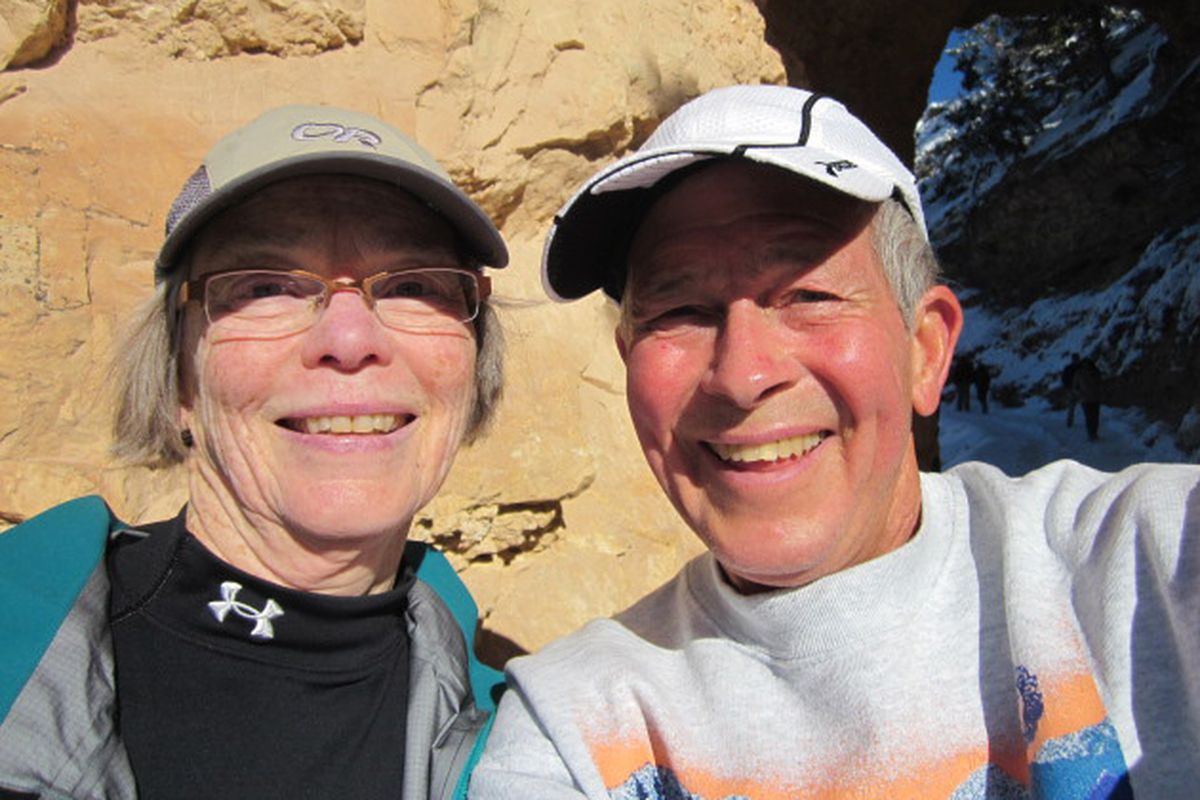 Dawes Eddy, 72, continues to rewrite the physical limitations of growing older, most recently during a butt-kicking hike in Grand Canyon National Park.
The outdoor adventurer had a brush with worldwide fame in 2009 when he became the oldest American to climb Mount Everest. Eddy was 66 and held the title for just two days before it was claimed by a 67-year-old Californian.
Although his wife, Mary Kay, has convinced him to give up climbing the world's highest mountains, the retiree from Spokane has never cut back on being impressively active.
Last month, during the couple's three- week winter road trip to the Southwest, Eddy set out with a daypack for a solo hike from the Grand Canyon's South Rim to the North Rim – and back.
The 42-mile trek via the Kaibab trails involve a whopping 10,600 feet of elevation gain coupled with the equally grueling elevation loss.
"I'd been training for it," Eddy said, noting that he thrives on having a goal to shoot for. "I hike a lot, climb and work out regularly, but I only run 12-16 miles a week; don't want to wear out."
The Rim-to-Rim-to-Rim – R2R2R as it's known in ultra-running circles – is a lofty goal for young, hard-bodied endurance athletes attempting the feat in two days. Tackling it in a single shot is pretty much out of the septuagenarian realm.
But nobody told Eddy that.
"It didn't help that the weather was terrible," he said. "It was snowing on the top of both rims and raining in the canyon. Making things worse was the wind gusting 35-45 mph. The weather was comparable to a winter climb of Mount Rainier."
He should know. Eddy has climbed to Rainier's summit 41 times in 66 attempts.
Hypothermia was constantly on his mind, said the veteran climber who's known when to turn back on mountains like Rainier and his second attempt at Everest, when he was 70.
"I mostly stayed in our (Grand Canyon) hotel room while he was gone and watched the sign outside sway back and forth in the blizzard," Mary Kay said.
"I didn't want to wait for better weather," Dawes said, apparently forgetting that they are both retired. "We had scheduled days to be with relatives and I took advantage of the nicer day to hike with my wife."
The Eddys' love the Grand Canyon region and had hiked, in more normal daily doses, several trails that plunge from the South Rim to the Colorado River.
"But I've always wanted to see the North Rim," Dawes said.
He started from the South Rim in the dark on the South Kaibab Trail at 10 p.m. so he could drop into the bowels of the canyon by headlamp and see the North Rim in the daytime.
"The moon was pretty close to full and I could kind of see it through the clouds and precipitation," he said.
"I made the North Rim in 11 hours of steady hiking. The rock formations and scenery were fabulous, but the weather was not.
"I wore Gore-Tex tops and bottoms to block the rain and wind. Underneath I wore up to four layers of polypropylene."
He had to adjust his clothing and pace to avoid sweating too much in the lower elevation rain or getting too cold in the wind-exposed areas.
"The temperature was below freezing on both rims," he said. "I was constantly hiking through mud and puddles or fresh snow and ice. No one else was hiking the north side of the canyon."
After burning 6,000 calories, according to his heart monitor, Eddy ended his ordeal in the dark at 24 hours. "That was an hour later than I expected, so I wasn't surprised that Mary Kay had called the rangers," he said.
That was another reminder that adventurers must know their limits. "Rangers said they couldn't do anything in the dark and would look for me in daylight if I hadn't returned," he said. "If I'd have been incapacitated for any reason in the cold-wet conditions there would have been little chance of surviving through the night.
"It would have been more enjoyable in better weather but the trip fulfilled a goal."
Eddy said he's never considered himself an athlete or been on a sports team. At 5-foot-6, he weighs 130 pounds – about 3 pounds less than he weighed in 1961 when he graduated from Lewis and Clark High School.
"I always hiked a lot, but I never really did any running until I heard of Bloomsday," he said, referring to the annual May running event through the streets of Spokane. Bloomsday debuted in 1977 and has been hard to miss, with the field peaking at 61,298 runners in 1996.
"I entered the second one and have been doing it ever since," Eddy said.
Don Kardong, a former Olympic marathon runner and Bloomsday founder, marveled at Eddy's Grand Canyon trek from personal experience.
Kardong ran R2R2R in 11 hours during the early 1990s, when he was nearly 30 years younger than Eddy and still in top marathon running form.
"It was one of the most difficult things I've ever done, and my run was in the daylight," Kardong said.
"If somebody put me in the Grand Canyon in the middle of the night with all the cliffs and drop-offs into oblivion, I would lie down and die.
"I was ready for the effort involved in that thing, but I have a bit of a fear of heights and that really caught me by surprise. I guess that's not a factor for Eddy. He's climbed Everest. But my God, he was doing this at night and alone."
Eddy said he's just taking life in stride.
"My overall goal is to slow down the rate of aging," he said. "There's a lot of research that shows the benefits of regular exercise.
"It's gratifying to be able to do things people half my age would have trouble doing.
"If nothing else, I hope I'm showing people they don't have to spend their latter years in a rocking chair."
---