News > Nation/World
Boston Marathon bombing trial heading to jury's hands
Prosecutor, defense make final arguments
Tue., April 7, 2015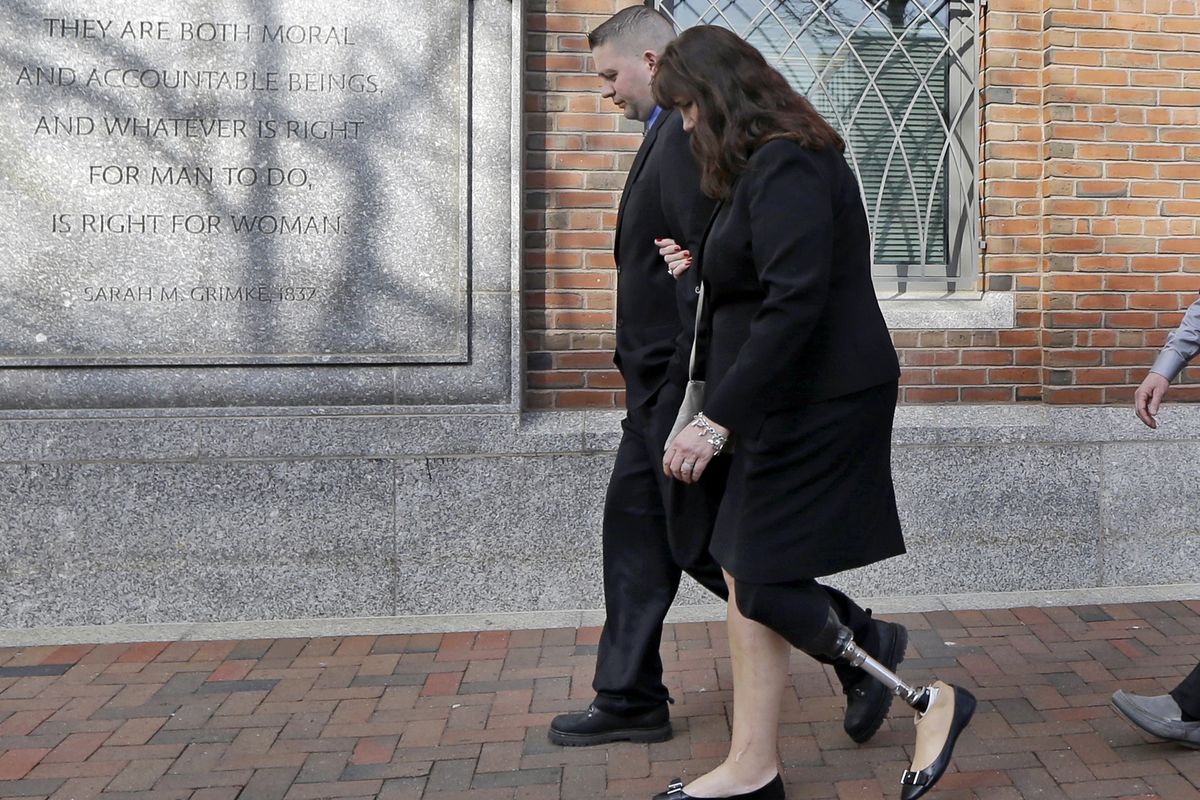 Boston Marathon bombing survivor Karen Rand walks from federal court in Boston after closing arguments in the federal death penalty trial of suspect Dzhokhar Tsarnaev on Monday. (Associated Press)
BOSTON – The federal jury in the trial of Boston Marathon bomber Dzhokhar Tsarnaev is set to begin deliberations after prosecutors and defense lawyers on Monday offered rival narratives over who was to blame for the April 2013 terrorist bombings at the annual racing event.
Government prosecutor Aloke Chakravarty said Tsarnaev and his brother, Tamerlan, conspired together in the bombings and that Dzhokhar intentionally placed his pressure-cooker bomb next to the small feet of several young children.
"They chose Patriot's Day," Chakravarty said. "They chose Marathon Monday. They chose a day when the eyes of America were on Boston. They chose a day when people were on the sidewalks."
But defense lawyer Judy Clarke, while acknowledging the tragic loss of life and conceding her client's involvement in the bombings, argued that Dzhokhar was under the control of his older brother, a theme that is likely to recur in the punishment phase of the trial.
"The evidence is that Tamerlan built the bombs," she said. "Tamerlan led and Dzhokhar followed. … He bought into his older brother's plans and his actions."
U.S. District Judge George O'Toole asked jurors to begin deliberations on charges related to the bombing and its aftermath this morning.
The jury was impaneled a month ago, chosen to decide the fate of the defendant in the worst terrorist attack in the United States since Sept. 11, 2001, when hijacked planes crashed into the World Trade Center, the Pentagon and a Pennsylvania field.
Three people died on Boylston Street, including an 8-year-old boy. More than 260 were injured; including 17 who were left amputees. Several days later, during a police manhunt, Massachusetts Institute of Technology police Officer Sean Collier was shot to death.
Tamerlan was killed in that shootout. Now Dzhokhar Tsarnaev, if convicted, faces a death sentence.
Chakravarty showed the jury videos and photographs, pictures of the dead and dying, copies of Tsarnaev's tweets and his Web searches for jihad material, as well as an enlarged image of his "confession" written on the inside of a boat. It was meant to remind the jury of the wealth of evidence pinning the bombings on the 21-year-old.
"He wanted to terrorize this country. He wanted to punish America for what it was doing to his people," the prosecutor said. "And that's what he did."
Chakravarty, his face to the jury and his back to Tsarnaev, said: "That day they felt like they were soldiers. They were the mujahedeen."
He said the brothers marked off two spots near the race finish line and separately detonated pressure-cooker bombs. Dzhokhar placed his bomb next to several youngsters. "He can't help but see the row of children," Chakravarty said of Dzhokhar. "But he puts his bomb there."
For the defense, Clarke acknowledged the horrors of that afternoon. "We have come face to face with tragedy, suffering and grief, in dimensions none of us can imagine possible," she told the jury. "We would never have thought this devastation would touch our lives so directly."
In painting Tamerlan as the conspiracy leader, she said her client was much less involved, describing him as a struggling, teenage college student. "He was 19," she said. "He was an adolescent and doing adolescent things."
Clarke concluded by signaling that the defense team, co-led by federal public defender Miriam Conrad, all but expects a guilty verdict. But she said that in the penalty phase of the trial that will follow, the defense would explain more about Dzhokhar Tsarnaev and his troubled relationship with his older brother.
"We are not asking you to go easy on Dzhokhar," she told the jurors.
Local journalism is essential.
Give directly to The Spokesman-Review's Northwest Passages community forums series -- which helps to offset the costs of several reporter and editor positions at the newspaper -- by using the easy options below. Gifts processed in this system are not tax deductible, but are predominately used to help meet the local financial requirements needed to receive national matching-grant funds.
Subscribe now to get breaking news alerts in your email inbox
Get breaking news delivered to your inbox as it happens.
---