Sports
Chiefs need win at home tonight to extend playoff series to decisive seventh game
Tue., April 7, 2015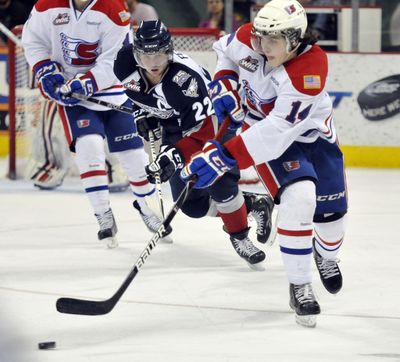 The Spokane Chiefs fought, strained and toiled to get their Western Hockey League playoff series back to home ice.
Now the Chiefs, who will play host to the Everett Silvertips in Game 6 tonight at the Arena, must reverse a trend in which the home ice has been anything but favorable.
Visiting teams have won four of the first five games during the first-round series, the exception being Everett's 5-1 victory in Game 1. Spokane is 0-2 at the Arena during the series, although Game 3 last Wednesday went into double overtime.
The Chiefs, trailing the best-of-7 series 3-2, forced a Game 6 by defeating Everett 4-3 in overtime Saturday night at Xfinity Arena in Everett.
Defenseman Nick Charif saved Spokane's season with an unassisted goal with 2 minutes, 18 seconds left in regulation for a 3-all tie. Riley Whittingham scored the winner, assisted by Liam Stewart, with 4:35 remaining in a wild OT session.
"That's what we wanted right from the start," Chiefs head coach Don Nachbaur said Saturday about returning the series to Spokane. "The guys proved it tonight."
Game 7, if necessary, would be Wednesday night in Everett.
Everett has outscored Spokane 15-13 during the defensive-minded series. Five of Everett's goals came during the third period of Game 1. Four of Spokane's goals came during a stretch of less than 6 minutes in the first period of Game 2.
"Every game in this series could have gone either way, even back to the 5-1 (opening) game," Nachbaur said. "It was a 1-0 lead (after two periods) and we let that dissipate.
"Even looking at the two games we lost at home, one was in overtime. It could be a different series right now, but they're two evenly matched teams and they're both battling."
In the seven other WHL first-round series, five of which have been completed, the visiting teams have also fared well. Home teams have won just 18 of the 34 games (53 percent).
The Chiefs ignored the home crowd and a 3-2 deficit last Saturday by dominating Everett in the third period. Spokane outshot Everett 14-4 in the third period and had the Silvertips on their heels.
"I think we sat back a little too much in the third period," Silvertips captain Kohl Bauml said. "But in overtime I thought we did a hell of a job. We had our chances to win. They didn't go in for us. Their goalie (Garret Hughson) played well, and kudos to them, they put their chances in when they got them."
Both teams have struggled on power plays during the playoffs – Spokane is 4 of 25 and Everett 4 of 28 – but six WHL teams have had lower percentages in the postseason.
Adam Helewka and Kailer Yamamoto are leading the Chiefs in the playoffs with four points apiece. Helewka has three goals and Yamamoto three assists.
Stewart and Dominic Zwerger have two goals apiece. Keanu Yamamoto and Calder Brooks have three assists apiece.
Local journalism is essential.
Give directly to The Spokesman-Review's Northwest Passages community forums series -- which helps to offset the costs of several reporter and editor positions at the newspaper -- by using the easy options below. Gifts processed in this system are not tax deductible, but are predominately used to help meet the local financial requirements needed to receive national matching-grant funds.
Subscribe to the sports newsletter
Get the day's top sports headlines and breaking news delivered to your inbox by subscribing here.
---