Sports > Seattle Mariners
Felix Hernandez dominates L.A. Angels in Mariners' ninth straight Opening Day victory
Tue., April 7, 2015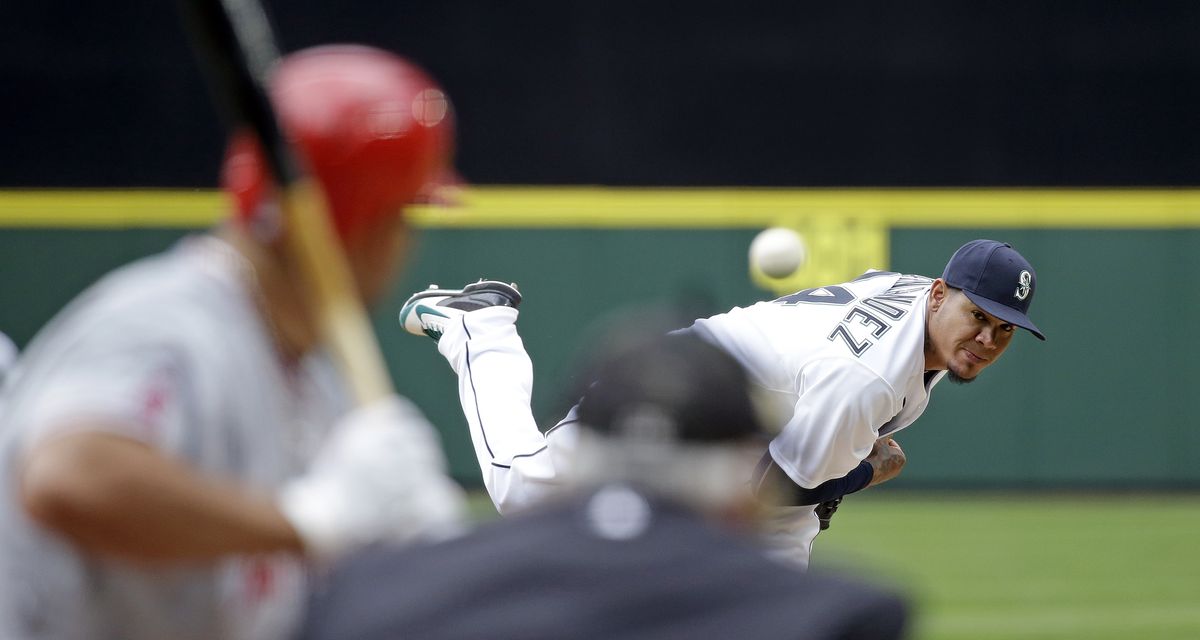 Seattle pitcher Felix Hernandez was dominant in his sixth Opening Day victory, a 4-1 decision over the Los Angeles Angels – seven innings, one run, two hits, 10 strike outs. (Associated Press)
SEATTLE – You don't tug on Superman's cape, and you don't nudge the King's crown off his brow.
Not on Opening Day, anyway.
One of these years – maybe this one – Felix Hernandez would like to show he's an ace in baseball's postseason. For the time being, he'll have to settle for being the regular-season wonder he's been for a decade – and a first-day sensation.
With seven innings of two-hit, 10-strikeout pitching, the Seattle Mariners' right-hander was his nasty old self in a 4-1 victory over the Los Angeles Angels on Monday that sent 45,909 patrons home thinking October thoughts.
Newcomer Seth Smith stole a few of the King's lumens with a 3-for-3 performance – two doubles and a triple – and Dustin Ackley hit a towering home run as the M's won on Opening Day for the ninth straight year.
That's tied for second in MLB history behind the 10 won by the Boston Beaneaters 1887-1896 – about as long ago as Seattle's last visit to the postseason, or so it seems. That's something the Mariners sound determined to change.
"There's a different feel around the team," said third baseman Kyle Seager.
But it's the same old feel when Hernandez is on the mound – especially if it's Opening Day. And for all the attention being paid the club's offensive upgrades – designated hitter Nelson Cruz in particular – it was pitching that ruled the day.
After surrendering a first-inning home run to Mike Trout, Hernandez was impossible for the Angels, whose only other hit off him was a leadoff single by Erick Aybar in the fourth. When the Angels threatened with two runners in the eighth, late call-up Carson Smith closed the door by blazing strike three past Trout. Fernando Rodney induced a double-play grounder to end the game and collect his first save.
That made Hernandez 6-0 on Opening Day starts with a 1.49 earned-run average. He reached 10 strikeouts for the third time in an opener; only Randy Johnson (four), Pedro Martinez and Bob Gibson have as many.
"It's a great challenge," Hernandez said of Opening Day. "You've got a lot of eyes on you so you have to do good."
A lot of throats generating noise and a lot of arms waving yellow "K" towels, too. Even with a rare afternoon start, the sellout crowd made for what manager Lloyd McClendon called an "electric" atmosphere – though he was eager to leave the experience behind.
"I'm glad Opening Day is over," he said, "to get back to a sense of normalcy around here. It's a very hectic day – but it's great when you win."
After Trout took a fastball over the center field fence to win an eight-pitch showdown ("I tried to go away and it stayed in the middle," Hernandez said), it was left to the M's offense to respond – and it did.
Not the big guns of Cruz, Seager and Robinson Cano – they were a combined 1-for-12. But leadoff hitter Austin Jackson's double and Seth Smith's triple pushed the M's ahead 2-1 in the third, and Smith followed Ackley's dinger with an RBI double in the fifth off Angels starter Jared Weaver.
"He definitely knows what he's doing," said Smith, a seven-year pro acquired in an offseason trade from San Diego. "You try not to do too much and hope he gives you one you can get the barrel to."
The one dicey moment after that came when reliever Danny Farquar surrendered a pair of one-out singles in the eighth. But Charlie Furbush ran a 3-2 slider past Kole Calhoun, and then Carson Smith – denied a checked-swing strike three – blew it by the dangerous Trout, as he'd done in an M's victory over the Angels last Sept. 26.
"Maybe he doesn't know who was hitting," McClendon joked.
Local journalism is essential.
Give directly to The Spokesman-Review's Northwest Passages community forums series -- which helps to offset the costs of several reporter and editor positions at the newspaper -- by using the easy options below. Gifts processed in this system are not tax deductible, but are predominately used to help meet the local financial requirements needed to receive national matching-grant funds.
Subscribe to the sports newsletter
Get the day's top sports headlines and breaking news delivered to your inbox by subscribing here.
---