Sports > Seattle Mariners
Spokane's Tyler Olson goes from playing a Mariner to being a Mariner
Tue., April 7, 2015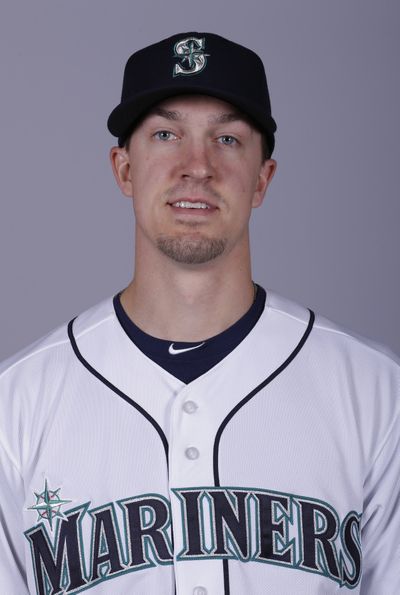 SEATTLE – When bats and gloves were in season out in the side yard of the Olson residence in the Spokane Valley, the youthful imitations always flattered the Seattle Mariners.
Junior. Edgar. Ole.
Which would have made Tyler Olson, a left-handed pitcher, Randy Johnson, right?
"Not necessarily," said his dad, Jeff. "He could throw pretty hard as a 9- or 10-year-old, but I would say it was more Jamie Moyer than Randy Johnson."
Well, whatever.
Because now he's Tyler Olson, Mariner.
Opening Day is baseball's biggest chance for goosebumps until the World Series, and no one is exempt. Not the veteran manager, not the millionaire second baseman, not the kid in the third deck playing hooky.
But especially not the 25-year-old rookie who grew up on the other side of the Cascades and pitched his way on to the roster in spring training.
"Surreal," Tyler Olson called it, and that was before he'd even put on his uniform.
Better stuff was yet to come – his name flashed on Safeco's jumbo videoscreen and running the red carpet from right field under a canopy of Mariners flags.
The best, however, may have come a week earlier.
The phone call home.
"It was awesome," he said. "My dad shouted, my mom shouted, a little bit of tears and joy."
The Mariners didn't make Olson's roster spot official until the eve of Opening Day, but manager Lloyd McClendon tipped him off a week ahead of time so he wouldn't be a puddle of emotion – and so his family and fiancé could scramble their schedules to be at Safeco Field for Monday's 4-1 win over the Los Angeles Angels, though they didn't get to see him play.
"They've got their own section," said Olson, who had to rustle up seven tickets.
Were they color coordinated, like the King's Court?
"I don't know about that," he laughed.
By all accounts, no one should be caught off guard that Tyler Olson is in the big leagues. With each step up the ladder since he was an All-Greater Spokane League player at University High School, he's done precisely what he's needed to do to compete and excel.
The ambush is that a rookie not on the 40-man roster and in his first big-league camp can still earn a job with a lights-out effort in spring training.
"The thing I really liked about the approach that Lloyd had in our meetings is that he's all about surprises," Olson said. "I took that as an invitation to go out and compete and believe anything could happen."
Here's what did:
In 10 spring relief appearances in Arizona covering 12 2/3 innings, the left-hander allowed no earned runs, walked no one and struck out 15.
(Meanwhile, just to prove that Olson wasn't an aberration in fulfilling old-fashioned baseball dreams, his former Gonzaga University teammate, Cody Martin, was doing the very same thing to make Atlanta's Opening Day roster.)
Olson didn't just have to win a job, he had to remake himself – starter to reliever, every-fifth-day pitcher to ever-ready option. But baseball is nothing if not adapting. He learned that lesson last spring, when after five strong outings in the California League he was moved up to Double-A Jackson – and got rocked in his first start.
"As you move up, there's a lot more emphasis on hitting your spots," he said. "I really kind of honed in being consistent around the strike zone and learning what a good miss is. Obviously, it's not over the heart of the plate."
Fast learner. In his second start, he threw two-hit ball over seven innings, with 10 strikeouts. At season's end, he went 7-0 over his last nine starts with a 2.15 earned-run average.
Steve Bennett, his pitching coach at Gonzaga – where Olson was the West Coast Conference Pitcher of the Year as a senior – had seen that before.
"We were on the road, maybe his sophomore or junior year, when he walked five in an inning and a third," said Bennett. "We had to sit him out the next weekend to get him right. It pissed him off a little bit, to tell you the truth, and at that point he started to roll."
Bennett and Jeff Olson saw that same edge when Tyler returned for his senior year after Oakland picked him in the 17th round of the 2012 draft – and then made a laughably lowball offer.
"He was a different guy," Bennett said. "Chip on his shoulder."
The Mariners fan in Tyler Olson has absorbed the wonder of seeing the nameplate above his locker. Now it's about staying. He kept his spring training number of 66 ("to remember where I came from") and plans on keeping his edge, too.
"I'm not going to take that sigh of relief that I made it," he said. "I still have to prove myself and get the job done when it counts."
Because now instead of being a Mariner in his backyard, he's a Mariner in every fan's living room.
Local journalism is essential.
Give directly to The Spokesman-Review's Northwest Passages community forums series -- which helps to offset the costs of several reporter and editor positions at the newspaper -- by using the easy options below. Gifts processed in this system are not tax deductible, but are predominately used to help meet the local financial requirements needed to receive national matching-grant funds.
Subscribe to the sports newsletter
Get the day's top sports headlines and breaking news delivered to your inbox by subscribing here.
---