News > Pacific NW
Surprising showers set daily snow record
Morning brought quite a white sight throughout region
Tue., April 7, 2015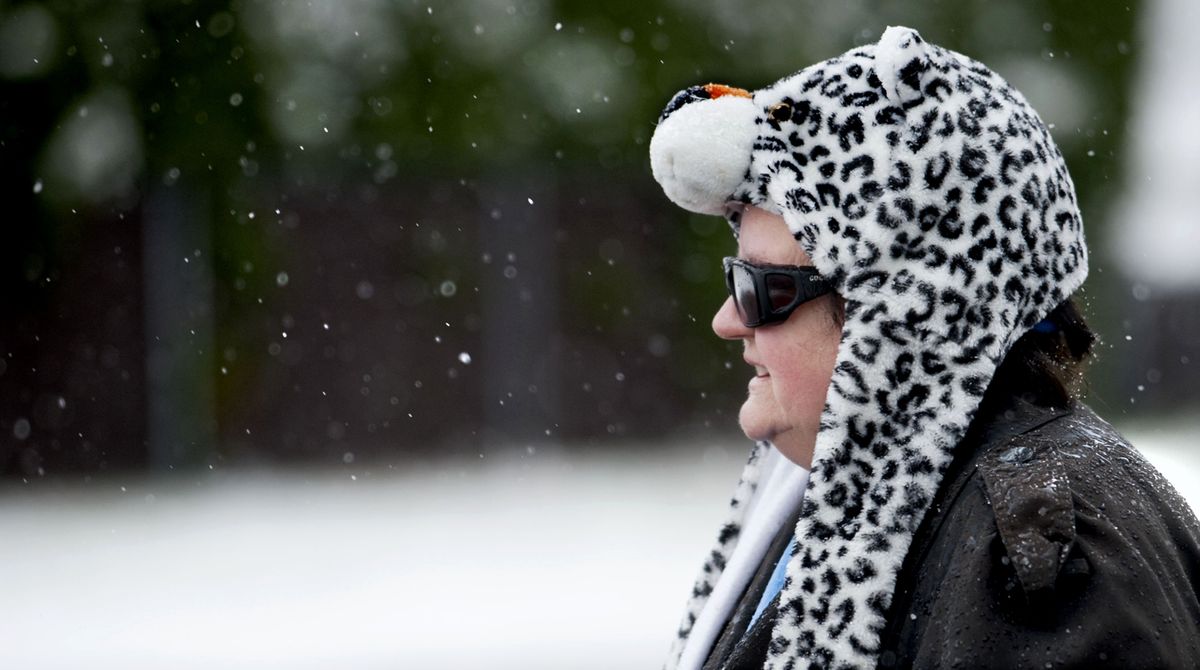 "I just love these crazy things," Ruthie Taylor said about her animal hat as she walked through the snow Monday in Post Falls. (Kathy Plonka)
Those hoping for a balmy spring break in Spokane awoke to an icy surprise Monday – a layer of wet snow covering lawns, trees, shrubs and April's earliest flowers.
Falling temperatures caused a rain-snow mix to turn to all snow in Spokane and Coeur d'Alene around 7 a.m.
The storm brought an inch of wet snow to Spokane International Airport by 11 a.m. Monday. The measurement broke a 40-year-old daily snowfall record for April 6 in Spokane. The previous record was 0.7 inches of snow in 1975.
Varying amounts fell in other parts of the region, including 3 inches in Kootenai County 10 miles south of Coeur d'Alene.
In the mountains, 6 inches of snow was measured atop Chewelah Peak in the 49 Degrees North ski area. By afternoon, the mountain slopes on the southeast side of Spokane Valley cleared of clouds to reveal a fresh coating of snow.
The late-season storm is expected to do little to ease concerns about a low snowpack and insufficient water supplies heading toward summer. Snow is likely to melt even in the mountains over the next several days, forecasters said.
By afternoon, much of the low-elevation snow already had melted. Slushy conditions were evident at Fourth of July Pass on Interstate 90 with some snow accumulating alongside the freeway. Lookout Pass to the east on I-90 was bare and wet in traffic camera images.
Forecaster Matt Fugazzi of the National Weather Service said snowfall in early April is not unusual and that early spring often brings cold showers with hail or graupel, a compressed snow pellet often mistaken for hail. Graupel and hail are recorded as snow.
Monday's precipitation melted on contact with pavement in many locales.
Snowfall rates were heavy in some places. The main precipitation band had moved in from the south and stopped moving northward about 7 a.m., staying overhead for several hours, allowing snow to accumulate even as temperatures hovered just above freezing at the airport.
Kootenai, Benewah and Whitman counties apparently took the brunt of the storm. A trained weather spotter near Thornton in Whitman County reported 2 inches of snow.
In North Idaho, a rash of accidents started about 7 a.m. and continued until 11 a.m., said Natalie Allred, office supervisor for the Idaho State Police in Coeur d'Alene.
The flurry of calls resulted in just five reportable incidents, she said, including a non-injury collision in Athol involving a school bus loaded with children that was struck by another vehicle.
Trouble spots were a hilly section of Idaho Highway 3 between Harrison and St. Maries; the forest corridor east of Lake Coeur d'Alene leading up to Fourth of July Pass; and Idaho Highway 41 north of Rathdrum, Allred said.
The Washington State Patrol said the snow caused a few driving problems.
An apparently icy stretch of U.S. Highway 395 in Adams County led to three crashes apparently related to weather, said Trooper Jeff Sevigney, a WSP spokesman in Spokane. One of the vehicles that slid off the highway was an Adams County Sheriff's Office vehicle.
A reader called The Spokesman-Review to report seeing the sheriff's vehicle on its side.
The accidents occurred five miles south of Lind, where the highway gains elevation.
Allred said the snowflakes in Kootenai County at one point were as large as a human hand. "They were gigantic. I have never seen anything like that before," she said.
Spokane had seen 16.6 inches of snowfall this season heading into Monday, according to the National Weather Service. That's 27.5 inches less than normal.
Kootenai School District canceled classes Monday because of the weather. Students in Spokane and many other school districts are on spring break.
A winter weather advisory was issued by the weather service and then canceled as the snow turned to rain and then moved out of the region. Officials warned that mountain pass conditions, particularly Fourth of July and Lookout passes, could be hazardous.
Daytime temperatures will rebound the rest of the week, with highs expected in the middle to upper 50s through Thursday and then near 60 on Friday, with sunshine reappearing Wednesday through Friday. Another storm system is possible Friday night.
Local journalism is essential.
Give directly to The Spokesman-Review's Northwest Passages community forums series -- which helps to offset the costs of several reporter and editor positions at the newspaper -- by using the easy options below. Gifts processed in this system are not tax deductible, but are predominately used to help meet the local financial requirements needed to receive national matching-grant funds.
Subscribe now to get breaking news alerts in your email inbox
Get breaking news delivered to your inbox as it happens.
---