Sports
Chinese soccer on upswing with new talent and big investment
Sun., April 12, 2015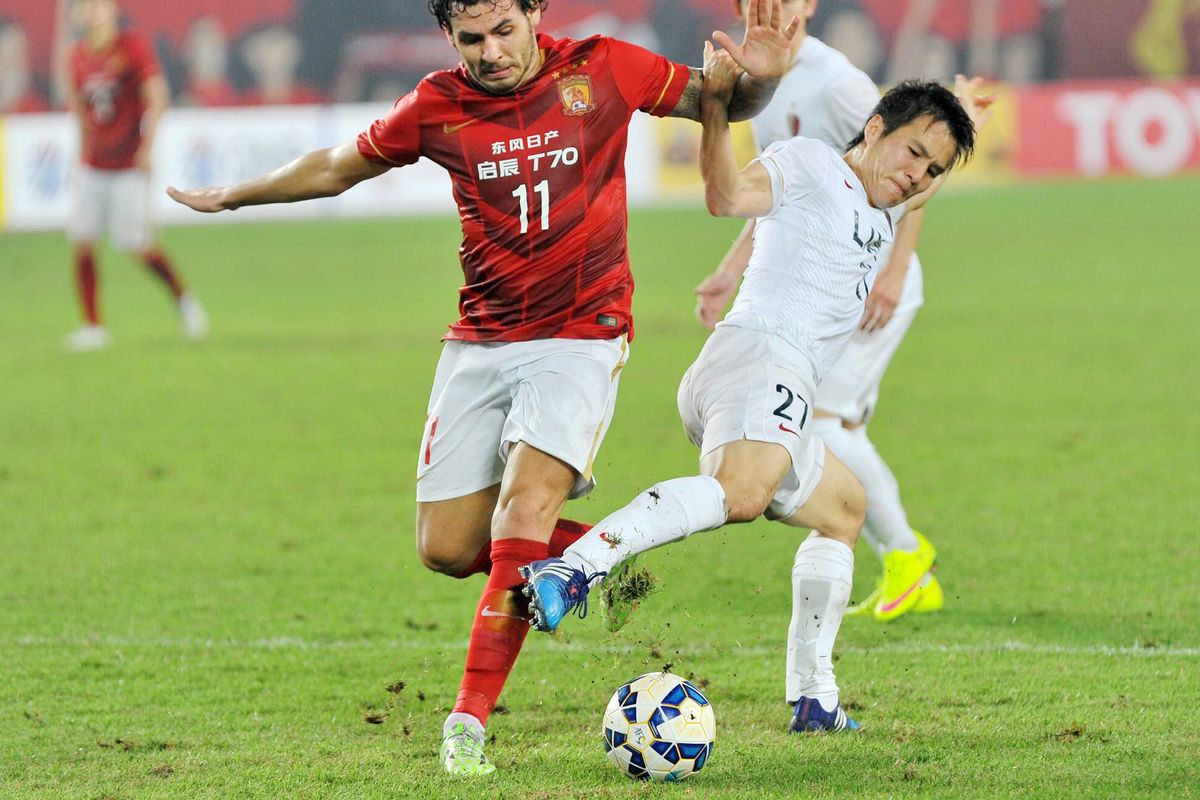 Brazilian forward Ricardo Goulart of Guangzhou Evergrande, left, was signed for a CSL-record $16.2 million. (Associated Press)
SHANGHAI – For Chinese Super League club Shanghai Shenhua, the new season has brought new optimism.
After several years of turmoil that saw the team stripped of its 2003 CSL title in a match-fixing investigation and foreign stars Didier Drogba and Nicolas Anelka depart midway through their contracts during a shareholder dispute, Shenhua is finding success again on the pitch, with three wins to start the season.
The players have an obvious chemistry, too – even if they can't always understand one another.
At a recent practice in Shanghai's sprawling suburbs, Shenhua's latest marquee signing, Australia international Tim Cahill, bantered with Colombian captain Giovanni Moreno and several Chinese teammates in a mix of English, Chinese and Spanish. The team's translators, meanwhile, got a workout as the goalkeeper coach, Juan Mesquida Garcia, barked rapid-fire instructions in Spanish, and the new manager, Francis Gillot, gave interviews to the media in French.
Shenhua is emblematic of the new and improved Chinese Super League – it's increasingly globalized, brimming with newfound professionalism and flush with cash, thanks to its deep-pocketed owner, Greenland Group, one of China's largest real estate developers. The product on the pitch is becoming more watchable, too.
"People aren't familiar with the Chinese league – they judge it without knowing anything about it. But when they watch the matches, they realize they are good quality," said Gillot, the former manager of Bordeaux.
"I see Chinese players who are at a very, very high level and they could play today in the French Ligue 1," France's elite division.
What a difference a few years makes. Chinese soccer used to be difficult to enjoy as a fan – the CSL was mired in corruption scandals and uninspired play, prompting Chinese state television to stop broadcasting games, sponsors to pull out and attendance to flag.
The league's mismanagement had a knock-on effect with the national team, as well. China suffered a number of humiliating defeats, including a 5-1 loss to a Thai side comprised mainly of junior players in 2013 that prompted spectators to riot outside the stadium, shouting "disband the national team!"
Just when it seemed Chinese soccer couldn't sink any lower, the government decided it had seen enough. A corruption crackdown shook up the CSL, resulting in the arrests of dozens of top-level officials, national players and referees on match-fixing charges.
And suddenly, with credibility at least partially restored, sponsors and investment returned in a big way, along with the sport's disillusioned fans.
Guangzhou's club experienced perhaps the biggest turnaround: Relegated to China's second division in 2010 as punishment for alleged match-fixing, the team was purchased by big-spending real estate group Evergrande, signed Italy World Cup-winning coach Marcello Lippi and high-priced foreign players like Argentinian Dario Conca, and three years later became the first Chinese team to win the Asian Champions League trophy.
Now, every team in the league wants to replicate the Evergrande model. According to FIFA, during the recent winter transfer window, Chinese Super League clubs spent a record $85.5 million on foreign players – the third-highest total in the world and more than five times what they spent in 2013.
Evergrande were again the biggest spenders, paying a CSL-record $16.2 million for Brazil international Ricardo Goulart, but other clubs also had flashy deals, most notably Shanghai SIPG, which signed Conca for a reported $10.8 million per year and hired former England manager Sven-Goran Eriksson as coach.
Conca's salary has not been confirmed by his club, but if true would be similar to the wages received by Cristiano Ronaldo and Lionel Messi.
"Suddenly, everyone buys top foreigners," said Mads Davidsen, a Danish assistant coach at Shanghai SIPG. "When I came here (in 2012), the foreigners on CSL teams didn't have that good a level. Now it's extremely difficult to come here as a foreigner, you have to have a high level. All of this has helped lift the league."
Local journalism is essential.
Give directly to The Spokesman-Review's Northwest Passages community forums series -- which helps to offset the costs of several reporter and editor positions at the newspaper -- by using the easy options below. Gifts processed in this system are not tax deductible, but are predominately used to help meet the local financial requirements needed to receive national matching-grant funds.
Subscribe to the sports newsletter
Get the day's top sports headlines and breaking news delivered to your inbox by subscribing here.
---