Sports > Outdoors
Hummingbird research a delicate job
Sun., April 12, 2015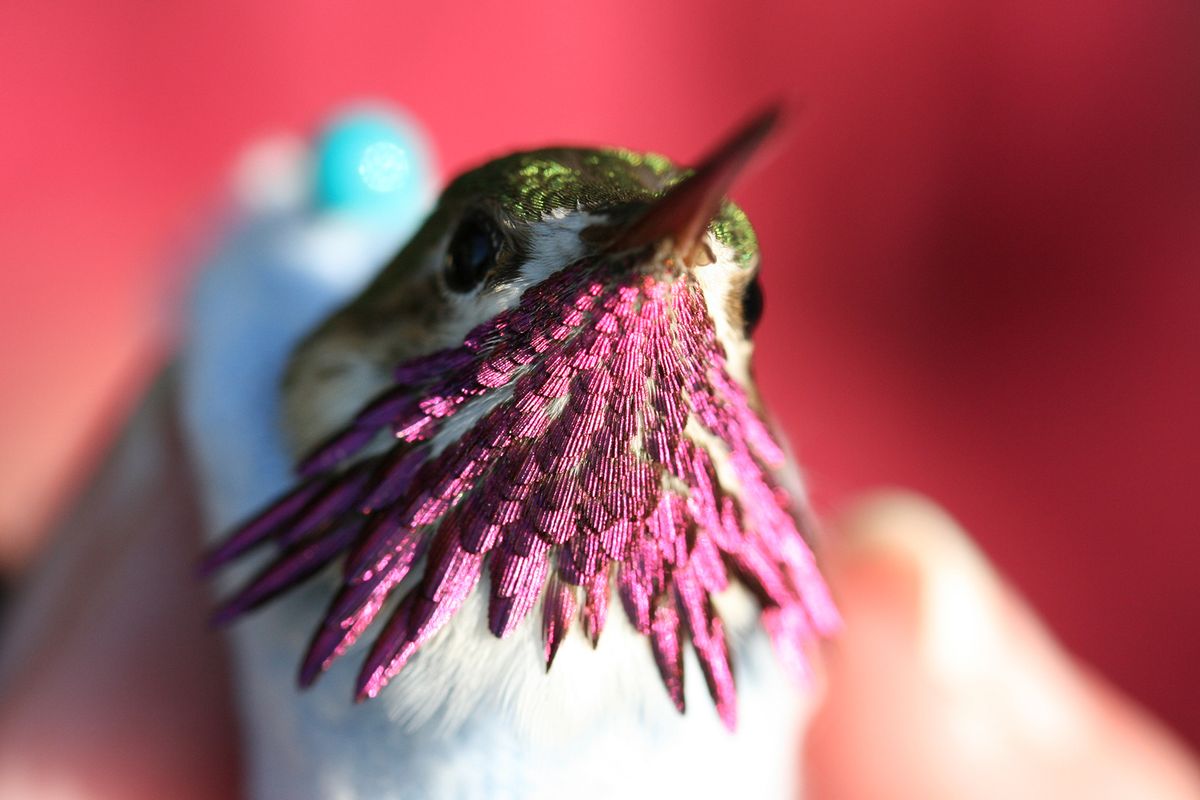 A calliope hummingbird is captured for banding by researchers with the Intermountain Bird Observatory near Boise.
Hummingbirds capture our imagination as they zip in and out of our lives. They arrive in a blur of wings, stopping in midair so fast we expect to hear a rubber-on-pavement screech. They offer a good look, often sporting spectacular colors, and then they are gone.
Even researchers who've studied the diminutive birds for decades watch hummers and wonder.
"There's still so much we don't know," said Jessica Pollock of Boise State University's Intermountain Bird Observatory. "They exist only in the Western Hemisphere – they're not found in Europe – yet 60 percent of the hummingbirds listed as threatened or endangered species are so elusive we haven't even found their nests; we don't know how or where they go."
Banding studies that help monitor their migrations are gradually shedding insight on their biology and habitat.
"Hummingbirds, of course, are extremely tiny and delicate, so even the procedure of putting bands on their legs had to be specially designed for them," said Pollock, who's been banding hummers for 10 years in Idaho and British Columbia.
"They have an extremely high metabolism, so they stress easier than larger birds. We use completely different banding gear and we've made huge advances in making banding more sophisticated and as safe for the hummingbirds as it can be."
Banded waterfowl usually are herded up before they can fly, corralled on the ground and captured by hand. Most other birds are captured for banding in nets wielded by hand or stretched across openings to entangle them in flight.
"Nets can't be used for hummingbirds, not even mist nets," Pollock said, noting the bird's ability to stop and hover. "Their wings are so different, and the way their shoulder muscles work, you can't safely use the same capture techniques, even for holding the hummingbirds."
Researchers have devised traps they hang like see-through tents around hummingbird feeders – the only sites where hummingbirds reliably concentrate.
"We leave a flap open on the soft mesh trap and drop it like a trap door when the bird enters to the feeder," she said.
"Then we gently grab the bird and put it into what we call a fleece burrito and take it directly to be banded."
Even with good eyesight, a lens might be needed to read the numbers on a hummingbird band.
Made of thin aluminum, the bands weigh less than a tenth of a gram and are about the size of a closing link on fine jewelry.
Researchers quickly record details, such as the species, sex, and if it's a female, whether it's breeding.
"A hummingbird's skin is so thin, if there's an egg in her belly, you can see it," she said.
"We can tell if it's a bird born this year based on the bill. Young birds have grooves or striations along the top of the bill. As they mature, the bills become smooth. You have to have a bird in hand to see it."
The researchers take quick notes on bill and wing measurements and the bird's overall body condition. "How fat the bird is says a lot about its health and ability to survive," she said. "Fat is the fuel they need to migrate."
Before the hummingbird is released, it's offered a drink of sugar water.
Unlike other birds or animals that would likely shun food or water during a capture, hummers are acutely tuned in to their needs for survival.
"We have a feeder on the table and almost always the bird will take a drink," she said.
"You'd think the last thing a stressed animal would do is feel comfortable pausing to drink. But eating is a hummingbird's business. They have such a high metabolism; they have to feed almost constantly during the daytime.
"We feed them at the table because we don't want them to fly right back to the feeder with the trap."
The observatory researchers often invite students or guests to watch the banding operation.
"After the hummingbird gets a drink, we try to give an observer a treat by putting the bird on their hand," she said, noting that if the person holds very still, the bird will gather itself for a few seconds before flying off. "It's a moment people love."
The observatory researchers band hummingbirds once every two weeks from May through early September when the birds return from their wintering areas to nest in Idaho.
Bird banding studies throughout the hemisphere have similar goals to monitor trends, movements and migration paths. Hummingbirds have been coming into a new research fold with the more recent emphasis on pollinators and their role in the environment, Pollock said.
"Hummingbirds are key pollinators along with bats and insects," she said. "We're starting to look into their importance and things like how climate change is affecting blooming times and how that time is related to migratory timing of birds."
Banding research doesn't generally produce a scientific "ah-ha" moment, she said. "It's long-term stuff."
Of the five hummingbird species that most commonly return to Idaho, the rufous and calliope have been identified as species of concern because of declining populations, threats to habitats or restricted distribution.
"We tend to think of hummingbirds as being around gardens or especially around our feeders where they concentrate," she said. "But wild habitats are very important to them. That's where they disperse and spend much of their time."
Multilayered ecosystems with rich understory and patchy open areas are important to the rufous hummingbird, she said.
"They don't exist on sugar water, or even nectar. Insects are a major component of their diet for the protein, amino acids and other nutrients they need."
During a typical operation, Intermountain Bird Observatory researchers will band 50-60 hummingbirds a day. "Since 2012, we've banded more than 1,000 at our site near Idaho City," she said.
Banding research is important for studying a wide variety of birds. Waterfowl hunters have been instrumental in providing information about ducks and geese they kill to help scientists translate data on fall migrations into efforts to preserve wetlands habitat.
"Dead hummingbirds are not a factor in our research," Pollock said, noting that they are not hunted. "It's rare for someone to find a dead hummingbird let alone one that's banded."
Birdwatchers help with reporting some species of banded birds by reading numbers with their high-powered scopes. But hummingbird bands are too small to read with the best Leica or Swarovski glass.
Researchers rely primarily on data from recaptures.
"Our study is part of a larger study," Pollack said. "We collaborate with the Hummingbird Monitoring Network. All of our data is pooled with theirs. There are more than 50 sites across the western United States and Canada."
The sharing of information leaves room for improvement, she said, "but at least a centralized system is established.
"All bird banders for all species send their data to the same place eventually," she said, noting that the U.S. Geological Survey collects the information at the Bird Banding Laboratory at the Patuxent Wildlife Research Center in Laurel, Maryland.
The United States and Canada buy into the program, knowing that research data would be impossible to compile if every state and province in North America had its own system.
"Every single bird banding is reported to the lab so anybody who finds a banded bird anywhere knows exactly where to report it or go for information," Pollock said. "Data collection would be a nightmare if it weren't centralized."
Banding records indicate that most hummingbirds live five to six years in the wild with some up to 10 years.
"That blows my mind to think these tiny birds that weigh the same as a dime or a nickel, depending on the species, are capable of living that long," she said.
"They're not just hanging out around a small area. They're capable of migrating to Mexico for the winter and returning back to Idaho to breed, a long trip they make twice a year."
Local journalism is essential.
Give directly to The Spokesman-Review's Northwest Passages community forums series -- which helps to offset the costs of several reporter and editor positions at the newspaper -- by using the easy options below. Gifts processed in this system are not tax deductible, but are predominately used to help meet the local financial requirements needed to receive national matching-grant funds.
Subscribe to the sports newsletter
Get the day's top sports headlines and breaking news delivered to your inbox by subscribing here.
---