News > Obituaries
Obituary: Petrelli, Louis Victor "Daddy" "Papa" "Lou"
Sun., April 12, 2015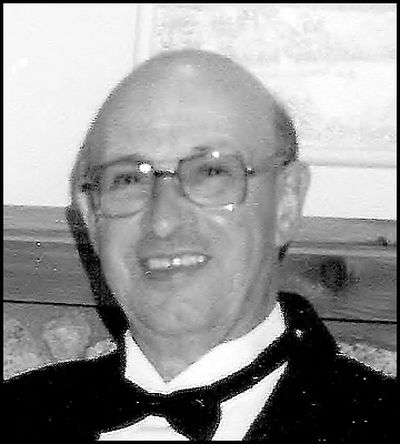 PETRELLI, Louis Victor "Daddy" "Papa" "Lou" (Age 88) "The future is just a dream.
All we really have is today"; words Lou spoke upon receiving the news that his journey in this world was ending.
Born March 31, 1926 in Walla Walla, WA, to Michel and Lena Petrelli, he was raised on a small farm in Walla Walla along with brother, Gerald, and sister, Bebe.
Lou went to work as a baker while in high school and graduated from Walla Walla High School in 1944.
In 1946 he joined the Army and became a cook.
In 1947, he married his sweetheart, Norma L. Harding; they had two daughters, Sheri and Lori.
Lou worked for Garden City Furniture in Walla Walla and in 1962 moved to Spokane to open the furniture department of the new Crescent Store at Northtown.
After a year he was promoted to the Downtown Crescent Store, where he became manager and top salesman for his remaining career there.
Lou was loved by all who knew him, ready with a joke or a story to tell, and gained many beloved friends throughout his lifetime.
Lou and Norma loved to dance and spent many wonderful times dancing and socializing with the "Hee Haw" gang, remaining friends long after they couldn't dance anymore.
Lou loved to cook and entertained frequently at home.
Many wonderful meals, especially Italian, were enjoyed by his family and friends.
He was a lifetime member of the Elks Club, an avid bowler, and an excellent gardener.
Upon retiring in 1988, he and Norma spent many years travelling and cruising with their life-long friends, Marv and Helen Soehren, always planning their next adventure.
He loved his fifth wheel trailer; most of their destinations were on or near water, especially the Oregon Coast.
He and Norma loved camping at Riley Creek Campground, where they started a tradition of inviting friends and family to 5:00 happy hour that has extended throughout the campground to include family, friends and friends of friends.
Daddy, Papa, Lou will be greatly missed by his daughters, Sheri (Ron) Miller, Lori (Jeff) Martinelli; four grandchildren, Jessica Knudsen, Jennifer (Andy) Johnston, Brent Davis, all of Spokane, and Matt (Deanna) Miller of North Bend, WA.
He was also proud to have six great-grandchildren, Tucker and Maya Knudsen, Kaelyn, Sydney and Taylor Johnston and baby Hannah Miller, born two weeks before he passed, to his great joy.
Extended family include Marv and Helen Soehren, Larry (Mary) Soehren, Craig, (Pauline) Soehren and nephew, Michael Petrelli.
Lou will also be missed by Jean Robinson, his sweet friend and companion for the last two years of his life.
Lou was preceded in death by his beloved wife, Norma Petrelli, his parents Michel and Lena Petrelli, brother Gerald Petrelli, sister, Bebe Benefiel, and nephew, Michael Kirk.
Lou proudly lived independently, staying in his own home until checking in to the five star Hospice House South where he was treated with first class, loving care during the last six days of his life.
A celebration of Lou's life will be held at Sans Souci Club House, 3231 W. Boone, Spokane, WA, on April 25, at 1:00 p.m. On behalf of Lou, the family wishes to extend their deepest gratitude to the many kind people at Hospice House South for their outstanding care of him and his family.
A special thank you to Jane and Shari of Hospice of Spokane for their loving care of Lou in the last weeks he was at his home.
In lieu of flowers, memorial contributions can be made to Hospice of Spokane.
Local journalism is essential.
Give directly to The Spokesman-Review's Northwest Passages community forums series -- which helps to offset the costs of several reporter and editor positions at the newspaper -- by using the easy options below. Gifts processed in this system are not tax deductible, but are predominately used to help meet the local financial requirements needed to receive national matching-grant funds.
Subscribe now to get breaking news alerts in your email inbox
Get breaking news delivered to your inbox as it happens.
---