News > Washington Voices
Starr Road accidents raise safety concerns
Thu., April 16, 2015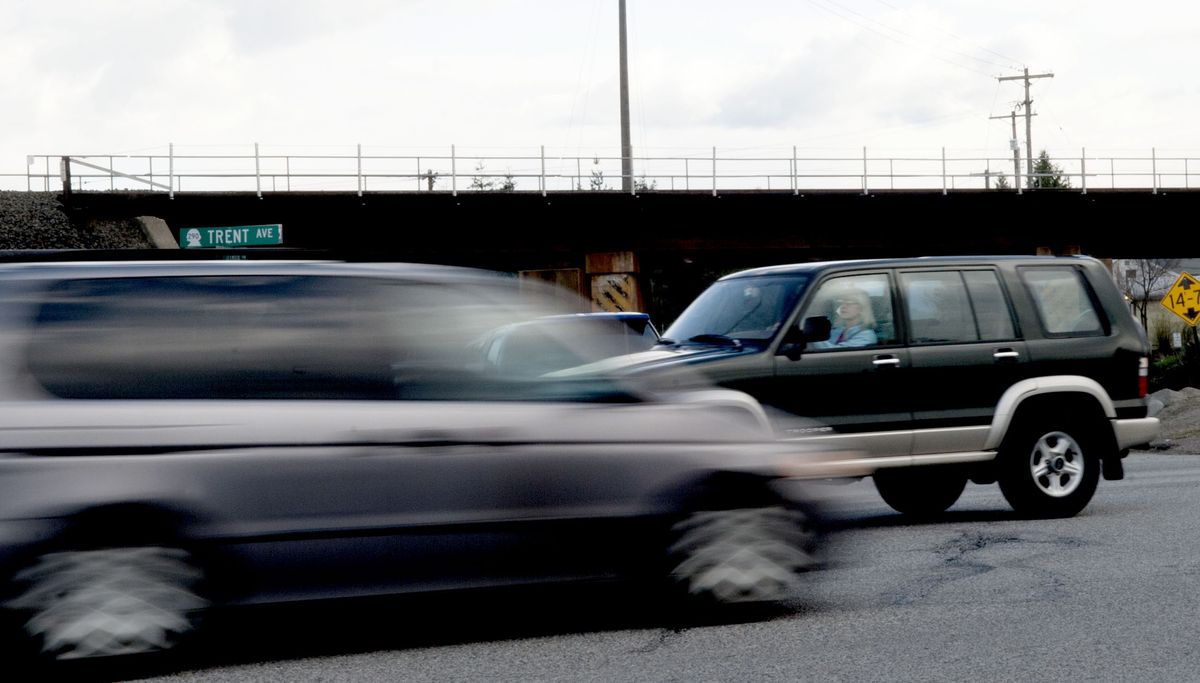 Traffic moves along at the intersection of Starr Road and Trent Avenue in Newman Lake on April 9. (Kathy Plonka)
Signs near the Newman Lake community warn motorists on Trent Avenue to slow as they approach Starr Road, but residents say the 45 mph zone is largely ignored by commuters.
Residents also cite too many accidents and near misses as drivers cross the busy highway or turn, where Starr comes in from the north at a skewed angle compared to its route south. To call attention to traffic concerns, members of Tri-Community Grange organized a public meeting at the Grange hall in Newman Lake.
"The cars and semitrucks that go through that intersection easily go 60 miles per hour," said Denise Smart, a resident and meeting coordinator.
"I have to pump my brakes to make sure people know I'm slowing down. Those ahead of me are already a half a mile ahead when I slow, which means they're not slowing down, and there isn't any evidence of braking."
Smart said officials planning to attend the meeting include County Commissioner Todd Mielke, East Valley School District Interim Superintendent Tom Gresch and representatives from the state Department of Transportation, State Patrol, Sheriff's Office and area fire departments. Members of the public are invited to share concerns.
It's good timing for input, Smart said. This summer the state plans to repave and add safety features for 8 miles of Trent, also called State Route 290, from Sullivan Road to the Idaho state line. The work is expected between June 15 and Sept. 4.
For the Starr-Trent area, WSDOT plans to add electronic speed signs that flash 45 if drivers exceed that speed, said spokesman Al Gilson. While a roundabout is the proposed best solution for the Starr intersection, he said, funds toward its estimated $2.2 million cost aren't available. A roundabout could be designed to handle truck traffic, he added.
"A roundabout would solve the problems at this intersection very well if we had the funding," he said, adding that many of the intersections from Barker to the state line along Trent have similar safety concerns. East of where Wellesley Avenue merges onto the highway, Trent is a two-lane road with few passing zones and narrow shoulders.
The BNSF railroad runs parallel to the south, while residential driveways and roads are to the north.
This summer's project will add wider, permanent plastic stripe markings at intersections along the 8-mile stretch to increase visibility, Gilson said. Additionally, the work will install a centerline rumble strip, between Barker and the state line, which causes a loud noise if tires cross into the opposite lane.
"Some of the accidents we're noticing in this area are from people crossing the centerline," Gilson said.
In 2013, a Rathdrum couple died in an accident while eastbound on Trent at Starr, when their vehicle crossed the centerline and hit a semi head-on.
Last year near Lynden Road, about 4 miles west of Starr, driver John Polignoni died in a collision with a semi, after he apparently crossed the centerline, said his wife, Sheryl Polignoni. She plans to be at the traffic meeting. She said her family also spearheaded placement of highway signs earlier this week near Lynden to remind drivers to use caution.
"Our family is having signs put up that say, 'Drive safe in memory of John,' " she said. "As a family, we want to make a statement. You have people who tailgate you on Trent. You have people who pass you because they want to go faster. If we can help save someone else's life, that's what matters."
Larry Frostad, WSDOT assistant traffic engineer, said the Harvard-Trent intersection had nine accidents between 2009 and 2014, which is the same number as Starr-Trent during that period. Between January 1999 and December 2007, Starr-Trent had 31 accidents, he said, before the 2008 construction of a westbound right turn lane near Starr that reduced rear-end collisions.
In 2007, WDOT studied a potential traffic signal at Starr, Gilson said, but the road's alignment causes issues.
The centerline of Starr to the north is offset 24 feet compared to its route south across the highway, he said. A traffic signal would require a perpendicular crossing, so the northern part of Starr would need to be realigned and a portion of a commercial building removed. The road to the south can't be realigned because of the railroad and bridge, Gilson said.
Without realignment, left-turn signals would require split-timed phases, significantly delaying traffic. A roundabout wouldn't cause delays or encroach into buildings, Gilson said.
Smart said near-misses occur almost daily as motorists on Starr south of Trent attempt to turn left, while drivers to the north try to go straight or turn, in between heavy east-west traffic.
"You'll have cars on the south side, and people get impatient. They don't turn on the blinker, so you don't know if they're turning left or not."
Customers of Sweet Tooth Bakery, near the intersection, often share close calls, said co-owner Gary Wheeler. "People are going just way too fast for that area," Wheeler said. He can see out windows facing Trent as customers turn in. "People are right on their tails."
Local journalism is essential.
Give directly to The Spokesman-Review's Northwest Passages community forums series -- which helps to offset the costs of several reporter and editor positions at the newspaper -- by using the easy options below. Gifts processed in this system are not tax deductible, but are predominately used to help meet the local financial requirements needed to receive national matching-grant funds.
Subscribe now to get breaking news alerts in your email inbox
Get breaking news delivered to your inbox as it happens.
---