News > Spokane
Chilling reality: Warm days mask Spokane River's strong flow and take-your-breath-away cold
Fri., April 17, 2015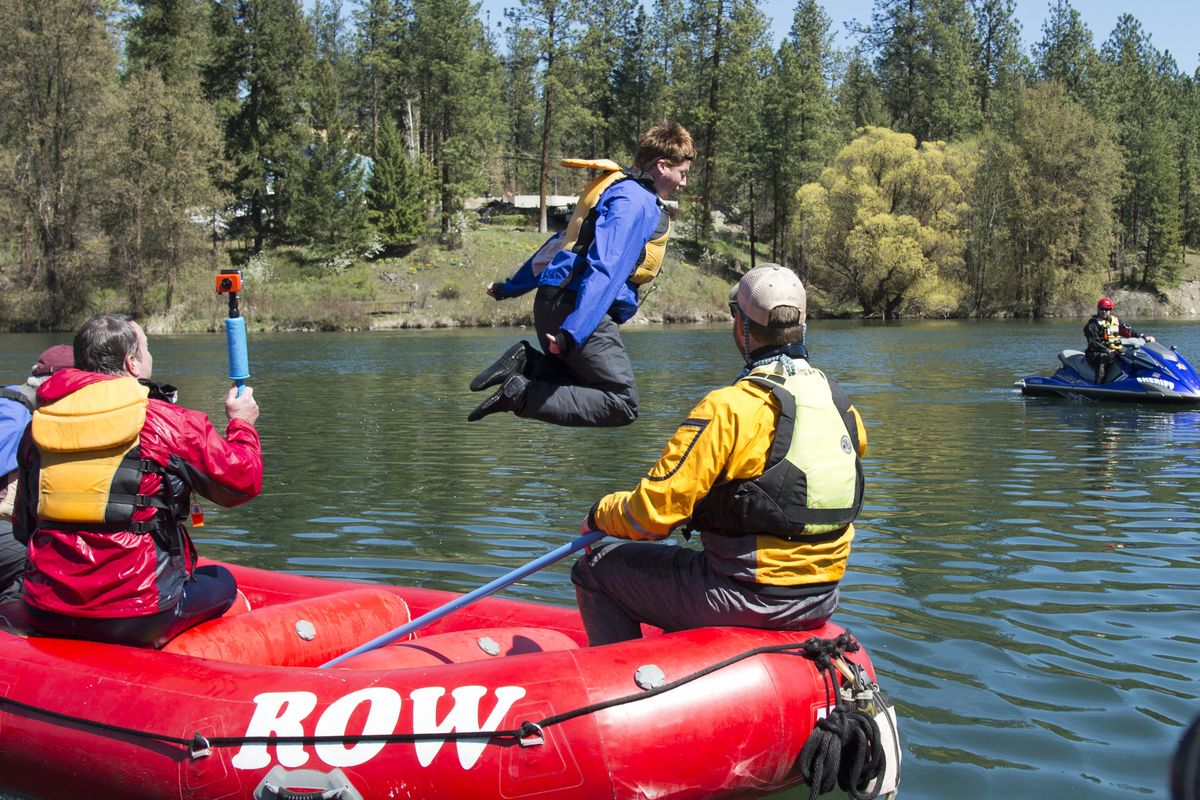 Freelance journalist Aaron Theisen leaps into the Spokane River to experience cold water immersion while on a raft trip Thursday. The trip, sponsored by Avista Utilities, was to demonstrate the dangers of cold water and being near the company's dams. (Jesse Tinsley)
With sunny skies and temperatures in the 60s, rafting the Spokane River could be done in a long-sleeved T-shirt and shorts on Thursday. But water temperatures were another story.
The swift-flowing river was 43 degrees – cold enough to leave people gasping from a sudden plunge into the water.
Drowning deaths increase this time of year, as warmer days lure people to the rivers and lakes for boating and fishing, but many are unprepared for the cold, fast-moving water cascading out of the mountains.
"People don't intend on being in the water," said Sheriff's Deputy Jim Ebel, Spokane County's marine enforcement coordinator. "They were in a boat, or maybe out fishing."
They aren't wearing life jackets when the kayak, canoe or boat capsizes. Water temperatures in the 40s and 50s quickly sap people's ability to swim.
In addition, "there's a cold water shock that creates an involuntary gasping for air" that can lead to asphyxiation, Ebel said.
At least eight people have died in boating-related fatalities in Washington this year, most of which have been confirmed as drownings. The latest death occurred Sunday, when a canoe capsized in the White Salmon River. A day earlier, two men overturned a canoe in choppy water on Lake Fernan near Coeur d'Alene. Both survived, but by the time they reached the shore one man was too weak to move.
Ebel joined officials from Avista, the Spokane Regional Health District, Riverside State Park and outfitter ROW Adventures on Thursday for a boating and water safety event on a five-mile stretch of the Spokane River between Plese Flats and Nine Mile Dam.
It was a quiet morning, with great blue herons fishing along the river's edge and common mergansers flying over the water. But the tranquility is deceptive.
"The Spokane River fools people. It doesn't look like a raging river, and people take it for granted," said Chris Guidotti, manager of Riverside State Park. "The flows are significant, the eddies are strong and the water is cold."
Add alcohol, and you have a dangerous mix, said Lt. Stu Miller, a spokesman for the Kootenai County Sheriff's Office, who has been called out to numerous drownings.
Several occurred in the Spokane River below Post Falls Dam by Corbin Park.
"The water looks like it's slow-moving, but there are undercurrents and it's deep," Miller said. "Most people just panic and can't get out."
Part of surviving requires staying calm, said Geoff Jans, ROW Adventures' director of operations. The outfitter instructs people to float on their back after an unexpected immersion. If they're headed toward a river "strainer," such as a logjam, and can't swim away, they should climb on top of the obstacle, rather than risk getting trapped beneath it.
About 400 to 600 extra boats will be out on Spokane County's waterways on April 25, when fishing season opens. Ebel and other Spokane County marine deputies will be out in force, checking that boaters have the required personal flotation devices and noise-makers for signaling, such as whistles.
Wearing personal flotation devices is mandatory on the Spokane River between the Idaho-Washington state line and Plantes Ferry, where the river's current is fastest. Each year, the Spokane County Sheriff's Office writes 50 to 100 tickets to people who don't comply.
On other parts of the Spokane River and other waterways, boaters must have personal flotation devices on board. The rules apply to all vessels, including canoes, kayaks and paddleboards. Ebel recommends wearing the flotation devices.
Every year, at least one angler falls overboard on the opening weekend of fishing season.
"Putting a life jacket on when you're in the water is very difficult," Ebel said. "I've tried it, I know."
Local journalism is essential.
Give directly to The Spokesman-Review's Northwest Passages community forums series -- which helps to offset the costs of several reporter and editor positions at the newspaper -- by using the easy options below. Gifts processed in this system are not tax deductible, but are predominately used to help meet the local financial requirements needed to receive national matching-grant funds.
Subscribe now to get breaking news alerts in your email inbox
Get breaking news delivered to your inbox as it happens.
---