Sports
EWU spring football: Eagles work to mesh defensive line
Fri., April 17, 2015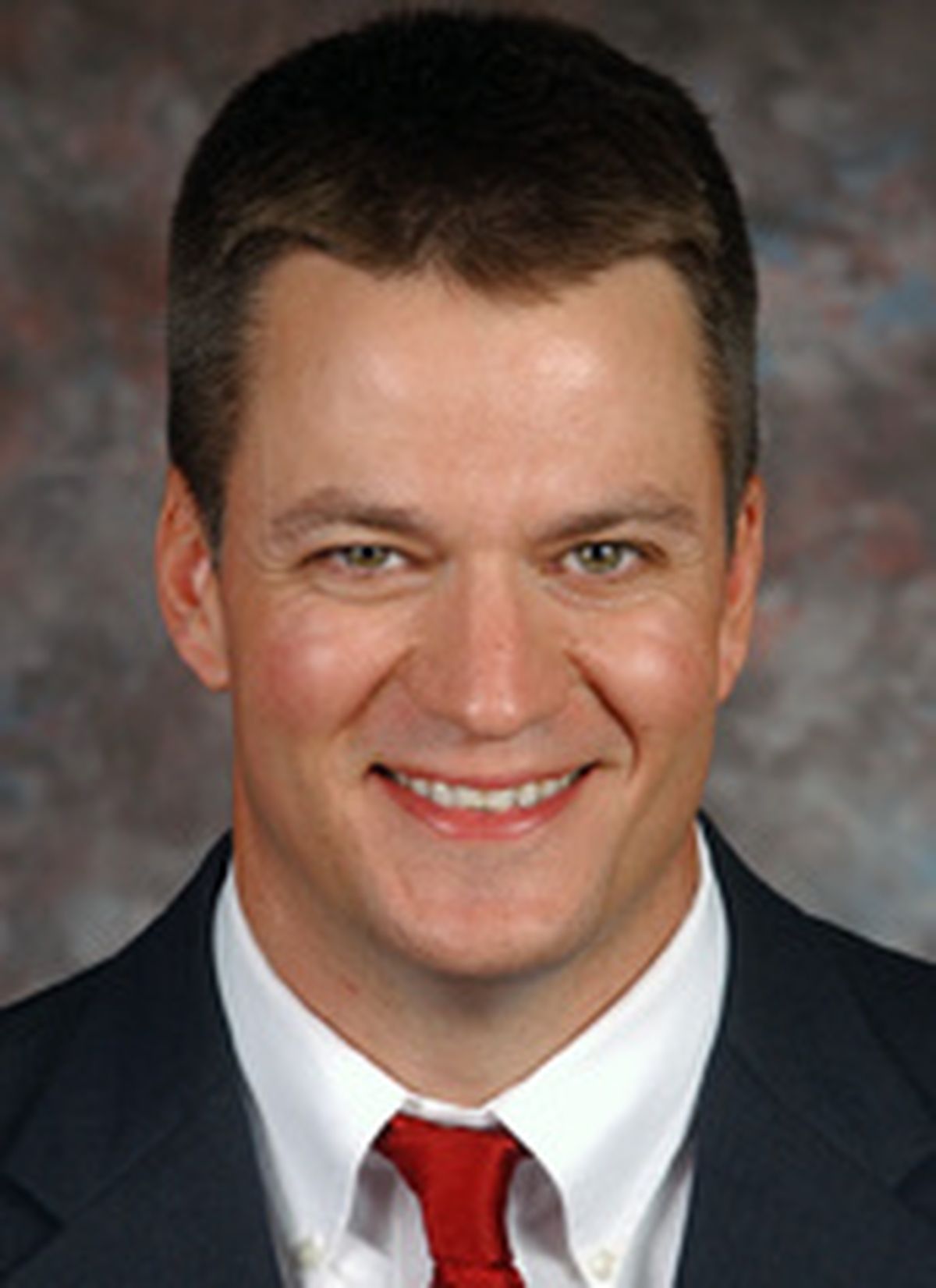 Strandley
This is the fifth in a series on spring football at Eastern Washington. Today: the defensive line.
Eastern Washington's young defensive linemen are still a work in progress, so it's a good thing the coaches are sharing the workload.
After some off-season shuffling, former tight ends coach Brian Strandley has joined Ryan Sawyer on the other side of the ball – just in time to bring the young players up to speed.
"The biggest goal this spring is for us to play faster, play more disruptively, make more plays in the backfield and have a more consistent pass rush on every down and distance," Sawyer said.
Strandley will help check all those boxes by working with the interior linemen, freeing Sawyer to focus on the ends.
"Coach Strandley is really giving us a spark and now we can all have more one-on-one time with the players," said Sawyer, whose other priority this spring is to "mesh" with new defensive coordinator Jeff Schmedding and the shift to more nickel formations.
"The whole staff is involved," Sawyer said.
Good thing, as the Eagles have 15 defensive linemen in spring camp, including 11 underclassmen. Six of them were pressed into duty last fall as true freshmen, which Sawyer said will pay dividends this year.
Last year, the Eagles took their lumps in a few games, especially the season-ending 59-46 playoff loss to Illinois State. That should change, Sawyer hopes, thanks to some gains in the weight room and on the practice field.
As he puts his players through their paces, Sawyer stressed that he hasn't set a depth chart at any position.
"At the end of the day, I'm going to put my best players on the field," said Sawyer, who usually rotates at least 10 players on game days.
Here's a look at how the Eastern defensive line is shaping up this spring:
Tackle: Junior Matthew Sommer enters his third year as a fixture in the middle. Last year, the 6-foot-5, 310-pounder from Salem, Oregon, started all 14 games and was steady against the run and pass.
"We're looking for more of the same from him, and more leadership," Sawyer said.
The Eagles have plenty of options at the other tackle spot, which last year was manned by the departed Dylan Zylstra.
Dylan Donahue, a 6-1, 285-pounder from Marysville, Washington, who played last year as a true freshman, is "having a great spring," Sawyer said. Andre Lino, a 6-3, 265-pound redshirt sophomore from Seattle, also looks to see plenty of action.
Also in the mix are 315-pound true sophomore Jay-Tee Tiuli of Seattle and newcomer Monike Sarte, a 290-pounder from Fife, Washington, who also is making a good impression.
End: At buck end – the main pass-rushing position – Eastern got a team-high 7 1/2 sacks from Samson Ebukam, who's in street clothes this spring as he recovers from shoulder surgery.
"Hopefully, he's a year wiser and matures into a leader," Sawyer said of Ebukam, a 6-3, 240-pound junior from Portland.
The other veteran at buck end is Evan Day, who is waiting on the NCAA to approve his petition for a sixth year of eligibility. Day, a 6-3, 245-pounder from Sammamish, Washington, was an all-Big Sky Conference selection in 2013 but missed last season after tearing an ACL last spring.
At field end – primarily a run-stopping position – the Eagles lose Zackary Johnson to graduation.
Sawyer has many choices to fill out his rotation at the two end spots. First, there are three sophomores: North Central product Marcus Saugen (6-4, 210), who played extensively last year; Nick Foerstel of Tumwater, who's 6-3, 220; and Conner Bauman, a 6-2, 220-pounder from Bellevue.
Jakob Stoll, 6-2, 260-pound redshirt freshman from Wenatchee, is "doing a great job," Sawyer said. Also competing are sophomore William Lopez (6-5, 240, Vancouver); and redshirt freshmen Jonah Jordan (6-2, 250, from Mead); and Kaleb Levao, 6-3, 290-pounder from Aberdeen, Washington.
 Former linebacker Albert Havili, 6-2, 255-pound junior from Federal Way, Washington, was moved to line, but suffered a knee injury last week and is out indefinitely.
Coming Saturday: part six, the linebackers
Local journalism is essential.
Give directly to The Spokesman-Review's Northwest Passages community forums series -- which helps to offset the costs of several reporter and editor positions at the newspaper -- by using the easy options below. Gifts processed in this system are not tax deductible, but are predominately used to help meet the local financial requirements needed to receive national matching-grant funds.
Subscribe to the sports newsletter
Get the day's top sports headlines and breaking news delivered to your inbox by subscribing here.
---