News > Business
Jobs outlook for college grads is best it's been in years
Fri., April 17, 2015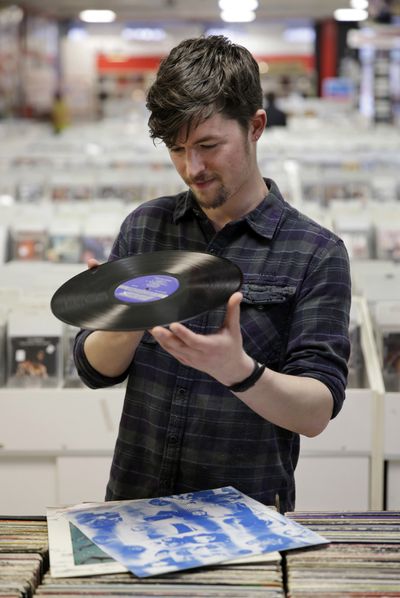 WASHINGTON – The consulting and accounting firm EY is aggressively recruiting on college campuses this spring. The company formerly known as Ernst & Young plans to hire 9,000 graduates from U.S. universities this year, up from 7,500 in 2014. But recruiting isn't as easy as it used to be.
"I'm seeing a lot more competition" from rival employers, says Dan Black, EY's Americas recruiting leader.
That's good news for college seniors and graduate students preparing to accept diplomas this spring, and a sign that new graduates will fare better than they did in 2014. The Labor Department reported Thursday the unemployment rate for Americans in their 20s who received a four-year or advanced degree last year rose to 12.4 percent from 10.9 percent in 2013.
"This is a real breakout year," said Philip Gardner, director of Michigan State University's Collegiate Employment Research Institute.
In a survey of employers last fall, the employment center found hiring of graduates with four-year degrees will rise 16 percent this year.
"It's led by the ones you would expect – engineering and business," Gardner said. "But there seems to be a lot of room for everybody. … Even arts and humanities are making a comeback."
Employers have more openings because baby boomers are retiring and more workers are feeling confident about the economy to switch jobs. The overall unemployment rate has fallen to 5.5 percent in March from 6.7 percent at the end of 2013.
In particular, employer demand for STEM graduates – in science, technology, engineering and mathematics – is high.
"We can't graduate enough engineers," said Holly Proffitt, employer relations coordinator at Arkansas State University.
Still, many recent college grads have yet to enjoy a full recovery from the dark days of the Great Recession.
In a report last year, the Federal Reserve Bank of San Francisco found wages for college graduates haven't kept up with overall wages since the Great Recession. Between 2007-14, median wages for all full-time workers rose 15 percent. For college grads, they rose just 6 percent.
Elizabeth Earl, 22, landed a job at a health care publication after graduating from Columbia College Chicago. The pay is low and the work tedious, but she's relieved she has a job.
"By the time you get out, you assume you'll be a barista," she said. "It's not idyllic nor at all what I want to do, but it is a job from which I can be getting paid while I consider career paths."
Local journalism is essential.
Give directly to The Spokesman-Review's Northwest Passages community forums series -- which helps to offset the costs of several reporter and editor positions at the newspaper -- by using the easy options below. Gifts processed in this system are not tax deductible, but are predominately used to help meet the local financial requirements needed to receive national matching-grant funds.
Subscribe now to get breaking news alerts in your email inbox
Get breaking news delivered to your inbox as it happens.
---