News > Spokane
Earth Day party draws the wacky and wise to Riverfront Park
Sun., April 19, 2015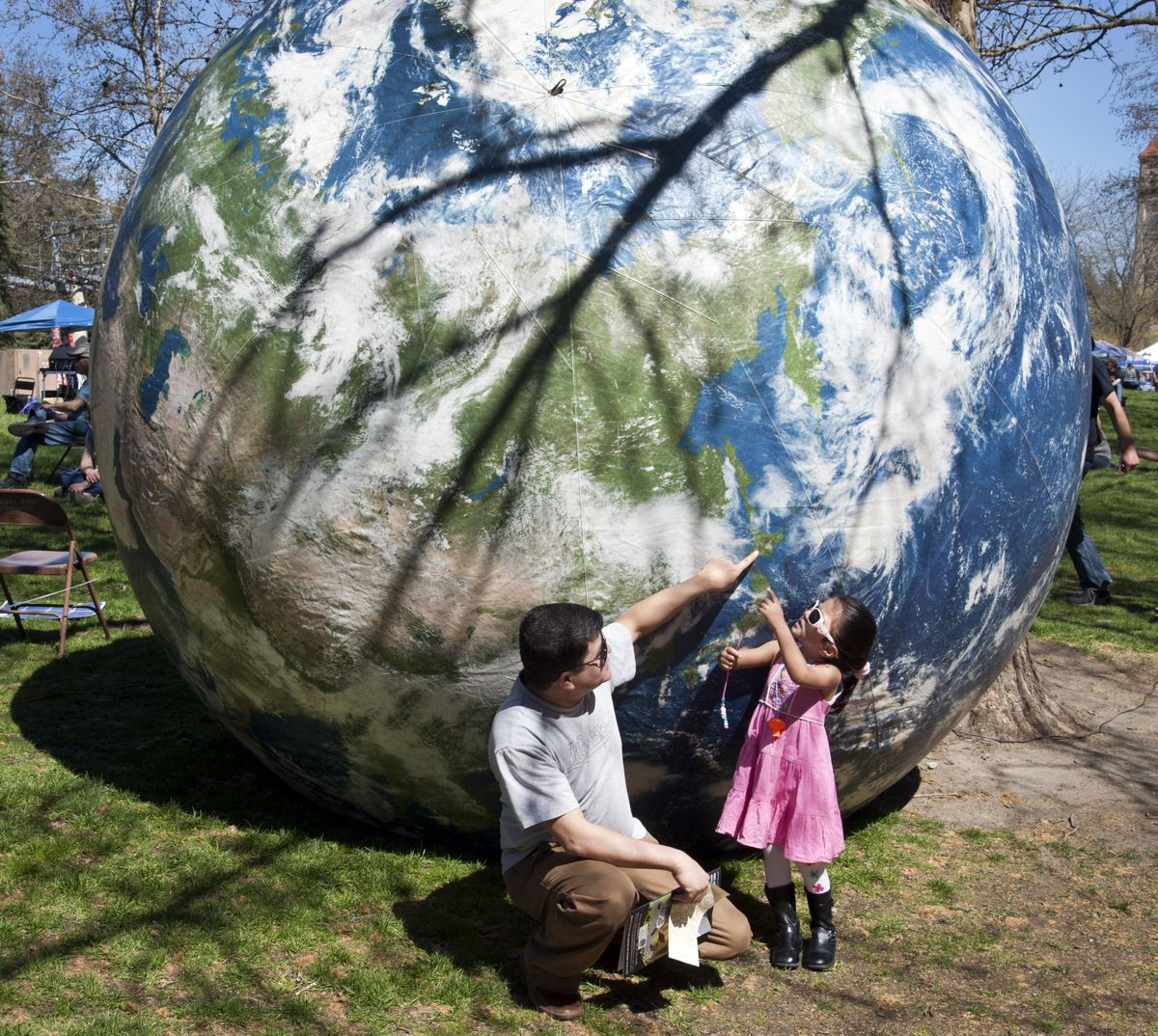 Ram Khadka shows his daughter, Roselyn, 3, a location along the coast of Japan as the pair visit Earth Day 2015 on Saturday in Spokane's Riverfront Park. Khadka and his family are from Bhutan but are refugees from Nepal. (Dan Pelle)
Brittany Morlin celebrated Earth Day by kicking off her sandals, wiggling her toes in the cool grass and dancing to live music with her 6-year-old daughter, Hannah.
"It's been an excellent way to welcome spring," she said Saturday as she took in the blue skies and warm weather.
Around 90 vendors set up booths in Riverfront Park for the annual celebration, offering information on environmental issues and local organizations – four days before the actual Earth Day. Blake "The Balloon Buffoon" Abyss made creations for a captive audience of youngsters, and over by the Rotary Fountain a group of Spokane Aerial Performance Arts students performed.
It was Morlin's first trip to the event, and she said she learned a lot about environmental issues.
"I'll be back," she said. "Earth Day is right up my alley."
Dianna Sisseck put a colorful joker's hat on her head for her "undriver's license" photo at the Spokane Transit Authority booth. The licenses were given to people who pledged to use alternative transportation. Sissick said she frequently takes the bus and walks where she needs to go.
"I think it's very important for people to use the other facilities, like taking the bus or riding a bike, especially in great weather like this," she said. "It's so much nicer than driving a car."
The event is put on by a planning committee of volunteers, event organizer Bart Mihailovich said. The committee partners with the Lands Council and the city of Spokane.
Mihailovich co-hosts the Down to Earth radio show on KYRS and was broadcasting live from Riverfront Park on Saturday, interviewing people representing the various groups with booths in the park.
The number of vendors at this year's event was the largest ever, Mihailovich said.
"I really like how every year it grows and new groups are here," he said.
Local journalism is essential.
Give directly to The Spokesman-Review's Northwest Passages community forums series -- which helps to offset the costs of several reporter and editor positions at the newspaper -- by using the easy options below. Gifts processed in this system are not tax deductible, but are predominately used to help meet the local financial requirements needed to receive national matching-grant funds.
Subscribe now to get breaking news alerts in your email inbox
Get breaking news delivered to your inbox as it happens.
---