Sports > Seattle Mariners
Felix Hernandez fans 12 to help Mariners end four-game skid
Sun., April 19, 2015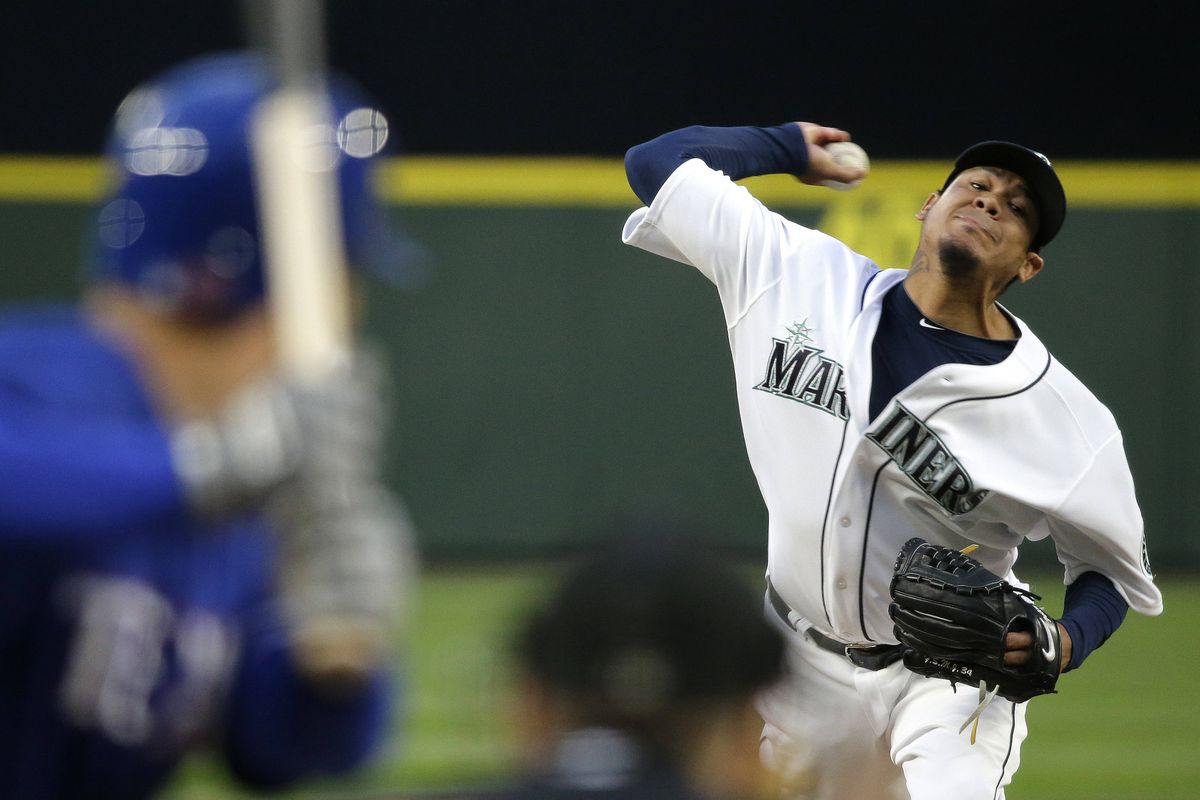 Seattle Mariners ace Felix Hernandez limited the Texas Rangers to two hits over seven innings on Saturday at Safeco Field. (Associated Press)
SEATTLE – Five days removed from leaving his last start with a tight quadriceps and a twisted ankle, Felix Hernandez's health on Saturday night was an estimated "98 percent," according to Mariners manager Lloyd McClendon.
The Texas Rangers, who found Hernandez mostly unhittable, might disagree. Or simply wonder how much better The King might have been with that other 2 percent.
Sharp as ever, Hernandez struck out 12 batters and allowed only two hits in seven innings – and the only run he allowed was the byproduct of a puzzling hit-by-pitch ruling – as the Mariners snapped a four-game losing streak with a 3-1 victory over the Rangers before a boisterous crowd of 43,017 at Safeco Field.
Fernando Rodney pitched a hitless, scoreless ninth inning to pick up the save and give the Mariners a chance to win this three-game series this afternoon.
They can thank their ace for the opportunity.
"(Hernandez) was great, considering he was coming off of an injury," McClendon said. "Still wasn't 100 percent, but I think that just goes to show the type of competitor that he really is. He really battled, and he battled me to stay in the game. But just a gutsy performance."
Against Hernandez (2-0, 2.37), Rangers center fielder Leonys Martin was the only successful Rangers hitter, aside from the two batters Hernandez walked and the two he hit with pitches. Martin doubled to lead off the first inning, and singled in the fifth to help set up Texas' only run. Hernandez, pitching on a night in which 20,000 fans received a bobblehead doll in his likeness, promptly retired the final eight batters he faced, five of them via strikeout.
He struck out the side in the seventh inning after convincing McClendon to leave him in the game despite having already thrown 98 pitches and experiencing some soreness in his injured right quad.
McClendon wanted to take him out, but Hernandez protested, repeatedly, telling his manager, "It's a close game. Let me go back out. We need this win."
That's not the kind of argument Hernandez usually wins, so it rates as a surprise that McClendon relented.
"But I also told him that we're not going to have many of these conversations," McClendon said. "But I do trust him. He was adamant about it, and I let him go back out there."
Hernandez responded by striking out Carlos Peguero, Rougned Odor and Jake Smolinski with a total of 13 pitches. He punctuated his departure with an enthusiastic smack of his glove.
"To be at 98 pitches and go out and do what he did in that seventh was huge for us," catcher Mike Zunino said.
The Mariners (4-7) ran themselves out of a trio of potential scoring opportunities in the first three innings – Austin Jackson was thrown out at home, Kyle Seager was caught trying to steal second and Miller was picked off of second base by the catcher – but took a 1-0 lead in the fourth inning when Seth Smith lifted a sacrifice fly to right field to score Robinson Cano from third base.
Zunino led off the fifth inning with a 412-foot home run into the upper deck in left field. Miller drove in Seager with a two-out triple in the sixth.
Zunino crushed the first pitch he saw from Rangers starter Colby Lewis (1-1, 3.79) to start the bottom of the fifth, and that was all the support Hernandez – and Seattle's bullpen – needed.
"Big situation," Zunino said. "Obviously, you want to do whatever you can. Felix did a great job of keeping us in that ball game, so any runs we can get in a game like that are huge."
Local journalism is essential.
Give directly to The Spokesman-Review's Northwest Passages community forums series -- which helps to offset the costs of several reporter and editor positions at the newspaper -- by using the easy options below. Gifts processed in this system are not tax deductible, but are predominately used to help meet the local financial requirements needed to receive national matching-grant funds.
Subscribe to the sports newsletter
Get the day's top sports headlines and breaking news delivered to your inbox by subscribing here.
---