News > Idaho
Idaho lawmakers honor Sen. Shawn Keough's milestone
Sun., April 19, 2015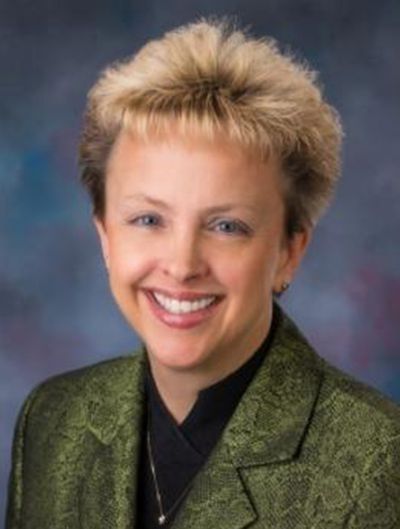 BOISE – One North Idaho senator got a surprise on the final night of the legislative session – she was honored for becoming the longest-serving female senator in the history of the state.
Sen. Shawn Keough, R-Sandpoint, who has served for 20 years, said she found out she's also the longest-serving senator from Bonner and Boundary counties, of either gender.
"I'm really honored, very humbled," she said. Keough is the vice chairwoman of the powerful Joint Finance-Appropriations Committee, and is in position to take over as chairwoman if current Senate Finance Chair Dean Cameron, R-Rupert, were to retire. Cameron has said he's not likely to serve more than another term, and he's rumored to be a leading candidate for director of the state Department of Insurance, a position that's been vacant for months now.
Keough, who has served on the joint budget committee since 2000, has turned down other committee chairmanships to remain on the budget-setting panel. That's allowed her to have direct influence on everything from school funding to the budget for the Lakes Commission, which oversees hot issues in the Lake Pend Oreille Basin. This year, the Lakes Commission got a $33,000 boost in its tiny $50,000 annual budget, a 66 percent increase.
"The commission is really our citizens' front line on water quality and water quantity issues in the far northern lakes and rivers," Keough said.
While she lists K-12 public school funding and road-repair funding as her top highlights from this year's legislative session, Keough also pointed to a few other issues she deemed significant.
One was the state Department of Labor's plan to close a number of its local offices in small communities around the state, including Bonners Ferry.
"I was able to work to change that decision and refocus, I hope, the Department of Labor on service in the rural areas," Keough said.
She also sponsored legislation this year to allow for research into bio-controls for aquatic weeds like milfoil, which have plagued North Idaho lakes.
Senate President Pro-Tem Brent Hill, R-Rexburg, honored Keough with the state flag that flew over the Senate chamber for the session, an honor he presents to one deserving senator each year. He said Keough has "served valiantly, year after year."
Keough said she had two frustrations this year: a House committee's killing of child-support enforcement legislation on the session's final day, which she called "amazingly short-sighted."
Also, comments from some lawmakers that they thought the joint finance committee had enough money to cover road construction, replacement of tens of millions in federal child support funds, and more.
She noted that many state agency budgets were cut 25 to 50 percent in the economic downturn and most haven't fully recovered.
"The notion that somehow we've got wasteful spending is very frustrating," she said. "I would challenge any legislator to serve on JFAC and come away with a notion that somehow we're spending irresponsibly."
Local journalism is essential.
Give directly to The Spokesman-Review's Northwest Passages community forums series -- which helps to offset the costs of several reporter and editor positions at the newspaper -- by using the easy options below. Gifts processed in this system are not tax deductible, but are predominately used to help meet the local financial requirements needed to receive national matching-grant funds.
Subscribe now to get breaking news alerts in your email inbox
Get breaking news delivered to your inbox as it happens.
---