Sports
Lamar Neagle pair, Obafemi Martins wonder goal lead Sounders
Sun., April 19, 2015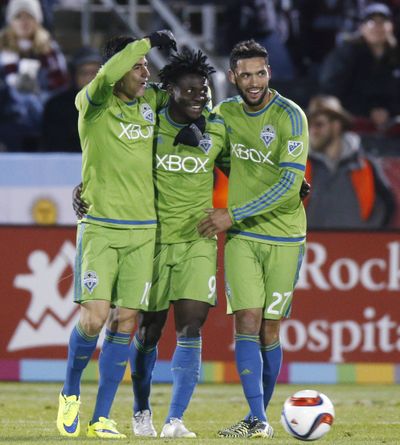 COMMERCE CITY, Colo. – Lamar Neagle gave Seattle Sounders FC the early lead, and he followed that with what goes into the books as the game-winning goal.
But whenever Seattle's 3-1 win over the Colorado Rapids is recalled years – or decades – from now, it will be because of the final goal by Obafemi Martins, one that instantly takes its place among Major League Soccer goal-of-the-year contenders, and among the best goals in club history.
"Three words … Lamar … Oba … WOW," Seattle forward Chad Barrett tweeted after the match.
Martins' magic came in the 73rd minute, with the Sounders protecting a 2-1 lead at Dick's Sporting Goods Park
Andy Rose launched a long, high pass to Martins, who received it with his back to the goal. On the first touch with his left foot, Martins pushed the ball between two Colorado defenders while turning, ran just inside the penalty area and fired past oncoming goalkeeper Clint Irwin.
"I don't know what I did," Martins said. "Rose gave me a good ball, and I was thinking to control the ball facing our goal. I just decided to do something different."
On most other nights, the memorable goal would be the opening one. That came from Neagle in the fifth minute, when he curled a shot from a top left corner of the penalty area just inside of the far top corner.
It was Neagle's first goal of the season, and an especially appreciated one after he put five futile shots on goal the previous weekend in a scoreless draw at Los Angeles.
Neagle became the third Sounder to score this season, with his two goals trailing Martins' four and Clint Dempsey's three.
Dempsey played 70 minutes Saturday after being held out last weekend with a hamstring issue.
Local journalism is essential.
Give directly to The Spokesman-Review's Northwest Passages community forums series -- which helps to offset the costs of several reporter and editor positions at the newspaper -- by using the easy options below. Gifts processed in this system are not tax deductible, but are predominately used to help meet the local financial requirements needed to receive national matching-grant funds.
Subscribe to the sports newsletter
Get the day's top sports headlines and breaking news delivered to your inbox by subscribing here.
---