Sports
MLB notes: Alex Rodriguez starts season on hot streak
Sun., April 19, 2015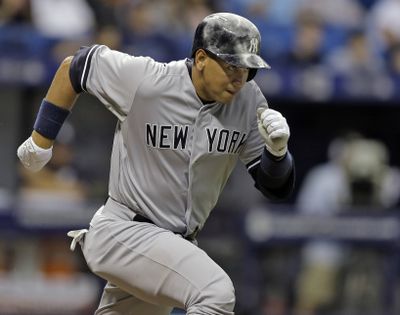 Alex Rodriguez is the first one to admit it. He is surprised by his start this season after missing all of last year while serving a drug suspension.
Rodriguez is batting .314, after going 0 for 3 in Saturday's 9-0 win over host Tampa Bay, with four homers and 11 RBIs through his first 11 games with the New York Yankees.
"It's kind of cool," Rodriguez said.
A-Rod, who turns 40 in July, homered twice and drove in four runs in Friday's 5-4 win over the Rays. The slugger's 61st multihomer game ran his career total to 658 home runs – just two shy of Willie Mays for fourth place.
"I'm just getting more comfortable each day," Rodriguez said. "The cadence of the game. I've been out of it for 18 months. It's easy to overlook that."
Rodriguez has been New York's primary designated hitter, which could help out his surgically repaired hip.
"There's a sense that he's going to be productive all year, absolutely," manager Joe Girardi said. "I don't know how you can swing the bat much better than he's swinging it. He looks like he's back to me."
Fox Sports hires Rose
Pete Rose is getting closer to the game as he awaits a ruling on his reinstatement.
Fox Sports said that it was hiring the career hits leader as a special guest analyst.
Rose agreed to the lifetime ban in August 1989 after a Major League Baseball investigation concluded he bet on the Reds to win while managing the team.
Shortly after new commissioner Rob Manfred took over in January, Rose applied for reinstatement.
Rose will appear on pregame and postgame shows on Fox along with studios programming on Fox Sports 1.
In 24 seasons in the majors, Rose had 4,256 hits and won three World Series titles. He was the 1963 N.L. Rookie of the Year and the 1973 N.L. MVP. A 17-time All-Star, Rose made the team at five different positions.
Clearing the bases
The Royals put closer Greg Holland on the 15-day disabled list because of a strained right pectoral muscle. They recalled RHP Yohan Pino from Triple-A Omaha. … Cardinals LF Matt Holliday left Saturday's game against Cincinnati in the bottom of the first inning because of tightness in his back. … The Long Island Ducks and Bridgeport Bluefish tried some radical speedup rules Saturday in an exhibition of the independent Atlantic League. Batters were awarded walks when the count went to three balls. Strikeouts were called when there was a foul ball with two strikes. Ten batters walked on three balls and eight batters were called out on foul balls. The Ducks won 1-0 in a game that took 2 hours, 15 minutes. … RHP Yordano Ventura was ejected from Kansas City's game against Oakland after hitting A's 3B Brett Lawrie with what appeared to be a retaliatory pitch. Lawrie drew the ire of the Royals the previous night when he slid hard and late into Alcides Escobar at second base. Escobar wound up with a sprained left knee in the collision. … RHP Grant Balfour has been designated for assignment by the Rays.
Local journalism is essential.
Give directly to The Spokesman-Review's Northwest Passages community forums series -- which helps to offset the costs of several reporter and editor positions at the newspaper -- by using the easy options below. Gifts processed in this system are not tax deductible, but are predominately used to help meet the local financial requirements needed to receive national matching-grant funds.
Subscribe to the sports newsletter
Get the day's top sports headlines and breaking news delivered to your inbox by subscribing here.
---