News > Obituaries
Obituary: Garvin, George Washington
Age 100
Sun., April 19, 2015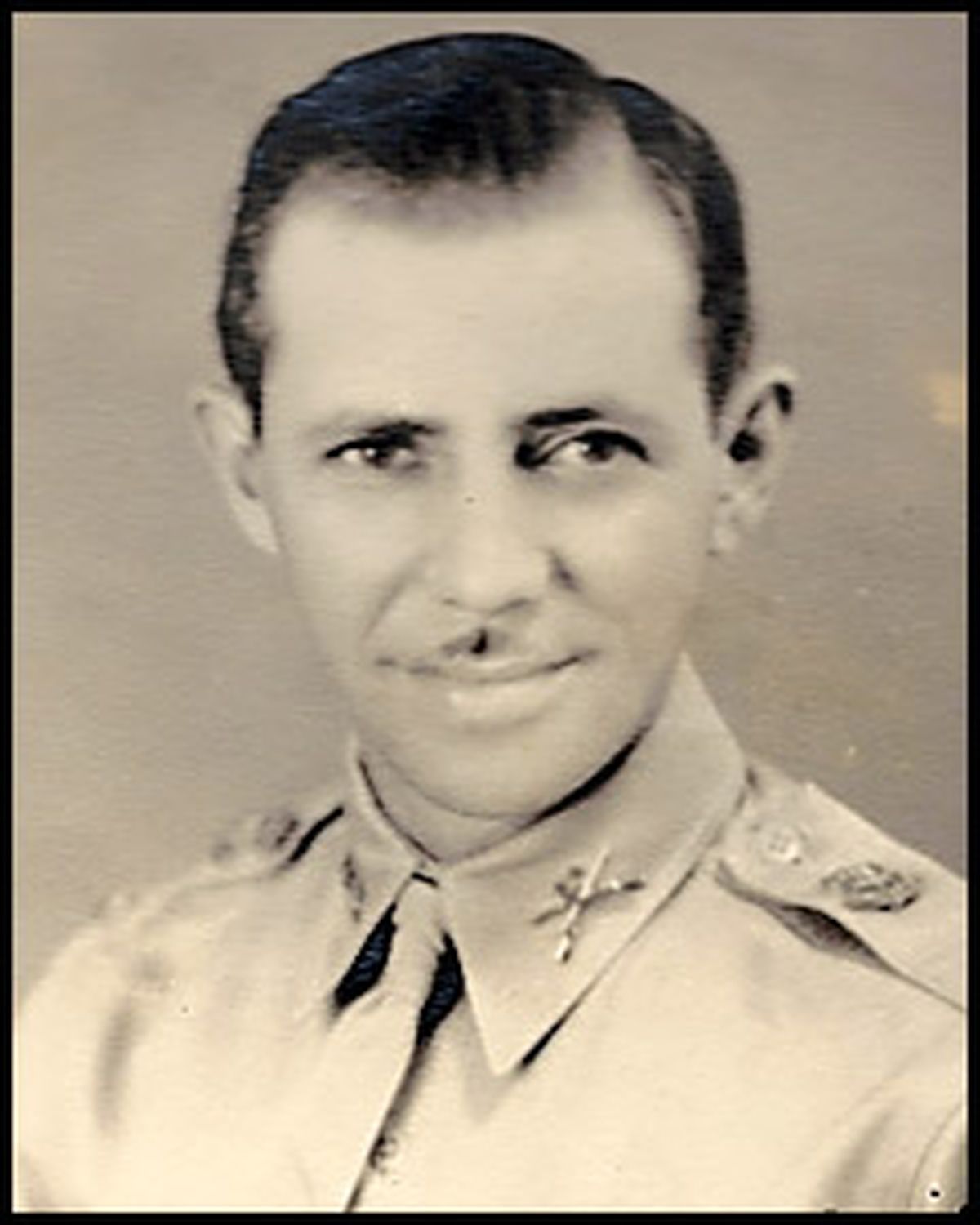 GARVIN, George Washington Born January 14, 1915, return to the Lord - April 15, 2015 100 years - 3 months - 1 day.
"He grew in wisdom and stature and in favor with God" George Washington "Bud" Garvin will be profoundly missed by his family and friends.
He was born in Berkeley Springs West Virginia.
He was named after his grandfather.
His mother did not like the name.
She would not use it, and called him "my buddy," which she eventually shortened to "Bud," his preferred name for the rest of his life.
Bud's public life is most noted for his remarkable service in World War II.
However, he would always say, "I am no hero."
Yet - He was only yards away when the first bombs fell at Pearl Harbor - a Pearl Harbor survivor.
He landed in the second wave at Normandy - leading the first wave of replacement troops.
He inched his way up to the French village Bastogne (think of the movie Band of Brothers) He lead troops south to the Brest peninsula and rescued cut off British troops.
He went north into Brussels for the entire winter of the Battle of the Bulge - leading troops to protect the right flank in the Ardennes Forest to prevent Nazi troops from surrounding Allied troops.
He entered Germany and helped to free a concentration camp.
He was in the initial occupation of Germany at the conclusion of WW II.
Though decorated and honored for his war service and a 30 year Air Force career, he would say, "I am no hero."
…
But to our family, he was our hero.
Yet he saw his life shaped by an even deeper purpose.
His journey was rooted in a deep personal faith in Jesus Christ.
He was only nine years old when, along with him mother and his younger brother, he found himself without a father.
He dropped out of school and went to work in a small family owned grocery store.
Rescued by his Uncle Bill a few years later, he returned to school, eventually graduating from Oklahoma A & M (State) in 1937 with emphasis in science and French.
He married his high school sweetheart Frances Wooden.
He entered the Army, and after WW II, with the advent of the Air Force returned to full time military service for 30 years, concluding his final assignment as the Base Executive Officer for Vandenberg Air Force Base.
Bud and Fran adopted and raised two children - Lee and Woody.
The military career took them to a variety of places around the world - Hawaii, Naples Italy, South Korea, and other assignments.
After the military along with his wife Fran, they taught in public schools for a number of years.
They then felt called and moved to South Carolina to serve in a crisis phone call ministry for seven years.
Bud and Fran returned to California to live near their son, Presbyterian Pastor Woody Garvin in San Diego, California.
After 64 years of marriage, Fran passed away.
Bud moved in with his son and daughter in law, now in Spokane.
Two years later he had become active in yet another ministry with Respite Care at First Presbyterian Church, Spokane.
There he met a fellow volunteer Mary Lee Van Winkel.
They were married in a ceremony conducted by his son Woody in June 2001.
Their marriage has been marked with warmth, closeness, and friendship.
He was still living in their home on his 100th birthday and until just the few days before he returned to his Good Shepherd.
He was a great patriot, and was honored to serve his country.
But in everything he always sought a deeper purpose.
He had come from nothing, but with God's help his contributions in many arenas were significant.
His deepest constant desire was to grow and serve, to become more Christ like.
Like Jesus, "He grew in wisdom and stature and favor with God."
Bud was preceded in death by his wife of 64 years Francis, and daughter Lee Dwigans, and brother Neville.
He is survived by his wife of 13 years Mary Lee Van Winkel - Garvin, son Woody (Stephne) Garvin, grandchildren Stephen (Amy) Garvin, Matthew (Cindy) Garvin, Gretchen (Jeff) Klaus, and six great-grandchildren.
A memorial service will be held at Manito Presbyterian Church (30th and Grand) at 1pm.
Wednesday, April 22.
Memorial contributions can be made to the KRISTA FOUNDATION for Global Citizenship, at P.O.
Box 28773, Spokane, WA 99228, or online.
Local journalism is essential.
Give directly to The Spokesman-Review's Northwest Passages community forums series -- which helps to offset the costs of several reporter and editor positions at the newspaper -- by using the easy options below. Gifts processed in this system are not tax deductible, but are predominately used to help meet the local financial requirements needed to receive national matching-grant funds.
Subscribe now to get breaking news alerts in your email inbox
Get breaking news delivered to your inbox as it happens.
---