News > Nation/World
People: WikiLeaks says Affleck asked PBS to hide slave-owning roots in documentary
Sun., April 19, 2015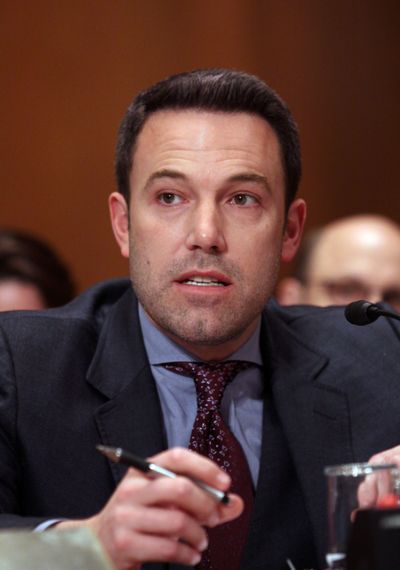 Ben Affleck requested that the PBS documentary series "Finding Your Roots" not reveal he had a slave-owning ancestor, according to emails published online by whistleblower site WikiLeaks, and the information never appeared on the program.
PBS and Harvard scholar Henry Louis Gates, host of the show that traces the ancestry of well-known guests, said in separate statements that they didn't censor the slave-owner details. Instead, more interesting ancestors of the actor emerged and Gates chose to highlight them in October's segment featuring Affleck, they said in the statements posted on the PBS website.
"For any guest, we always find far more stories about ancestors on their family trees than we ever possibly could use," Gates said in an emailed statement to the Associated Press. He said finding slave-owning ancestors was very common in the series, and noted Ken Burns and Anderson Cooper were two guests with slave-owner relatives.
In Affleck's case, "we decided to go with the story we used about his fascinating ancestor who became on occultist following the Civil War. This guy's story was totally unusual: we had never discovered someone like him before," he said.
Affleck's rep did not immediately respond to an email request for comment Saturday. The award-winning actor and filmmaker ("Good Will Hunting" and "Argo") has also organized humanitarian work in Africa.
Jack White re-releases Elvis record
After anonymously buying Elvis' first-ever recording at a January auction, Jack White is offering a limited-run vinyl re-release of "My Happiness" and "That's When Your Heartaches Begin" at his Third Man Records in Nashville.
The 10-inch, 78-rpm facsimile of the 1953 recording was digitally transferred from the original acetate onto new vinyl discs with no cleanup – pops, crackles and all.
"It's exactly what came off the grooves," Third Man's Ben Blackwell said.
The record is being sold in a plain paper sleeve because that's "what Elvis would have walked out of Sun with a record in," Blackwell said.
"Sun" is, of course, Sun Records, the legendary Memphis label operated by Sam Phillips. Presley paid $4 for the recording. Six decades later, White paid $300,000.
Super-fans camped out in front of Third Man beginning Friday morning to make sure they could get their hands on the Elvis record and other goodies available only for Record Store Day. That included the first commercially available vinyl edition of "Get Behind Me Satan" from White's former band The White Stripes. The original Elvis recording was on display at Third Man as well.
The birthday bunch
Actor Hugh O'Brian is 90. Actress Elinor Donahue is 78. Actor Tim Curry is 69. Pop singer Mark "Flo" Volman (The Turtles; Flo and Eddie) is 68. Recording executive Suge Knight is 50. Actress Ashley Judd is 47. Actor James Franco is 37.
Local journalism is essential.
Give directly to The Spokesman-Review's Northwest Passages community forums series -- which helps to offset the costs of several reporter and editor positions at the newspaper -- by using the easy options below. Gifts processed in this system are not tax deductible, but are predominately used to help meet the local financial requirements needed to receive national matching-grant funds.
Subscribe now to get breaking news alerts in your email inbox
Get breaking news delivered to your inbox as it happens.
---