News > Spokane
WSU museum hopes to raise $1 million from art sale
Sun., April 19, 2015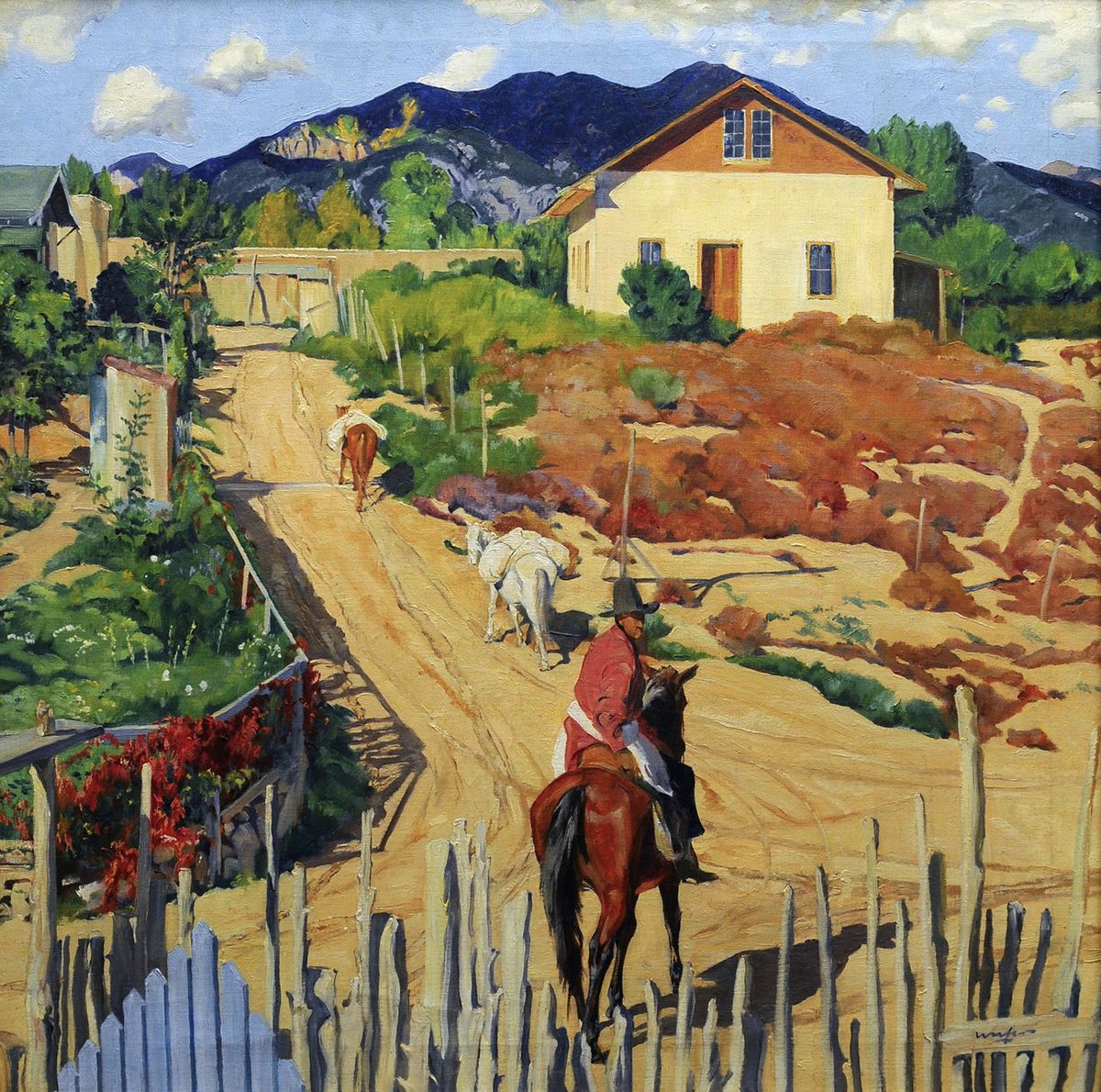 This Walter Ufer painting owned by Washington State University will be auctioned in San Francisco next week. WSU hopes to net $1 million for the paintings to use to take care of other works in the museum's collection.
The WSU Museum of Art is hoping to make $1 million by selling two paintings in its permanent collection. 
The sale of the paintings by Walter Ufer would fund an endowment to care for the museum's collection of more than 2,000 paintings and sculptures and make art more accessible to the public.
The funds will not go toward the museum's expansion plans, museum director Chris Bruce said. The museum is about $3 million shy of its $12.5 million goal to construct a new building closer to the Terrell Mall and Compton Union Building.
Because university collections typically come from donations, it can be controversial when a university museum sells artwork. Artwork often has guidelines for when pieces are removed from the collection, are offered to other museums, or are returned to a family or trust.
"It's rare that it happens, partly because it's a hassle," Bruce said. Also, "One of the main things is to honor the donor," he said.
The two paintings offered for sale came from a collection of about 90 pieces amassed in the 1920s and '30s by former Washington State University President Ernest O. Holland. Holland, who led WSU for 30 years, bought the pieces on behalf of the school in the hope that the college would establish a museum.
The paintings heading to auction did not have any restrictions placed on them when they were acquired, meaning they were good candidates for a sale, Bruce said.
Ufer, an American artist who died in 1936, focused primarily on painting Native American topics. The paintings offered for sale through the Bonhams auction house are a landscape titled "House on a Hill," with an estimated auction value of $400,000 to $600,000, and a depiction of a Native American figure titled "Indian Entertainer," estimated at $600,000 to $800,000. The auction of California and Western paintings will take place on April 28 in Los Angeles.
Bruce said he didn't know how much the Ufers were worth until Bonhams came to the museum to appraise the artwork.
"These two were worth 10 times what we thought," he said.
Many of the pieces in the museum's collection were donated unframed or have cracking damage and need to be cleaned. The money from the sale of the Ufer paintings could be used to repair works and make them presentable.
"There will be immediate results if we pull this endowment together," Bruce said.
University museums often receive artwork that doesn't fit within the collection's context, and a large percentage of art in permanent collections will not be seen in a context that is meaningful, Bruce said.
"The goal of the collection is to have works that are benchmarks of the 20th and 21st centuries," he said.
These include the WSU museum's Jim Dine and Andy Warhol print collections. Last June, the museum received 206 works from Dine, an American pop artist, said Debby Stinson, the museum's public relations and marketing director.
"We have the largest collection (of Jim Dine prints) of any university museum in the world," Stinson said.
The print collection is worth about $1.8 million and can be compared with the Dine collections at the British Museum and Boston Museum of Fine Arts, Stinson said.
The new WSU Museum of Art will help highlight those collections. Designed by renowned architect Jim Olson, of Seattle's Olson Kundig Architects, the building will glow at night and have the capacity to display projected images from exhibitions or the permanent collection, according to WSU.
Local journalism is essential.
Give directly to The Spokesman-Review's Northwest Passages community forums series -- which helps to offset the costs of several reporter and editor positions at the newspaper -- by using the easy options below. Gifts processed in this system are not tax deductible, but are predominately used to help meet the local financial requirements needed to receive national matching-grant funds.
Subscribe now to get breaking news alerts in your email inbox
Get breaking news delivered to your inbox as it happens.
---